About Win Your Space YK
Now in its 3rd edition, Win Your Space YK is a business incubation competition aimed at inspiring Yellowknifers to start or expand their business, while supporting the revitalization of our downtown. Since 2017, 5 new businesses have opened downtown Yellowknife as a result of Win Your Space YK.
How does it work?
Residents of Yellowknife, Dettah and N'dilo over the age of 18 can submit their business ideas and a panel of judges will select up to 10 semi-finalists to proceed to the next round of the competition. These 10 semi-finalists will participate in free business development workshops, including business plan writing and financial management training. Finalists will also learn how to pitch their business. The semi-finalists will develop and submit their business plans, and the Jury will select 5 finalists to advance to the Grand Finale. At the Grand Finale, the top 5 finalists will pitch their business to the Jury in true Dragon's Den style, and the Grand Prize Winner wins one year of free leased space in downtown Yellowknife, and many more prizes. The Grand Prize winner will be able to choose their location from the list of participating spaces. In addition the Grand Prize Winner will be fast tracked to receive up to $10,000 in start-up money under BDIC's Business Development Project Fund!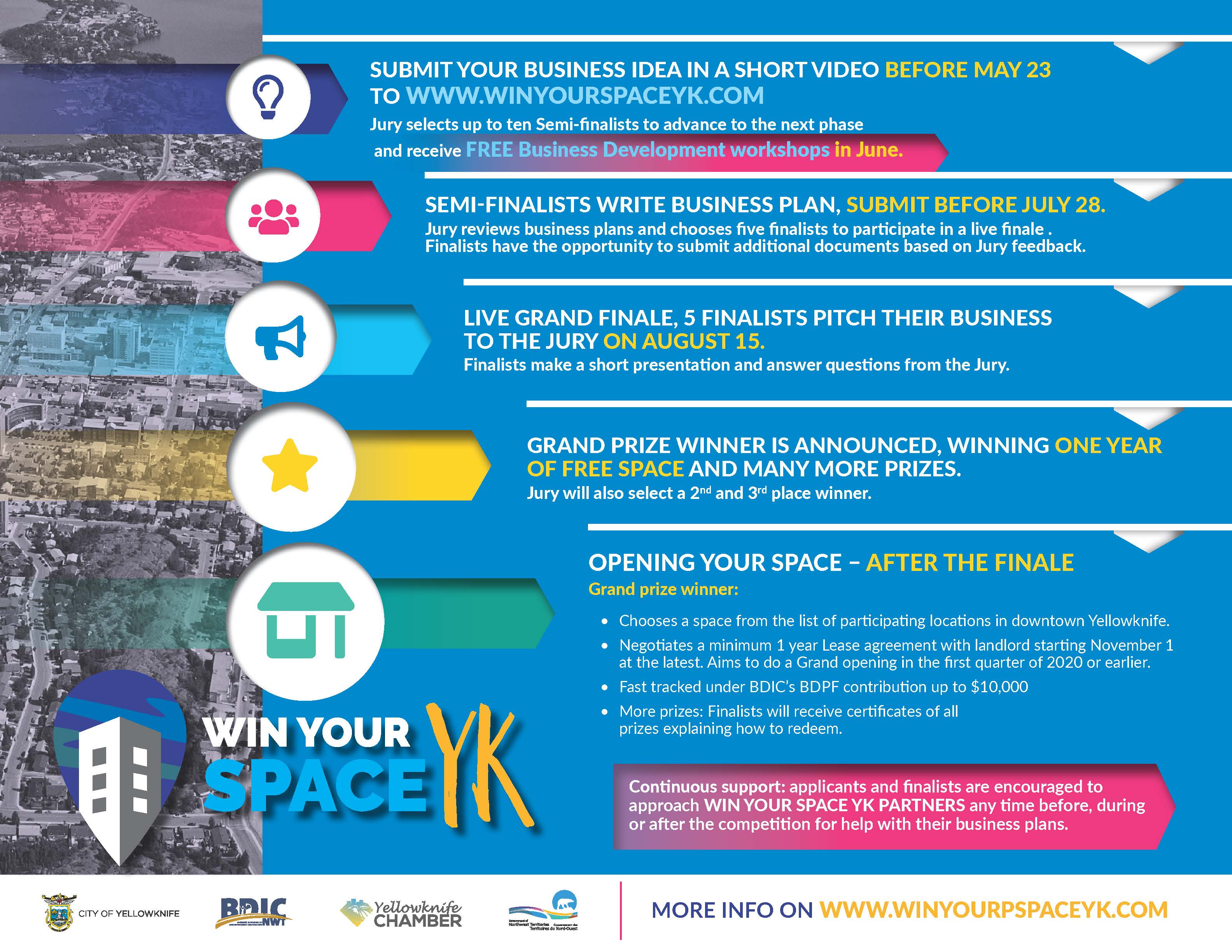 Submit your business idea in a short video before May 23 to winyourspaceyk.com

Jury selects up to ten Semi-finalists to advance to the next phase and receive free business development workshops in June

Semi-finalists write business plan, submit before July 28

Jury reviews business plans and chooses five finalists to participate in a live finale. Finalists have the opportunity to submit additional documents based on Jury feedback.

Live grand finale 5 finalists pitch their business to the jury on August 15

Finalists make a short presentation and answer questions from the Jury.

Grand prize winner is announced, winning one year of free space and many more prizes

Jury will also select a 2nd and 3rd place winner.

Opening your space - after the finale. The grade prize winner:

Chooses a space from the list of participating locations in Yellowknife
Negotiates a minimum one year lease agreement with landlord starting November 1 at the latest. Aims to do a Grand opening in the first quarter of 2020 or earlier.
Fast tracked under BDIC's BDPF contribution up to $10,000
More prizes: finalists will receive certificates of all prizes explaining how to redeem.
Continuous support: applicants and finalists are encouraged to approach Win Your Space YK partners any time before, during or after the competition for help with their business plan.
Visit winyourspaceyk.com for more info.
Partners and Sponsors
Win Your Space YK is a partnership between the City of Yellowknife, Yellowknife Chamber of Commerce, NWT Business Development and Investment Corporation (NWT BDIC) and the Government of the Northwest Territories - Department of Industry, Tourism and Investment. Check out our full list of 2019 Partners and Sponsors.
About past editions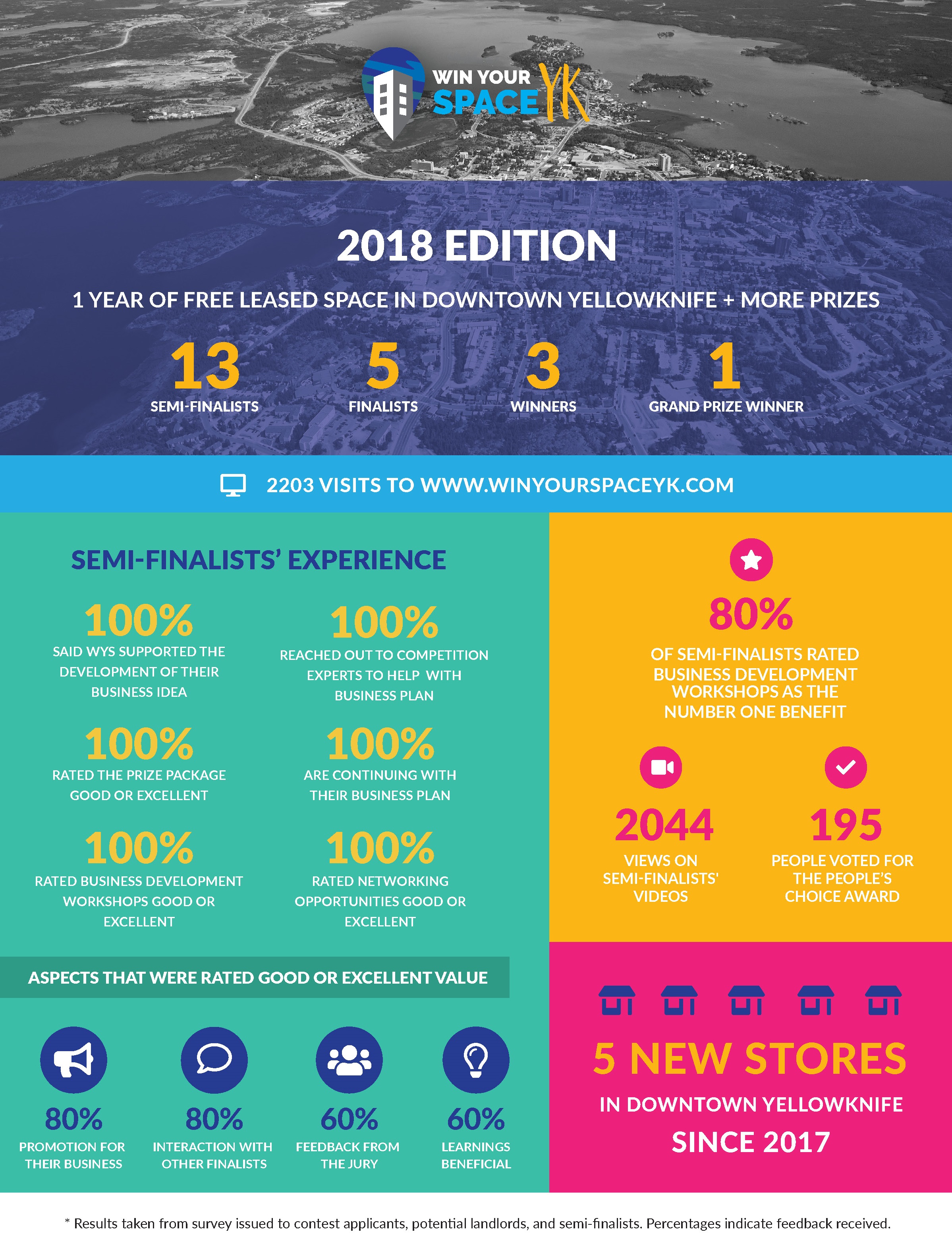 2018 Edition
1 year of free leased space in Downtown Yellowknife + More prizes
13 semi-finalists
5 finalists
3 winners
1 grand prize winner
2203 visits to winyourspaceyk.com
Semi-finalists experience
100% said WYS supported the development of their business idea
100% rated the prize package good or excellent
100% rated business development workshops good or excellent
100% reached out to competition experts for help with their business plan
100% are continuing with their business plan
100% rated networking opportunities good or excellent
Aspects that were rated good or excellent
80% promotion for their business
80% interaction with other finalists
60% feedback from the jury
60% learnings beneficial
More statistics
80% of semi-finalists rated business development workshops as the number one benefit
2044 views on semi-finalist videos
195 people voted for the people's choice award
5 new stores in downtown Yellowknife since 2017
* Results taken from survey issued to contest applicants, potential landlords, and semi-finalists. Percentages indicate feedback received.
Hours of Operation
Winter Hours effective following the Labour Day Weekend
until prior to the Victoria Day Weekend (September to May)
Monday to Friday: 8:30 a.m. to 5:00 p.m.
Saturday and Sunday: Closed
Summer Hours effective following the Victoria Day Weekend
until prior to the Labour Day Weekend (May to September)
Monday to Friday: 8:00 a.m. to 4:30 p.m.
Saturday and Sunday: Closed