This fashion-show-like night will showcase everything from jewelry to apparel plus live entertainment from various Indigenous Northern Artists. Yellowknives Dene First Nation is providing the stage to these artists to recognize them in a meaningful way, so that they can be the stars of the show by creating and designing art while sticking to the theme of the night: NAKA! (Aurora Borealis) The Indigenous Cultural Gala by Yellowknives Dene First Nation is also the grand opening of the Yellowknives Dene Artisan shop, located in Dettah 2nd Floor of the Chief Drygeese Conference Centre. What are better, guests will also be wowed by some new designs from Erasmus Apparel Ltd, Dene Couture by Tishna Marlowe and music by NAHGA.
This $20/entry event will be held Friday, March 8th from 7:00 p.m. to 11:00 p.m. at the Chief Drygeese Centre in Dettah
Tickets are available at Erasmus Apparel and the N'Dilo and Dettah Band offices.
Photo by: Trudy Hause
Designer: Tishna Marlowe
Model: Karen Murray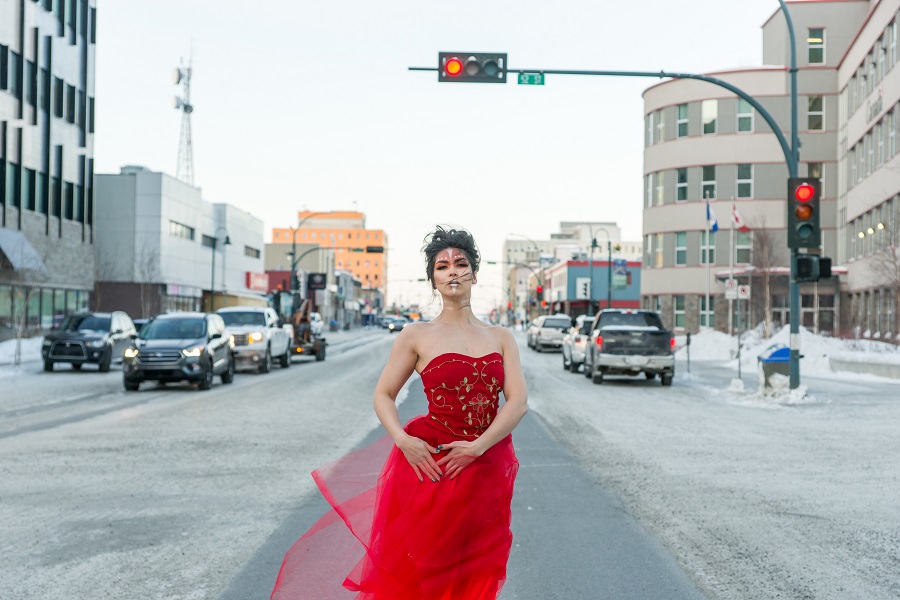 Hours of Operation
Winter Hours effective following the Labour Day Weekend
until prior to the Victoria Day Weekend (September to May)
Monday to Friday: 11:00 a.m. to 2:00 p.m.
Saturday and Sunday: Closed
Summer Hours effective following the Victoria Day Weekend
until prior to the Labour Day Weekend (May to September)
Monday to Friday: 8:00 a.m. to 4:30 p.m.
Saturday and Sunday: Closed