The City of Yellowknife currently has three vacant Commercial Mixed-Use lots for sale or lease in the Downtown (DT) Zone - Lots 8, 9 and 10, Block 31, Plan 65 (5016, 5018 and 5022 50th Street). These lots may either be sold together as three lots or may be sold separately as one or as two lots, as directed by Council Motion #0141-22.
The City of Yellowknife is inviting qualified businesses, organizations, or individuals to submit a Development Proposal for one, two, or three of the subject lots. The successful proponent will be awarded the opportunity to purchase or lease, and to develop these lot(s).
The lot(s) for development will be made available for disposal to the awarded proponent(s) in accordance with Land Administration By-law No. 4596, as amended. Following the land purchase (or lease), the awarded proponent (as the purchaser and developer) shall ensure that site development is conducted through proper development permit (where required) and building permit processes, as well as any other applicable development review process.
For development requirements please reference the attached original Request for Proposal.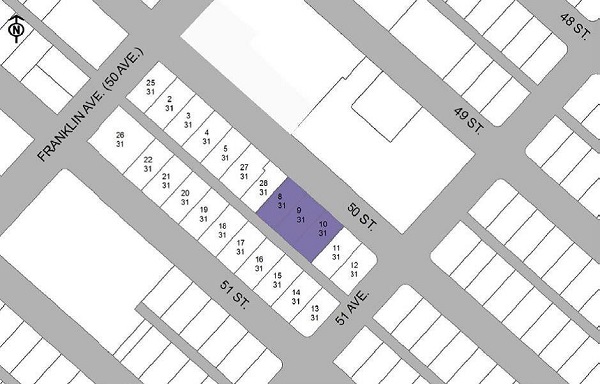 Interested proponents shall review relevant City documents to understand legislative requirements and to incorporate development guidelines and standards into the Development Proposal. The review of relevant City documents shall include, but not be limited to, the following:
Please contact the Department of Planning and Development at landforsale@yellowknife.ca for more information.