How It Works:
Grab a coupon book from any participating business, purchase the products and services listed inside, and enter the ballot on each coupon into the draw box at the business where you made your purchase.
The more places you visit, the more chances you have to win!
Some businesses do not have a physical storefront - these coupons can be entered into the draw box at City Hall.
Coupons are not redeemable for cash and are only valid for use during the Be A Tourist In Your Own Town campaign - April 19 to May 23.
No purchase necessary:
While the intention of the campaign is to encourage local spending, consumers can redeem one coupon per booklet for an entry into the draw without making an eligible purchase.
Important Dates:
The campaign will run from Monday, April 19 until business close on Sunday, May 23.
Coupons will be picked up from businesses on May 25 & 26.
The draw date is May 28. The draw will be live streamed on the Yellowknife Chamber of Commerce Facebook page.
Prizes:

#1 : 2-night trip for 2 people at Blachford Lake Lodge
#2 : 4-hour Pike Fishing Trip for 4 people with Yellowknife Outdoor Adventures. All fishing gear and tackle will be provided. You must have your own valid fishing license.
#3 : Eat & Relax prize package. Includes a $200 gift certificate for Etandah Organic Day Spa, a $200 gift certificate from Bullocks Bistro and a bottle of their famous salad dressing, and two Northern books from the Yellowknife Book Cellar.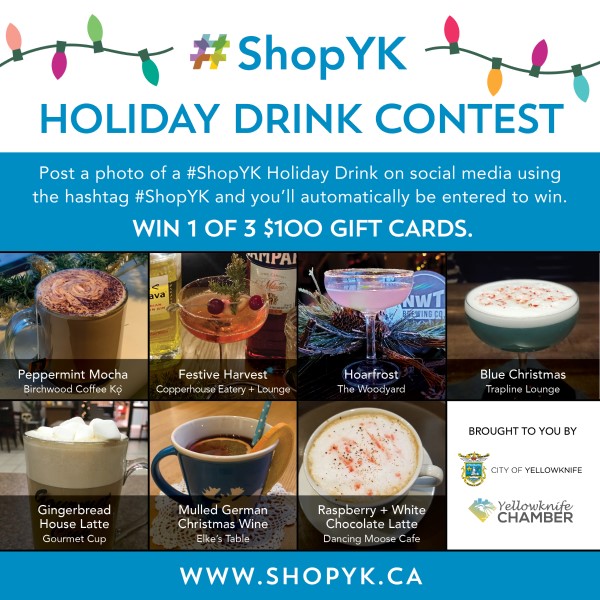 #ShopYK Holiday Drink Contest
Post a photo of a #ShopYK Holiday Drink on social media using the hashtag #ShopYK and you'll automatically be entered to win 1 of 3 $100 gift Cards. Brought to you by the City of Yellowknife and Yellowknife Chamber.
The drinks included in the Holiday Drink Contest are as follows:
Peppermint Mocha from Birchwood Coffee Kǫ̀
Festive Harvest from Copperhouse Eatery + Lounge
Hoarfrost from The Woodyard
Gingerbread House Latte from Gourmet Cup
Mulled German Christmas Wine frmo Elke's Table
Raspberry and White Chocolate Latte from Dancing Moose Cafe
Get into the festive spirit!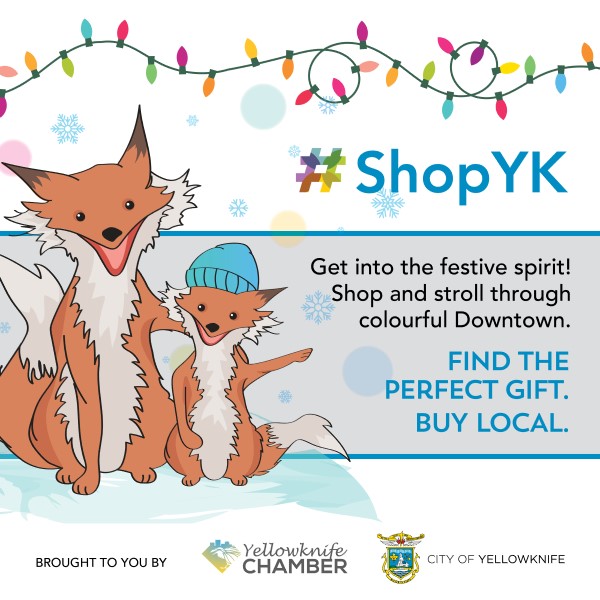 Shop and stroll through colourful Downtown. Find the Perfect Local Gift. Buy Local.
Brought to you by Yellowknife Chamber and City of Yellowknife.
Hours of Operation
Winter Hours effective following the Labour Day Weekend
until prior to the Victoria Day Weekend (September to May)
Monday to Friday: 8:30 a.m. to 5:00 p.m.
Saturday and Sunday: Closed
Summer Hours effective following the Victoria Day Weekend
until prior to the Labour Day Weekend (May to September)
Monday to Friday: 8:00 a.m. to 4:30 p.m.
Saturday and Sunday: Closed