Grand Prize Winner 2019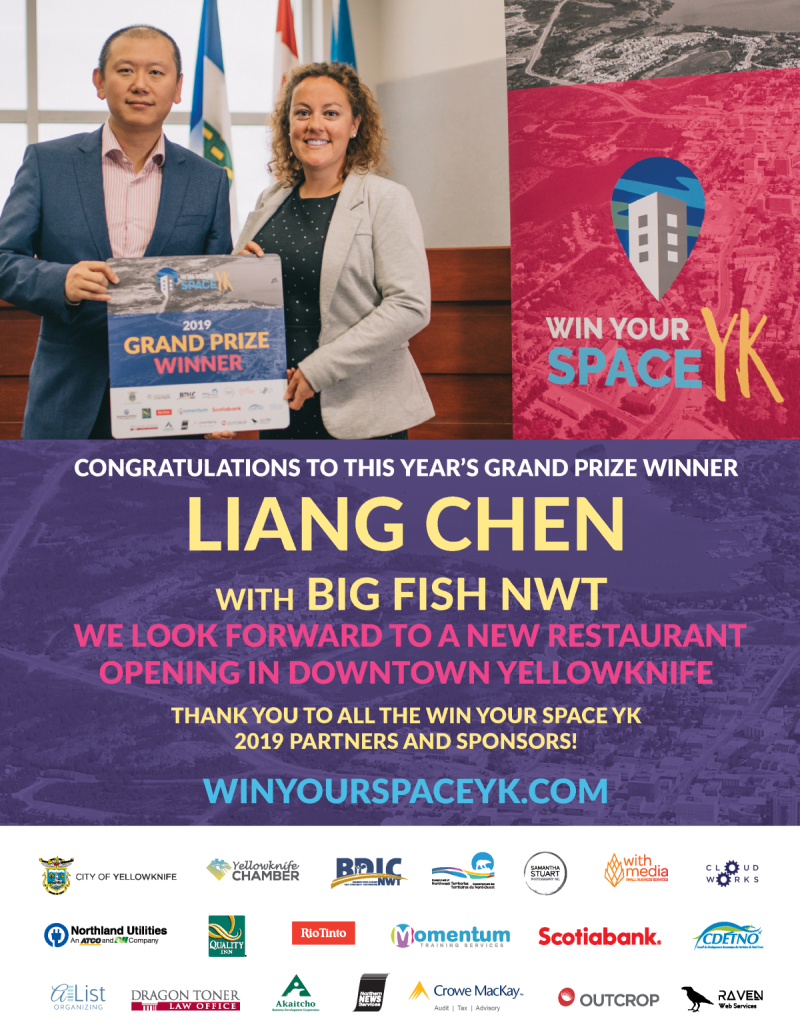 Congratulations to this year's grand prize winner Liang Chen with Big Fish NWT. We look forward to a new restaurant opening in Downtown Yellowknife. Thank you to all the Win your Space YK 2019 partners and sponsors!
Sponsors include:
City of Yellowknife
Yellowknife Chamber
BDIC NWT
Samantha Stuart
With Media
Cloud Works
Northland Utilities
Quality Inn
RioTinto
Momentum Training Services
Scotiabank
CDETNO
AList Organizing
Dragon Toner Law Office
Akaitcho
Northern News
Crowe MacKay
OutCrop
Raven Web Services
Grand Finale 2018
Photo Gallery: Win Your Space YK 2018 will appear here on the public site.
Grand Finale 2017
Photo Gallery: WIN YOUR SPACE YK GRAND FINALE 2017 will appear here on the public site.
Hours of Operation
Winter Hours effective following the Labour Day Weekend
until prior to the Victoria Day Weekend (September to May)
Monday to Friday: 8:30 a.m. to 5:00 p.m.
Saturday and Sunday: Closed
Summer Hours effective following the Victoria Day Weekend
until prior to the Labour Day Weekend (May to September)
Monday to Friday: 8:00 a.m. to 4:30 p.m.
Saturday and Sunday: Closed