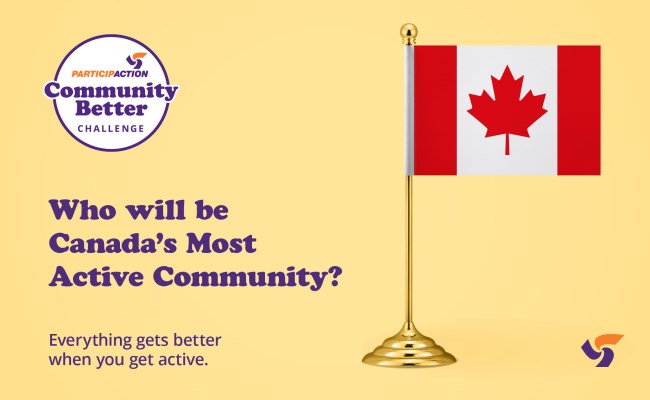 Let's bring Yellowknife together with physical activity through the
ParticipACTION Community Better Challenge!
Rally your friends, neighbours and family to get active and our community could win $150,000 to go toward local physical activity initiatives and be crowned Canada's Most Active Community! The challenge runs from May 31 – June 16 so be sure to get active and start tracking!
Participate by downloading the new free ParticipACTION app – the active app for everyone – where you can track your active minutes and contribute to the challenge. This app is not only great for the challenge but equally awesome to use year round!
What can you (the residents) do?
Attend one of many free events
Log ALL of your active minutes, just like Walk to Tuk. This includes walking to work, playing softball, going to the gym - ANYTHING. It's just that easy! You sign up by postal code, and everything is tracked per capita - so we stand a chance to the big cities in the south.
Encourage your own local teams to sign up and log - for example, your Ultimate or Softball team should all log these hours too! Anyone can create an "event profile" and log time. For more information, please read the Participaction Handbook or search through their website for much more information.
What will the City do?
Host as many events as we can and log the groups hours
Promote your events on our website and social media
Host an information session following the challenge, should we win any funds
EVENTS
We've put together as many free events as we can, and are also advertising many other great recreational activities happening during the challenge. These are all great options to get out and log your hours!
Please note the last column that may indicate that sign-up or payment is required, please contact the organization for more information.
Event
Date
Time
Location
Host
Info
Lunch Hour Workout
Friday, May 31st
12:10 p.m. - 12:50 p.m.
Somba K'e Civic Plaza
Yellowknife Racquet Club
Drop-in/Free
Yellowknife Tennis Club Open House
Saturday, June 1st
TBD
YK Tennis Club Courts
Yellowknife Tennis Club
Drop-in/Free
IG Wealth Management Walk for Alzheimer's
Saturday, June 1st
9:30 a.m. - 1:00 p.m.
Baker Communty Centre
IG Wealth Management
Sign-up Required
Yellowknife Shooting Club Fun Shoot
Saturday, June 1st
10:00 a.m. - 2:00 p.m.
Outdoor Range
Yellowknife Shooting Club
See website for more info
Lunch Hour Workout
Friday, June 7th
12:10 p.m. - 12:50 p.m.
Somba K'e Civic Plaza
Yellowknife Racquet Club
Drop-in/Free
RC Charity Run
Saturday, June 8th
8:30 a.m.
YK Racquet Club
Yellowknife Racquet Club
Sign-up Required
Bike Rodeo
Sunday, June 9th
12:00 p.m. - 5:00 p.m.
Multiplex
City of Yellowknife
Drop-in/Free
Nerf Wars
Sunday, June 9th
3:00 p.m. - 4:00 p.m.
Multiplex Gym
City Programming: Code 24977
Sign-up Required
Climbing Club Competition
Sunday, June 9th
Climbing Wall
Yellowknife Climbing Club
Sign-up Required
Outdoor Photo Walk with Samantha Stuart
Thursday, June 13th
7:30 p.m. - 9:30 p.m.
City Programming: Code 25272
Sign-up Required
Aboriginal Games
Thursday, June 13th
6:00 p.m. - 7:30 p.m.
Somba K'e Civic Plaza
Aboriginal Sports Circle
Drop-in/Free
Lunch Hour Workout
Friday, June 14th
12:10 p.m. - 12:50 p.m.
Somba K'e Civic Plaza
Yellowknife Racquet Club
Drop-in/Free
Ladies Only Swim Night
Saturday, June 15th
8:30 p.m. - 9:30 p.m.
Ruth Inch Memorial P ool
NWT Literacy Coucil
Drop-in/Free
Brain Tumour Walk 2019
Saturday, June 15th
11:30 a.m. - 5:00 p.m.
Somba K'e Civic Plaza
Brain Tumour Foundation of Canada
Sign-up Required
Wrap-Up Dance Party
Sunday, June 16th
2:00 p.m. - 3:00 p.m.
Somba K'e Civic Plaza

City of Yellowknife

DANCEPL3Y

Yellowknife Dene Drummers

Drop-in/Free
Nerf Wars
Sunday, June 16th
3:00 p.m. - 4:00 p.m.
Multiplex Gym

City Programming: Code 24978

Sign-up Required
Questions? Check out the ParticipACTION website for more details. Want to host an event? Email dzethof@yellowknife.ca