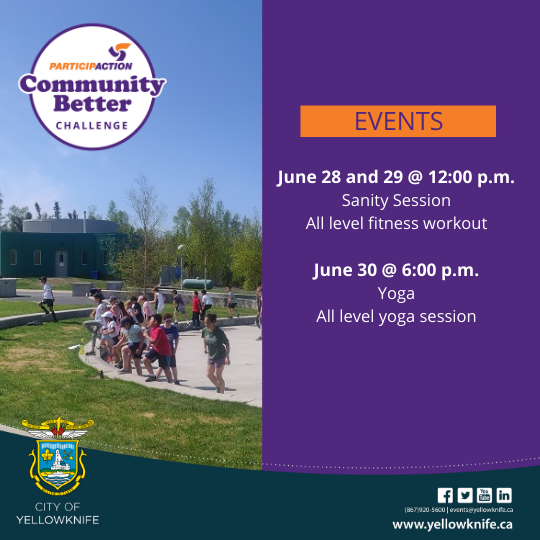 The City of Yellowknife is inviting residents to get active in ParticipACTION's Community Better Challenge to help the City win up to $100,000 to put towards community recreation initiatives!
The challenge runs from June 1-30 and is open to all Canadian residents. Like Walk to Tuk, residents are encouraged to log their daily physical activity such as walking the dog, going to the gym, and playing softball. To participate, download the new free ParticipACTION app , track your active minutes and contribute to the challenge.
The following FREE events are made possible by Participaction, NWT Parks and Recreation Association, and the City of Yellowknife. They are available on a drop-in basis as space permits, no registration is required. A waiver must be signed onsite before participating. For inquiries, email events@yellowknife.ca
Capoeira Martial Arts
Date: Completed for June - want to see it again? Let us know!

Time: 5:30 p.m. start

Description:

Introductory classes to Capoeira. Besides the physical aspects of Capoeira, there is also a rich history of how people, no matter their circumstances, find a way to express themselves, to resist the disempowerment that comes from being enslaved, and maintain their human dignity. Capoeira is a fight (against oppression), it is a dance (of freedom of expression) and it is a game (that brings the joy of hard won self-expression). We will cover these aspects of the art from. Participants should be prepared to sing like they are in the shower and nobody is listening.
INTRO
WARM UP
BASE MOVE: GINGA
ESSENTIALS of PLAYING A NO CONTACT FIGHTING GAME:
DRILLS for DEFENSE
DRILLS for EVASIVE MOVES
DRIVES FOR ATTACKS
MUSIC: Rhythms and Choruses
Everyone gets to PLAY A GAME
This is a no contact art form.
Instructor - Meta Antolin, YK Capoeira:
Meta Antolin is a Mestra (Master) of Capoeira with over 30 years of training and performing experience and 20 years as a teacher. She is graduated in both Capoeira Regional and Capoeira Angola, but is "old school" from when those two forms of the art resembled each other more than they do in their contemporary forms. She started her training in Amsterdam, NL in 1989 with Mestre Celso Capoeira. Her training took her to Brazil, where she lived part-time for 17 years, travelling back and forth from her home in Toronto, where she help found the Capoeira School Berimbau de Ouro, Rumo Norte. She started training and teaching with Mestre Marcio Mendes of Muiraquita Capoeira in 2001. Meta has had the pleasure of introducing Capoeira to many students since she started teaching here. She and her group have performed and given workshops at Folk on the Rocks, Ramble and Ride, in all the schools, and at many City run events.
Latin and Mongolian Dance
Dates: June 16th and 18th

Time: Noon lunch hour

Description:

The program revolves around promoting culture and expression through dance more specifically Latin dance (Cha Cha Cha) and Mongolian traditional dance (basic movements).
The Latin dance is going to be for 16+ all genders and Mongolian dance is going to be for 8+ all gender.

Instructor - Oyuka Bernabe:

Engineer by profession and dancer by passion. I love to dance and choreograph. I have been informally teaching dance for the last 10 years and also choreographed the dance in 2019 for the Multicultural Dance Gala in Yellowknife.
Line Dancing Social
Date: June 17th

Time: 6:00 p.m.

Description:

Come join us at the Somba K'e Park on June 17th for a one hour line dancing social! Line dancers will learn 3-5 short routines, of varied skill levels, to some upbeat country tunes. This social is open to people of all ages, and kids must be accompanied by a parent. The line dancing will start at 6pm and people are encouraged to wear their cowboy hats, boots and belts!

Instructors - Abby Schewlew and Lisa Giovanetto:

Abby is new in town from Halifax and is excited to get involved with the local dance community. She recently took up an interest in country music and absolutely loves bringing people together through dance. Lisa is from Yellowknife and learned to love line dancing while living in Alberta for University. Since moving back to the north she's been an active member of Yellowknife's dance community, and is now excited to bring some stampede fun to the north!
Sanity Session: All-Level Sweat Fest
Dates: June 28th, June 29th

Time: Noon lunch hour

Description:

It's a workout for everyone! Whether you're new to exercise or a long-time fitness fanatic, you'll get a solid full-body workout while having a great time! Join us for a fun-filled sweat sesh to boost your energy levels and mood.

Instructors - Pooja Chugh and Sarah Cook:

Pooja is a certified fitness instructor, a BSc Life Science graduate, and has research experience in exercise and nutrition. Competing in multiple sports at an international level, Pooja has a great passion for fitness and health and enjoys motivating participants to achieve their well-being goals. Pooja brings tremendous enthusiasm and energy to her classes and likes to be innovative to keep workouts fresh, fun, and empowering.


Sarah Cook is a family physician in Yellowknife, passionate about health and wellness. Inspired by seeing inclusive, free, high-participation outdoor fitness classes while travelling in South America, she completed her Personal Training certification from the International Sports Sciences Association with the goal of sharing her love of fitness and helping to make it more accessible, close to home.
Scottish Country Dance (Ceilidh Dancing)
Date: June 17th
Time: Noon lunch hour
Description:
Ceilidh Dancing is a form of Scottish Country Dance. A folk dance originated in Scotland, but with other European influences. Scottish Country Dance groups are now found around the world and in many cultures. It is an excellent form of social, physical and mental exercise. Ceilidh dances are simpler forms intended for large groups. This is not Highland Dancing. Highland is the better known, competitive style of dance.
Instructor - David Taylor:
I've been dancing for over 20 years and leading a class in Yellowknife for most of that time. We are always looking for more dancers and this seemed like a great opportunity. We aren't a performance dance group, so we don't get many opportunities to showcase the fun.
Judo Fit
Date: June 14th

Time: 6:00 p.m.

Description:

We will spread the participants out on individual tatami (mats) so that we can comply with social distancing, and we will go through 10 different exercises that everyone will do, most of which relate to judo and we will do a fun challenge at the end. The emphasis will be a fun and interactive 30 mins of exercise.

Instructor - Josh Hagen:

The Head Coach of the NWT Judo Association and life time judoka (student of judo). I love not just judo but finding fun and interactive ways to keep people active as well as the camaraderie that is built between participants with like minded goals.
Yoga
Dates: June 30th

Time: 6:00 p.m.

Description:

Outdoor Gentle Yoga classes for all ages and levels. The class would focus on our connection to Earth. Everyone is welcome and there will be modifications to accommodate all participating Yogis. The goal is to find our connection to nature, stay active and make Yoga accessible to everybody.

While the class is for all levels, participants are advised to get in touch with me if they require special accommodations during the practice.

Instructor - Yusur Al Bahrani:

The North has inspired me to stay active and make Yoga a component of my daily routine. Here I can feel deep connection to nature and. I'm a communications professional and journalist. I moved to Yellowknife three years ago and now this is home for me. I'm equipped with 200 hours of Yoga Teacher Training (certified). I believe that Yoga is a way of life that connects the body, spirit and nature. I want to offer this class because I believe that Yoga is not confined to studios and fancy gyms. It must be accessible to everyone in our communities.

https://www.yogaalliance.org/TeacherPublicProfile?tid=283610

https://www.instagram.com/yusuryoga/?hl=en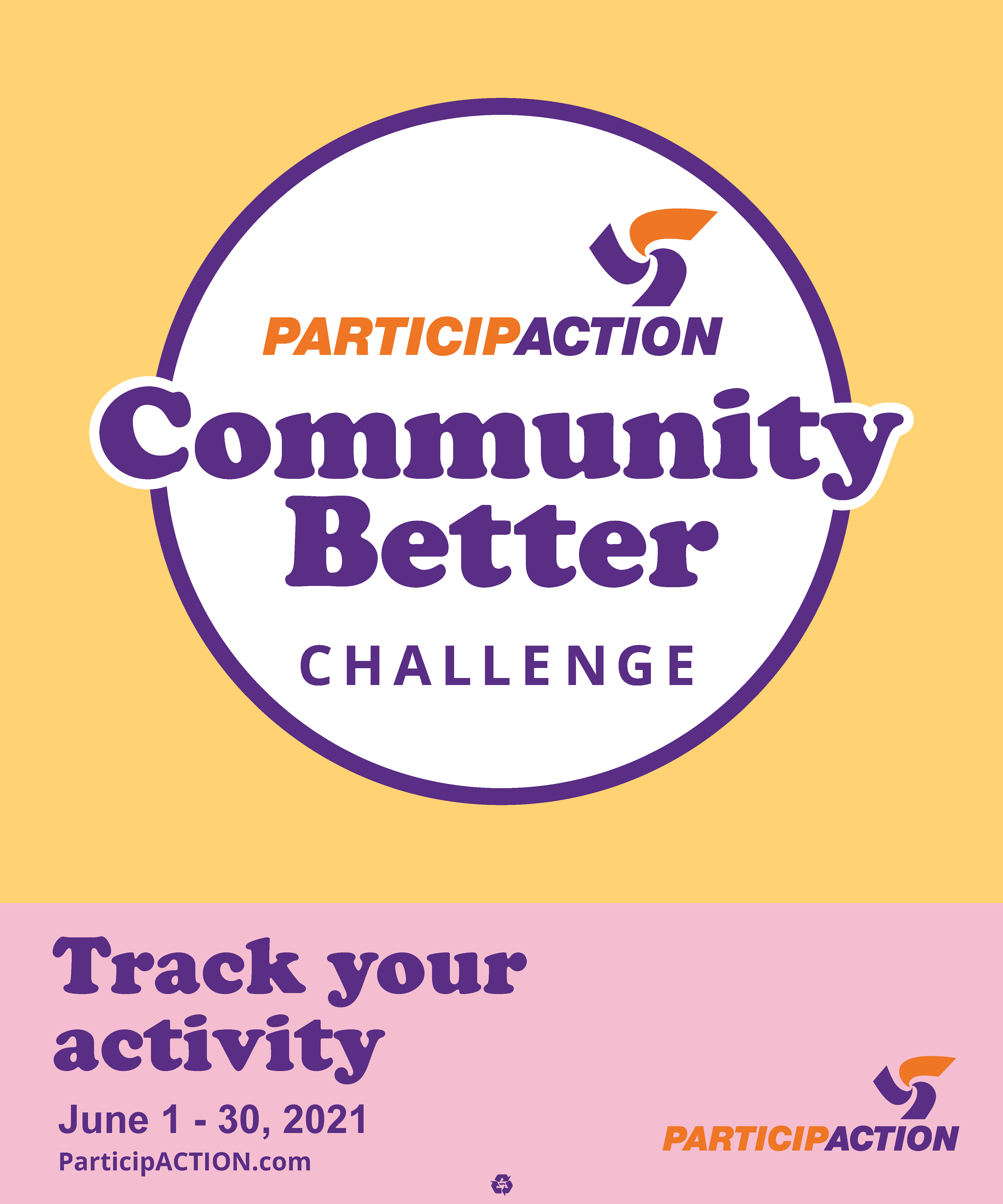 Hours of Operation
Winter Hours effective following the Labour Day Weekend
until prior to the Victoria Day Weekend (September to May)
Monday to Friday: 8:30 a.m. to 5:00 p.m.
Saturday and Sunday: Closed
Summer Hours effective following the Victoria Day Weekend
until prior to the Labour Day Weekend (May to September)
Monday to Friday: 8:00 a.m. to 4:30 p.m.
Saturday and Sunday: Closed