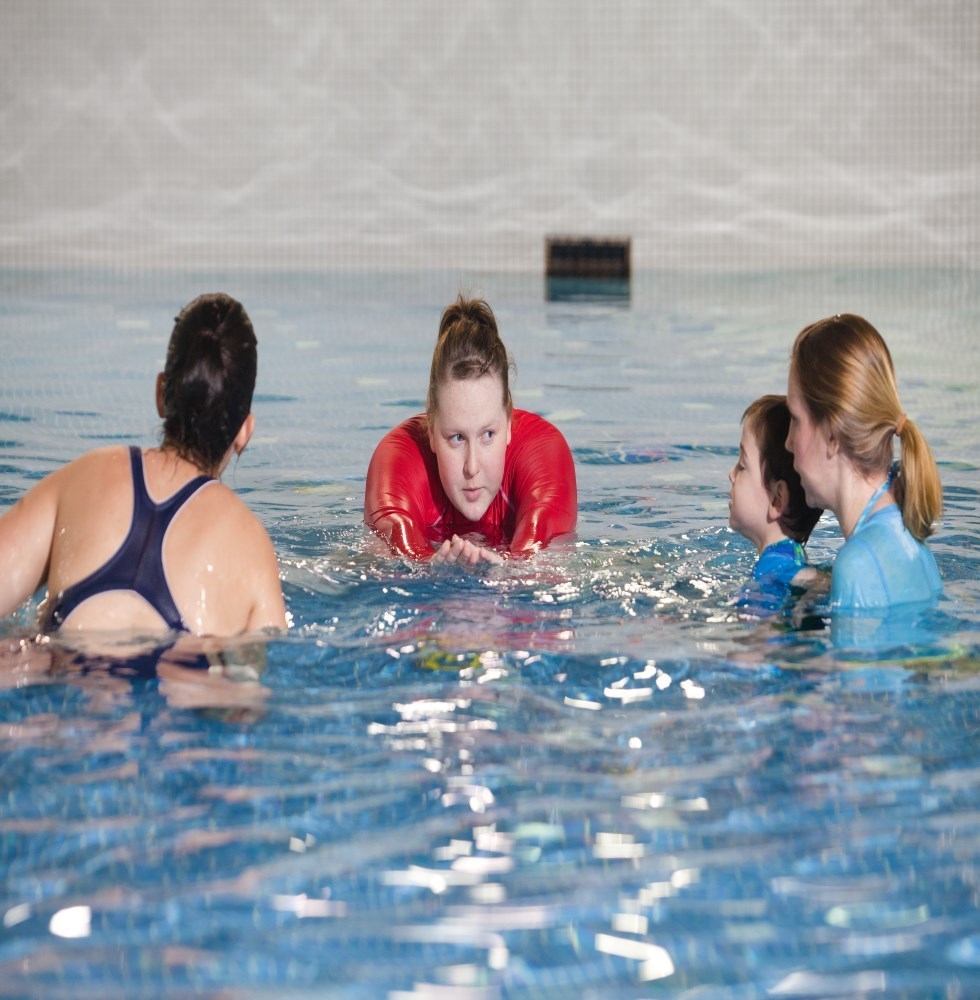 Programs Open for Registration
There are several convenient ways to register for the lessons or programs that you are interested in taking.
Programs Offered
Check out these handy links that explain the programs offered at the Ruth Inch Memorial Pool. Please note that the Red Cross Water Safety Instructor Program has changed and the new information is provided below.
Children attending lessons should only enter the water during their class time.
If a Lesson is Cancelled

Students registered in swim programs will be contacted as soon as possible if there is an unforseen need to cancel lessons. Any lesson cancelled by the City of Yellowknife will be refunded to the Participant's Client Account. There will be no make up lessons offered as they would conflict with other programming.
Hot Tub Use During Instructional Periods

Students are not allowed in the Main Pool or Hot Tub before or after their lessons.
Students registered in swim programs will have 2 minutes of warm up time in the hot tub within their allotted class time which will be supervised by their instructor.
When the class is over students are required to exit the pool as the instructors are moving on to the next lesson.
Patrons wishing to use the hot tub during this period of time must pay regular admission.
You can register over the phone at (867) 920-5683 or by using eConnect.
Pathway to Certification
Please check out the pathway to certification for pool jobs.
Pool Assistant (14 yrs old)
Instructor (15 yrs old)
Lifeguard (16 yrs old)

Bronze Star

(Not mandatory)

Bronze Cross (Prerequisite - Bronze Medallion)

or

Red Cross Assistant Lifeguard

Bronze Star

(Not mandatory)

Bronze Medallion

(Prerequisite -13 years or a Bronze Star)

Red Cross Water Safety Instructor

Bronze Medallion

(Prerequisite -13 years or a Bronze Star)

Bronze Cross

(Prerequisite - Bronze Medallion)

Bronze Cross

(Prerequisite - Bronze Medallion)

Standard First Aid w/ CPR C and AED

Standard First Aid w/ CPR C and AED

LSS National Lifeguard

(Prerequisite - 16 years old. Bronze Cross and Standard First Aid w/ CPR C and AED)
Hours of Operation
Winter Hours effective following the Labour Day Weekend
until prior to the Victoria Day Weekend (September to May)
Monday to Friday: 8:30 a.m. to 5:00 p.m.
Saturday and Sunday: Closed
Summer Hours effective following the Victoria Day Weekend
until prior to the Labour Day Weekend (May to September)
Monday to Friday: 8:00 a.m. to 4:30 p.m.
Saturday and Sunday: Closed