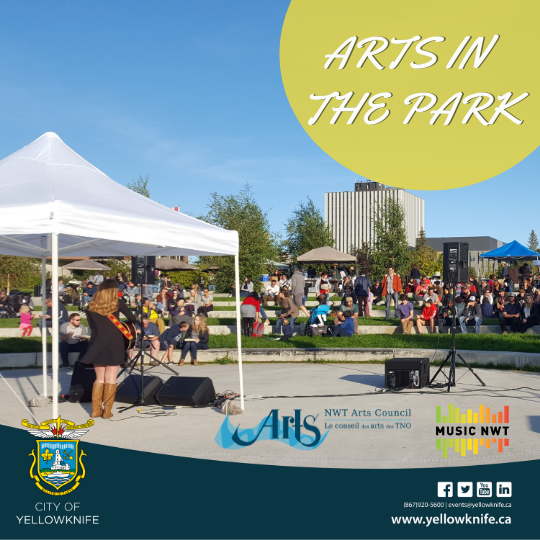 The City of Yellowknife invites residents to visit Somba K'e Park this summer for Arts in the Park on Wednesdays at lunch and Thursday evenings for live music and local art for sale.
The City wishes to thank the NWT Arts Council, Music NWT, and NWT Arts for their roles in making the event such a success this year.
Wednesday Lunch - Arts in the Park Unplugged
Wednesday, Aug 4: Steve Lacey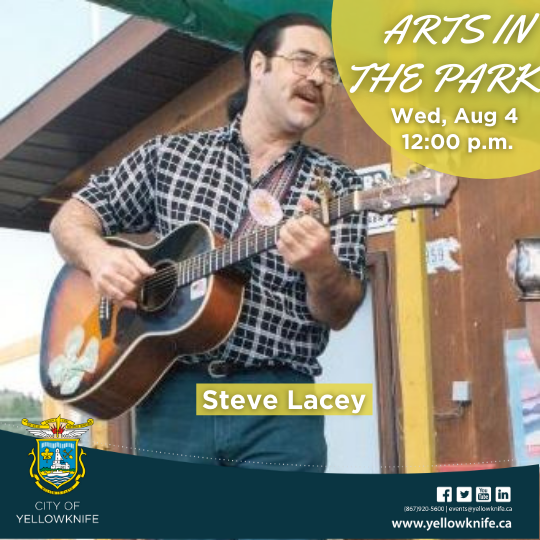 My presentation is of "folk" music, with a "pop" flavour. I cover songs from the great "folk scare" of the 1960s, concentrating on material from such as Gordon Lightfoot, Tom Paxton, Stan Rogers, Buffy Sainte Marie, the Beatles, and others of the era. In addition I have some material of my own, primarily in the folk genre, but with a couple of other influences as well.
I've played with all kinds of groups: folk, rock, and country bands; church, community, and school choirs. My main experience in performing since I came North in 1988 has been with Ceilidh Friends and with The Gumboots. With these groups I've recorded four albums. I've performed at Folk on the Rocks, the Great Northern Music Festival in Inuvik, the Friendship Festival in Fort Smith, the Midway Lake Music Festival at Fort McPherson, and at several other one-time gigs in Norman Wells, Inuvik, Hay River, and both the Ekati and Diavik diamond mines.
---
Wednesday, Aug 11: Abby Schelew
Performances will start around 12:00 p.m., end times may vary.
Thursday Evening - Arts in the Park
Thursday, Aug 5: PARTS and ::: Sunaïra :::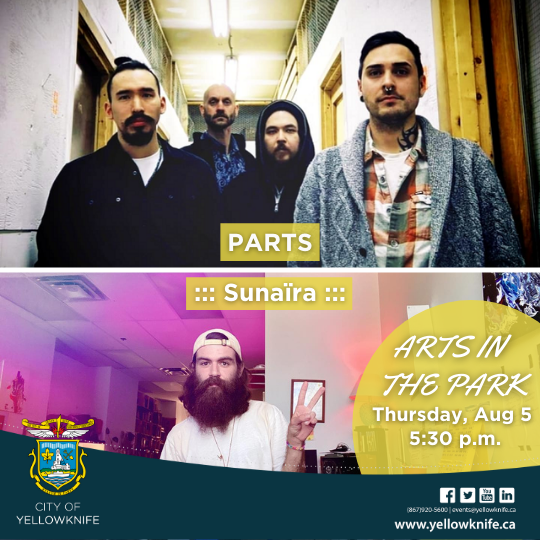 Opening Act - PARTS:
PARTS started out as an acoustic instrumental project in 2016 between two long-time friends showcasing their small set of original work at open mics in Yellowknife, NT. Now with their current four piece line-up - PARTS endeavours to deliver to you their unique mixture of alternative, progressive, and experimental rock.
Second Act - ::: Sunaïra ::::
Samï Blanco (Sunaïra / Temple Volant) are a non binary multidisciplinary artist focusing on creating environmental audio visual atmospheres crafted from ambient dance, abstract drip paintings, astral line drawings & liquid textured illustrations with cinematographies of nature's microcosms as sound walk throughs, reflective of an open world adventure.
Sourcing from an hybrid of styles & techniques, Samï sculpts their multimedia universe selecting instruments and colour pallets to build immersive biomes of sounds & images. From art spaces for alternative education to dance clubs & rave sound systems, Samï Blanco Sunaïra loves sharing their knowledge & wisdom as a purposeful passion to transcend via inter generational creative programs and community workshops to allow connecting by empowering individuals gifts.
---
Thursday, Aug 12: One North Productions Presents: Nara Dapiolos, Narlie, Northwyne and DYLN
Thursday, Aug 19: Coming soon!
Performances will start around 5:30 p.m., end times may vary.
---
Thursday, July 22: CKDance Company and Ciaran Whittle (Scottish Night!) - Currently being re-scheduled. Stay tuned for new date!
Ciaran Whittle:
Ciaran is a multi-instrumentalist artist from a wee Island located on Scotland's North-West coast, called the Isle of South Uist. He grew up surrounded by Scottish music and culture which led him to start learning the fiddle and bagpipes at an early age. He gained experience playing at social events around the island both solo and as part of the family band. After high school Ciaran went on to study traditional Scottish music and Gaelic culture at Sabhal Mòr Ostaig on the Isle of Skye where he picked up guitar and vocals. After university Ciaran continued to perform as a member of the band Balaich an Iar , which translates to, Lads of the West. At the end of 2019 Ciaran moved to Yellowknife eager to continue his music career until the pandemic hit. Find out more about Ciaran here.
CKDance:
CKDance Company is a private dance studio offering Highland Dance lessons to adults and children in Yellowknife, Northwest Territories, run by Yellowknife Dancer Cindy Kimove. Cindy is a fully certified dance teacher with multiple memberships under the Scottish Dance Teachers' Alliance, and a professional member of ScotDance Canada and ScotDance Alberta. Read more about CKDance here.
Past Performances
Wednesday, July 7: Jim Taylor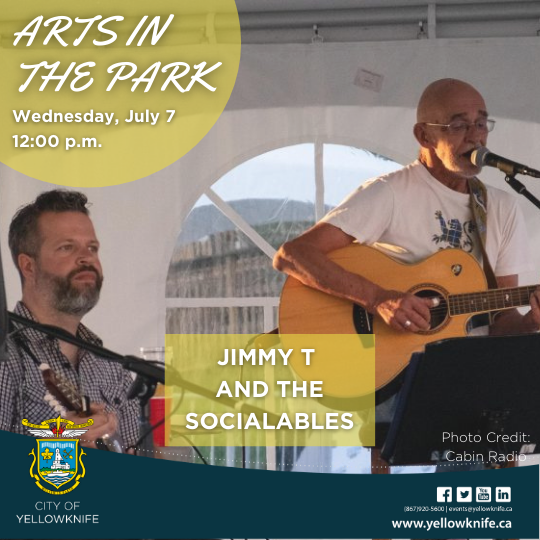 Jim Taylor and Ben Russo play a mixture of East Coast/Celtic tunes. You will find it hard to keep your toes from tapping...even on the grass. Spoon players and "SOCIABLES" are encouraged.
---
Thursday, July 8: Ryan McCord and PrimeTimePrine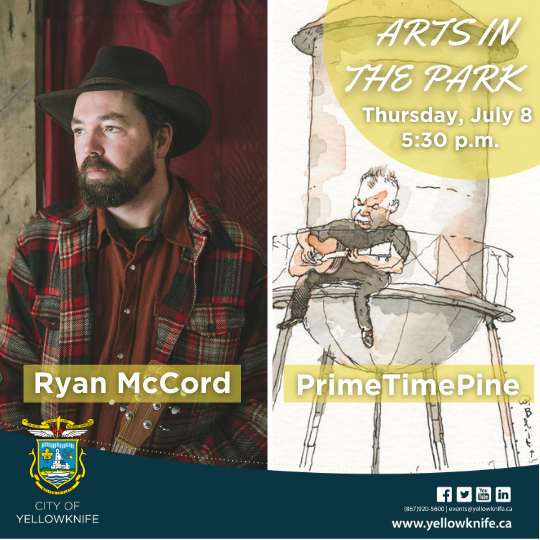 Opening Act - Ryan McCord:
Where the romance of train hopping, the coziness of a Yellowknife shack and the crackle of an old country record on the stereo meet you have the makings of a Ryan McCord show. With a studied knowledge of the finest in classic country and a well-developed voice of his own his songs are sometimes true, sometimes made up, and sometimes made for dancing. Fresh from releasing his second album, his music is sure to get you two-stepping.
Second Act - PrimeTimePrine:
Our band is called PrimeTimePrine and we play the music of the late John Prine. Our music is accessible to all audiences as Mr. Prine's lyrics are endearingly human. We are five friends who started this project shortly before the arrival of Covid 19. Last summer we managed to play two live outdoor concerts in the Woodyard. The first engagement was part of the virtual celebration of Ramble and Ride, the second was an encore performance requested due to enthusiasm for our project. Our band features acoustic guitar, fiddle, cello, base and sometimes snare drum.
---
Wednesday, July 21: Johnny Cole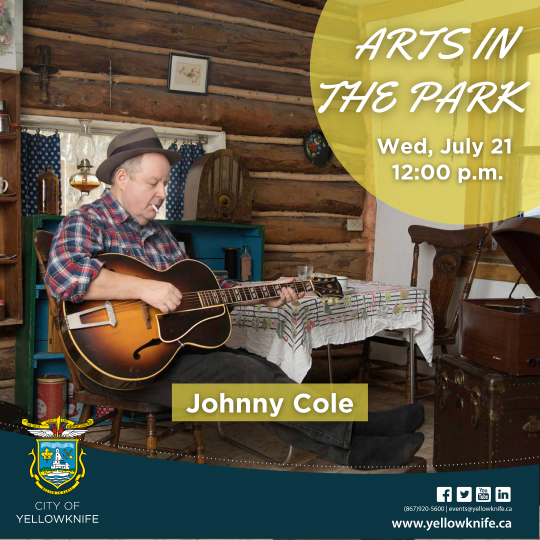 Johnny Cole "Meet me at the Rex" is a musical based on the stories of how Norm's ancestors came to Canada and settled in Yellowknife in 1940.
---
Wednesday, July 28: Miranda Currie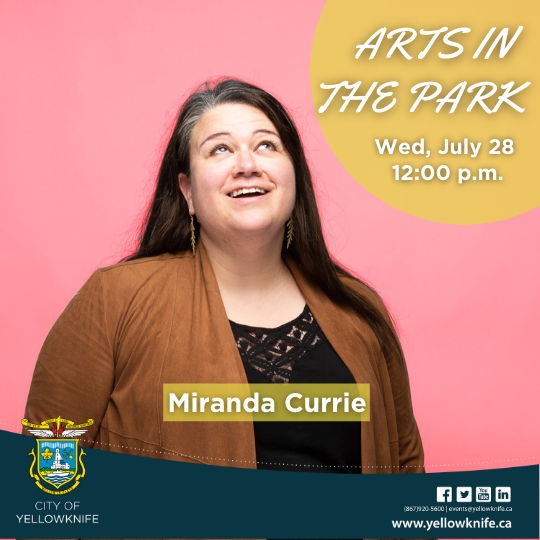 Miranda Currie is a northern indigenous artist living and working in Somba K'e, more widely known, as Yellowknife, Northwest Territories, among the Dene people. She walks in two worlds, with one foot in her Swampy Cree heritage and the other foot in her Euro-Canadian ancestry. Her mission as an artist is to create northern indigenous content that is accessible to children and families.
Nominated for aboriginal singer songwriter of the year by the Canadian Folk Music Awards in 2015 for Up In the Air, Miranda continued to hone her talents as a fiddle playing songstress while transitioning to the genre of children's music and entertainment. Miranda has been learning the Dene language of Tli'cho language since 2016. Working in schools she uses music to help students learn their indigenous language and culture. In addition to being a musician, Currie is an author, film-maker, seamstress and is currently in development stages of a northern indigenous children's television show.
---
Thursday, July 29: Grace Clark and Andrea Bettger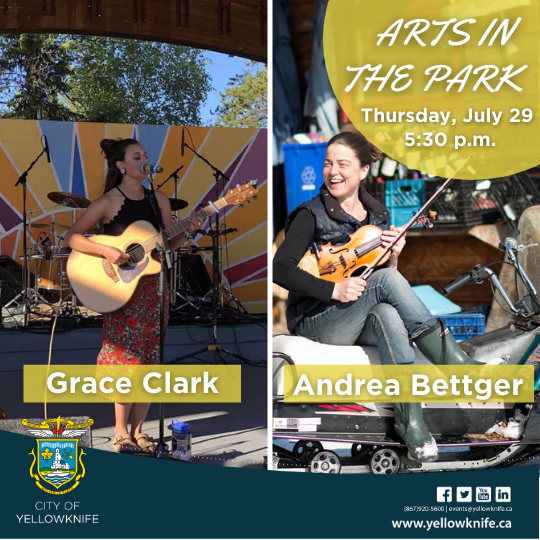 Opening Act - Grace Clark:
Grace Clark, singer & songwriter from Yellowknife Northwest Territories, will absolutely captivate you during her live performances. Grace's sweet melodies and passionate lyrics build a delicate but enticing world, reflecting on love and loss, and themes that you will want to dive right into.
Grace draws inspiration from influences such as Lennon Stella, Tash Sultana, Taylor Swift and Etta James. With hints of blues in her vocals, she creates a dynamic Indie Pop sound with an emotional edge.
At just 20 years old, Grace has released two singles: 'Untouchable' and 'It Gets Loud', which were both produced and recorded in Yellowknife. With more passionate projects on the way, you will surely see Grace paving her own path in the music industry.
Second Act - Andrea Bettger:
Andrea Bettger has experience playing classical, jazz and bluegrass styles, and experiments in the electric world of sounds on her instrument. She has become heavily involved in the Northern-fiddling scene. The fusion of these approaches results in an exciting blend of toe-tapping material, complemented with meditative and heart-warming melodies.
She has performed and recorded with countless artists including The Rheostatics and the Jerry Cans, and has opened the stage for Jimmy Rankin and Buffy St. Marie.
How to get involved
To volunteer, email events@yellowknife.ca

To attend as a vendor, visit our vendor information page
Performance spots are very limited at this time. If interested, please email events@yellowknife.ca
Submit your application or inquiries to events@yellowknife.ca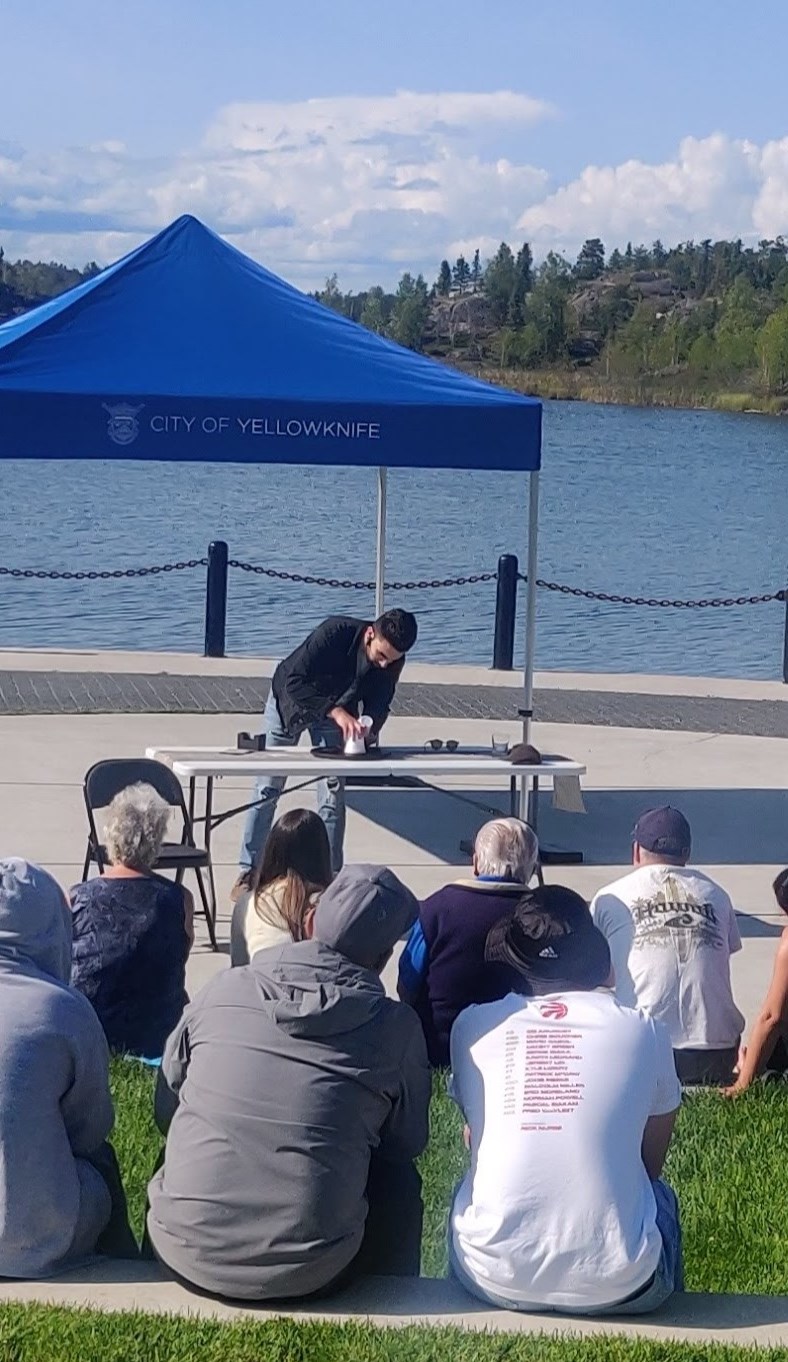 Hours of Operation
Winter Hours effective following the Labour Day Weekend
until prior to the Victoria Day Weekend (September to May)
Monday to Friday: 8:30 a.m. to 5:00 p.m.
Saturday and Sunday: Closed
Summer Hours effective following the Victoria Day Weekend
until prior to the Labour Day Weekend (May to September)
Monday to Friday: 8:00 a.m. to 4:30 p.m.
Saturday and Sunday: Closed