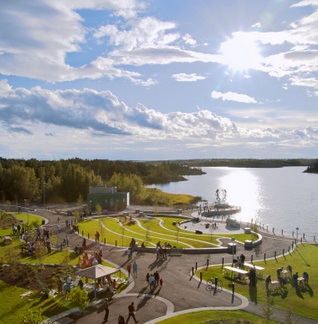 Please adhere to the following six rules when hosting or participating in events at the Somba K'e Civic Plaza.
Unless special approval is granted, vehicles are not permitted in the Civic Plaza.
Location of barbeques must be approved by the Community Services Department.
A mat to catch grease must be placed under all barbeques to protect the ground.
Rental of the amphitheatre does not include access to the washroom building. This must be rented seperately.
Rental of the amphitheatre includes use of the lawns.
Renters must provide a list of any vendors participating in their event to the Community Services Department to ensure that they have a business license.
Hours of Operation
Winter Hours effective following the Labour Day Weekend
until prior to the Victoria Day Weekend (September to May)
Monday to Friday: 8:30 a.m. to 5:00 p.m.
Saturday and Sunday: Closed
Summer Hours effective following the Victoria Day Weekend
until prior to the Labour Day Weekend (May to September)
Monday to Friday: 8:00 a.m. to 4:30 p.m.
Saturday and Sunday: Closed