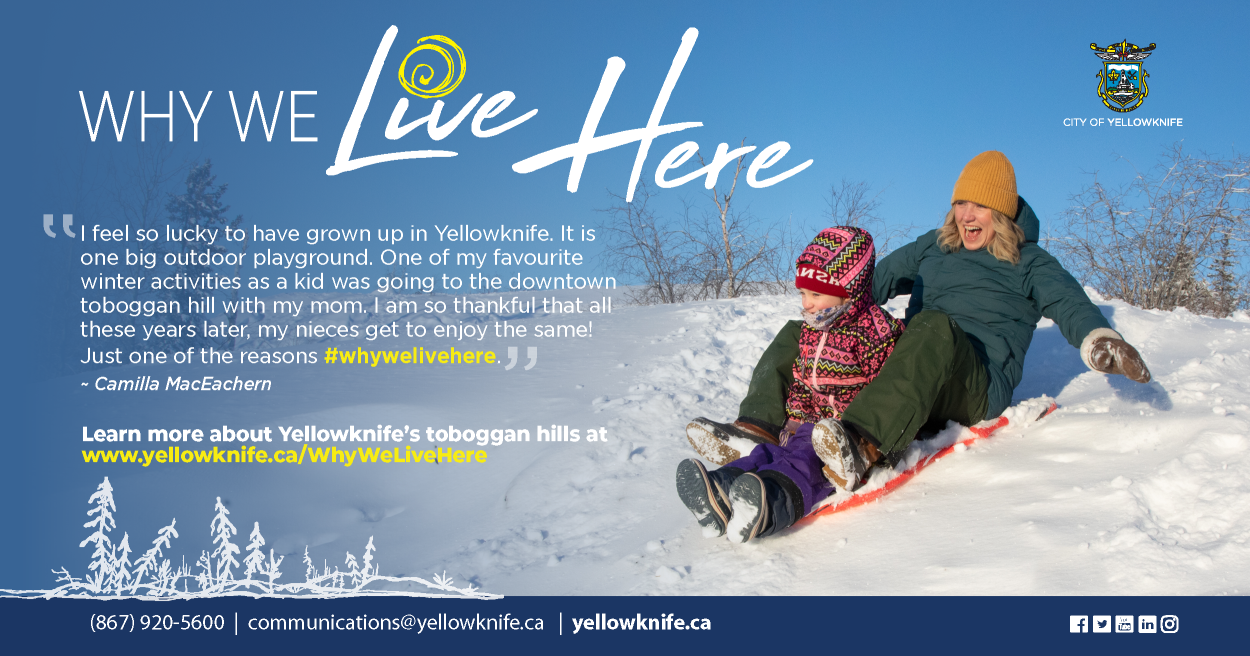 Sledding in Yellowknife – Our Favourite Toboggan Hills:
Yellowknife offers many opportunities to get outside and enjoy winter. One of our favourite ways is to ride the toboggan hills! The smiling faces and laughter from children and adults alike warm our hearts even in the depths of winter! Check out a list of local toboggan hills here.
Photography: Billbradenphoto, City of Yellowknife Downtown Toboggan Hill
---
Why We Live Here:
As Yellowknifers, we know and love many aspects of Yellowknife life, especially the great outdoors. Here at the City, we want to promote the outdoor events and activities available to Yellowknifers, discover and support the passions of our residents, and encourage everyone to get outside to enjoy this winter season!
Why We Live Here is a campaign dedicated to outdoor events and activities put on or supported by the City and various community groups. Particularly in these COVID times, the City encourages Yellowknifers to participate in one of the events, get back to an old hobby, or try something completely new, all in a COVID compliant context in the great outdoors. Explore the activities below to find out what's on offer in your back yard!
If this campaign inspires you, or if you want to encourage others, we want to hear from you! For a chance to be featured in this campaign, tag @OurYellowknife on Facebook, Instagram or Twitter with a picture of you doing the things you love, with #WhyWeLiveHere.
Explore our past features below, and stay tuned for more including the Yellowknife Running Group and Mountain Bike Club!
Hours of Operation
Winter Hours effective following the Labour Day Weekend
until prior to the Victoria Day Weekend (September to May)
Monday to Friday: 11:00 a.m. to 2:00 p.m.
Saturday and Sunday: Closed
Summer Hours effective following the Victoria Day Weekend
until prior to the Labour Day Weekend (May to September)
Monday to Friday: 8:00 a.m. to 4:30 p.m.
Saturday and Sunday: Closed