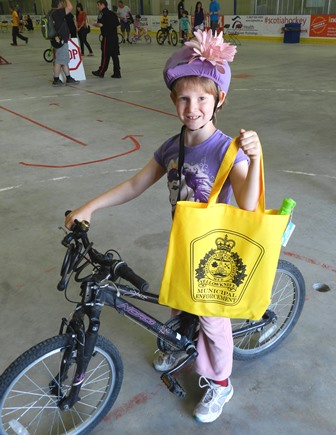 The City of Yellowknife sponsors an annual Bike Rodeo. The program is for elementary-aged children and is designed to encourage safe bike riding techniques.
The event involves Municipal Enforcement Officers conducting inspections of each child's bike and making minor adjustments on the spot. Children receive a free helmet if they need one. They also ride their bikes through an obstacle course and learn how to obey traffic signals.
This year, due to Covid-19, the City will be providing a virtual Bike Rodeo with bike safety videos posted online. Municipal Enforcement will also be working with the City's Community Services division to organize smaller gatherings of children in outdoor settings to take part in the obstacle course and safety training.
More details coming soon.
Hours of Operation
Winter Hours effective following the Labour Day Weekend
until prior to the Victoria Day Weekend (September to May)
Monday to Friday: 8:30 a.m. to 5:00 p.m.
Saturday and Sunday: Closed
Summer Hours effective following the Victoria Day Weekend
until prior to the Labour Day Weekend (May to September)
Monday to Friday: 8:00 a.m. to 4:30 p.m.
Saturday and Sunday: Closed