Your Municipal Enforcement Officers and Firefighters want to wish all Yellowknife students a happy return to school, and wish you all a great start to the school year.
Here is a guide to help everyone understand what it takes to make this back-to-school season happy and safe. Below you will find the following information: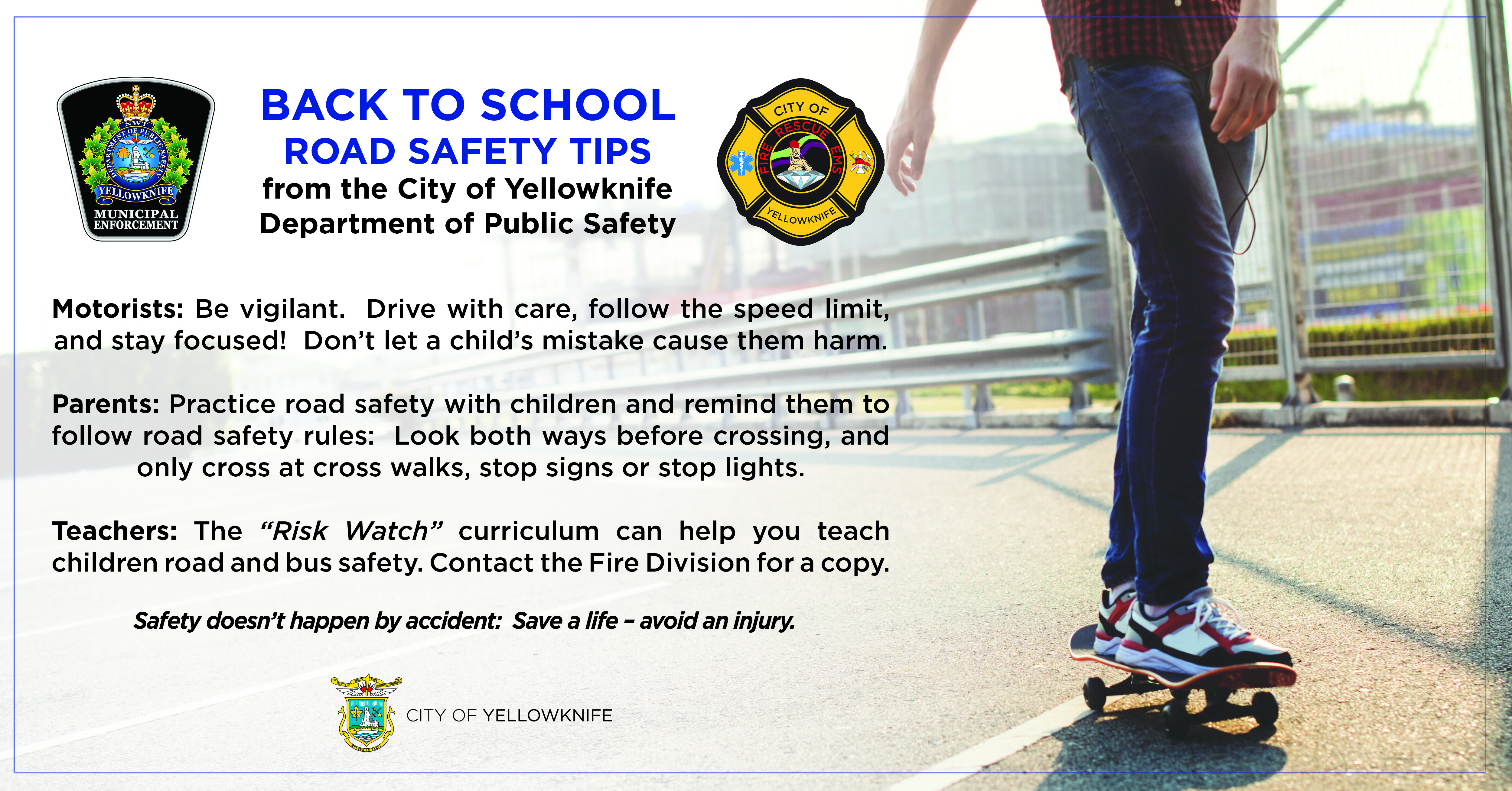 Back-to-School Safety Tips for Parents
Sending your kids back to school is both exciting and stressful. You have to put your trust in others – such as bus drivers and teachers – to ensure that your child's safety remains a priority.
But that doesn't mean you're entirely powerless. Here are a few back-to-school safety measures you can use to keep your children safe, and put your mind at ease:
Teach your kids pedestrian safety rules: Before crossing, POINT across the road to show drivers you want to cross; PAUSE until the cars stop and you make eye contact with the drivers; then PROCEED with your arm extended after all cars in all the lanes have stopped. If your children listen to music while walking, remind them to take out their headphones before crossing the road. And never run into the street.
Choose a safe route and practice it: If your children walk to school or to a bus stop, make sure you practice that route with them several times. Show them how to properly cross the street, wait on the sidewalk and locate landmarks. Make sure they avoid short cuts through alleyways. You should also introduce them to friendly adults along the route, such as neighbors you know, as well as store owners. It's also a good idea to go over a few different routes with your child, just to be safe.
Don't talk to strangers or get in a strangers car: Teach your kids some tricks that predators might use, like candy or a puppy, and how to stay safe in that situation.
Update your child's ID: Kick off the school year right by updating your childrens's ID photo. Also make sure they know their contact information (phone numbers, address, and an emergency number).
Purchase a bright book bag: Wherever your student roams, so too will their book bag. A bright book bag will help drivers take notice of your child, even if they're not paying attention.
Use the buddy system: There's safety in numbers. Walking in packs is always the safest route to and from school. Team up with fellow parents in the neighborhood to form a buddy group. Get the kids involved. Let them know that the group can't go anywhere unless is accounted for. Use social media, like Facebook, to keep the group organized.
Keep in touch with school administration: You can contact teachers to guarantee your kids got to school safely.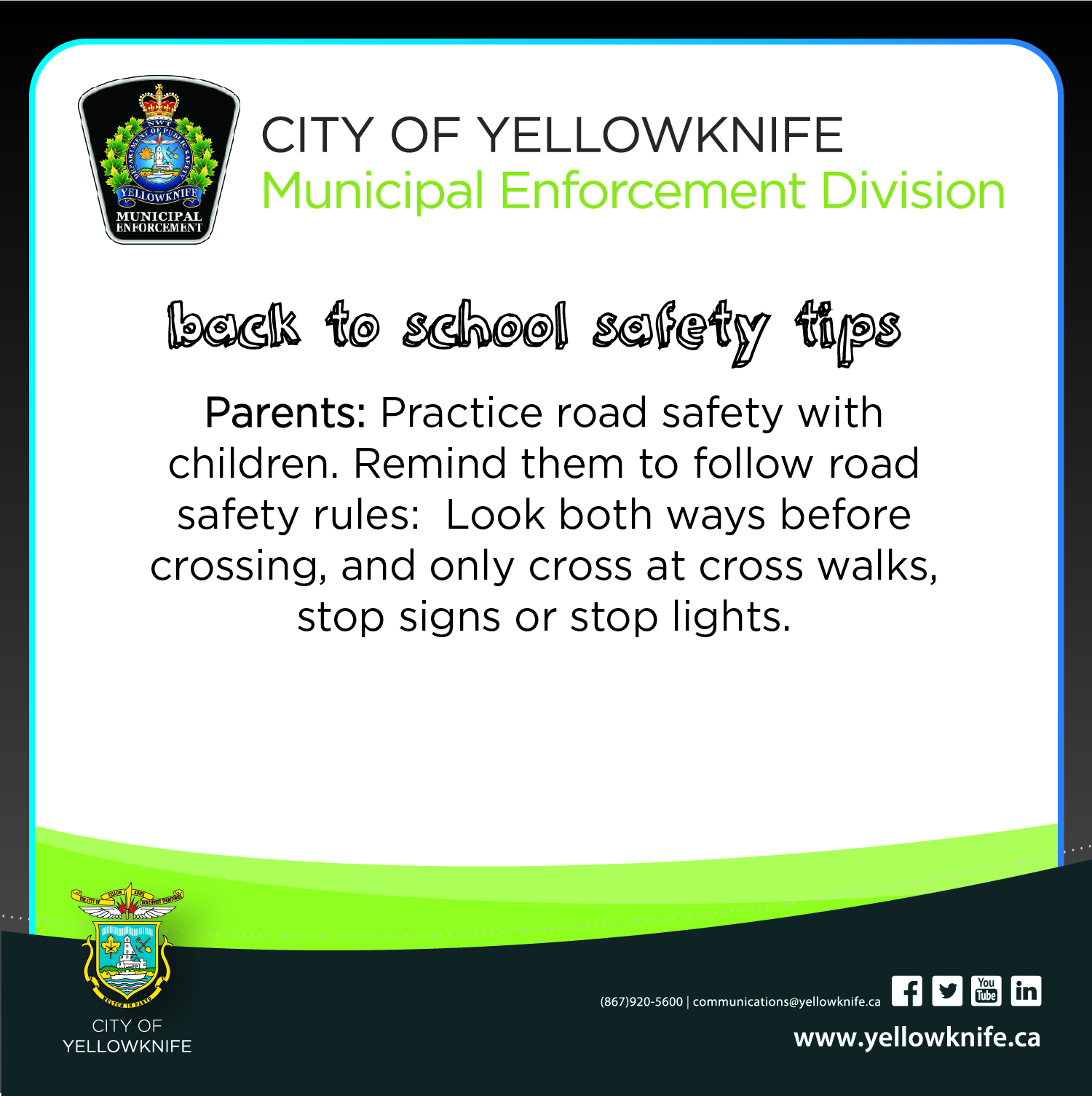 Safety Tips for Kids Home Alone after School
Taking some proactive safety tips for kids staying home alone can make a huge difference in their safety and your peace of mind.
Make sure your kids are ready to stay home alone: Talk to them about self-supervision and make sure they are ready for the responsibility of being alone.
Install Home Security Cameras
Set up a Smart Automation System: The nature of the child's mind is that it is very often forgetful. That means that your children might come in and forget to lock the door. They may open a window and completely forget to close it. A smart home automation system can automatically turn lights on, detect when someone has entered the home, and automatically lock it, and send you notifications when windows are left open.
Prepare Child Home Safety Checklists: When you have to go out, leaving kids at home alone, you can make rules about what's acceptable when they have to be on their own. Make a checklist and prepare all things needed to ensure your children's security before you leave. The checklist can include:

Write down your cell phone numbers, and the family members' phone number. Or if necessary, also post the phone number of your neighbors who live nearby.
Post emergency numbers (below) for the Yellowknife Fire Department, Municipal Enforcement and RCMP.
Put bandages and first-aid medicine box in a handy location. Consider letting your kids take the Red Cross child care training to learn first aid skill.
Install safety covers on all unused electrical outlets, and make electricity safety rules for kids.
Keep Medicals, Knives, and Other Dangerous Items Away from Children
Teach Your Children Safety Factors & Observation: Practice what to do in an emergency, like, how to call for help, what to do in case of a fire, never open the door for a stranger, and don't leave the house without permission.
Ensure Your Children's Phone Can Be Tracked: Another thing you can do to keep your children safe is to give them a smartphone so that you can call and text them at any time. Moreover, make sure you can track their phone.
Pay Special Attention to Child Internet Safety: Talk with your kids about safe browsing and computer use, never give out personal information like home address and phone number, and be cautious about social media.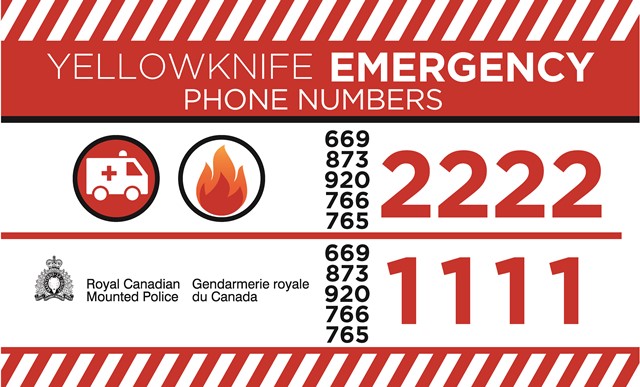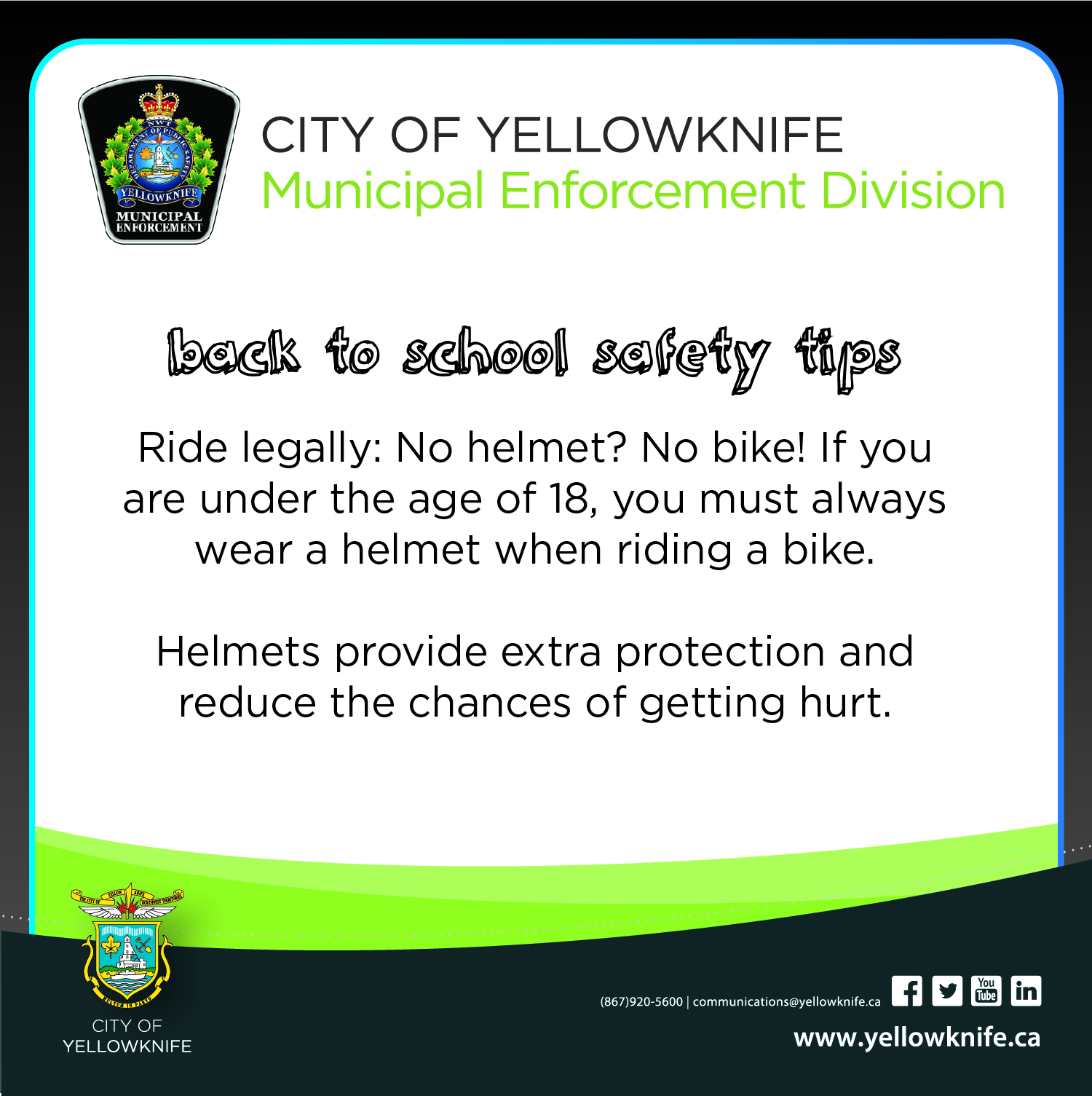 Back to School Safety Tips for Kids
Avoid earbuds and screens: It's only natural for you to want to listen to music, or watch the latest YouTube video, on your way to and from school. But these types of distractions can have disastrous results. Be aware of your surroundings 100% of the time, and put your phone down when crossing the street.
Don't take shortcuts: Take the same route every day that you and your parents agreed on and don't go anywhere else without permission.
Don't J-Walk: Only cross at crosswalks, stop signs, and street lights. Wait until traffic comes to a complete stop before crossing. Make sure drivers see you before you cross – if it helps, you can stick out your arm to let a driver know you want to cross.
Get creative with clothing: Wear bright clothing so that people can see you. And if you don't like bright clothing, then at least wear a bright and funky backpack and a goofy hat for your walk to school.
Know how to respond in an emergency: No matter how many safety precautions are put into place, emergencies do happen. You need to be prepared for any situation that arises. That includes, of course, knowing how to call for help. However, have you ever considered taking a First Aid class? These classes help children understand not only what to do in an emergency, but what not to do.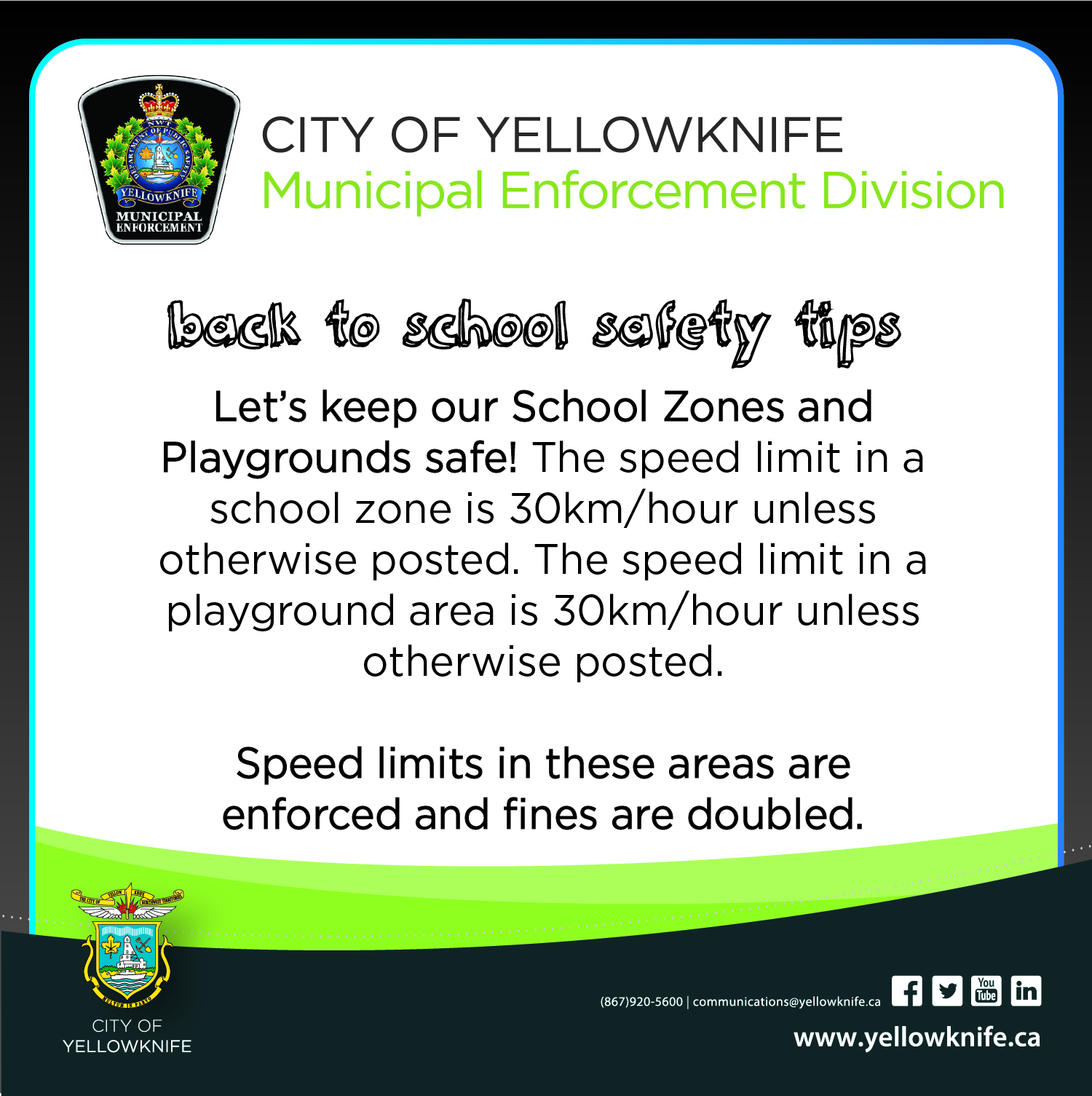 Safety Tips for Students Traveling by Bicycle
To ride a bicycle to and from school, students must be mature enough and have enough experience. The rider should be able to scan ahead and check behind without swerving.
To ensure safe cycling, young cyclists must:
Wear a properly-fitted helmet, and have clothes that are suited for cycling (e.g. their pants tucked in).
Have your bikes fitted properly and in good working order. The bike should have a regular maintenance check-up and should have a bell. It is also a good idea to have a safety flag.
Know and obey all traffic rules, signs and signals. You must signal turns and stops. Ride in a straight line in the same direction as traffic and stop at every stop sign.
Be predictable to other road users by riding with the traffic usually on the right hand side of the roadway.
Never ride in the dark. If an older child must ride in the dark, make sure you use reflective clothing and night-accessories (e.g. reflectors and lights).
See more bike safety information here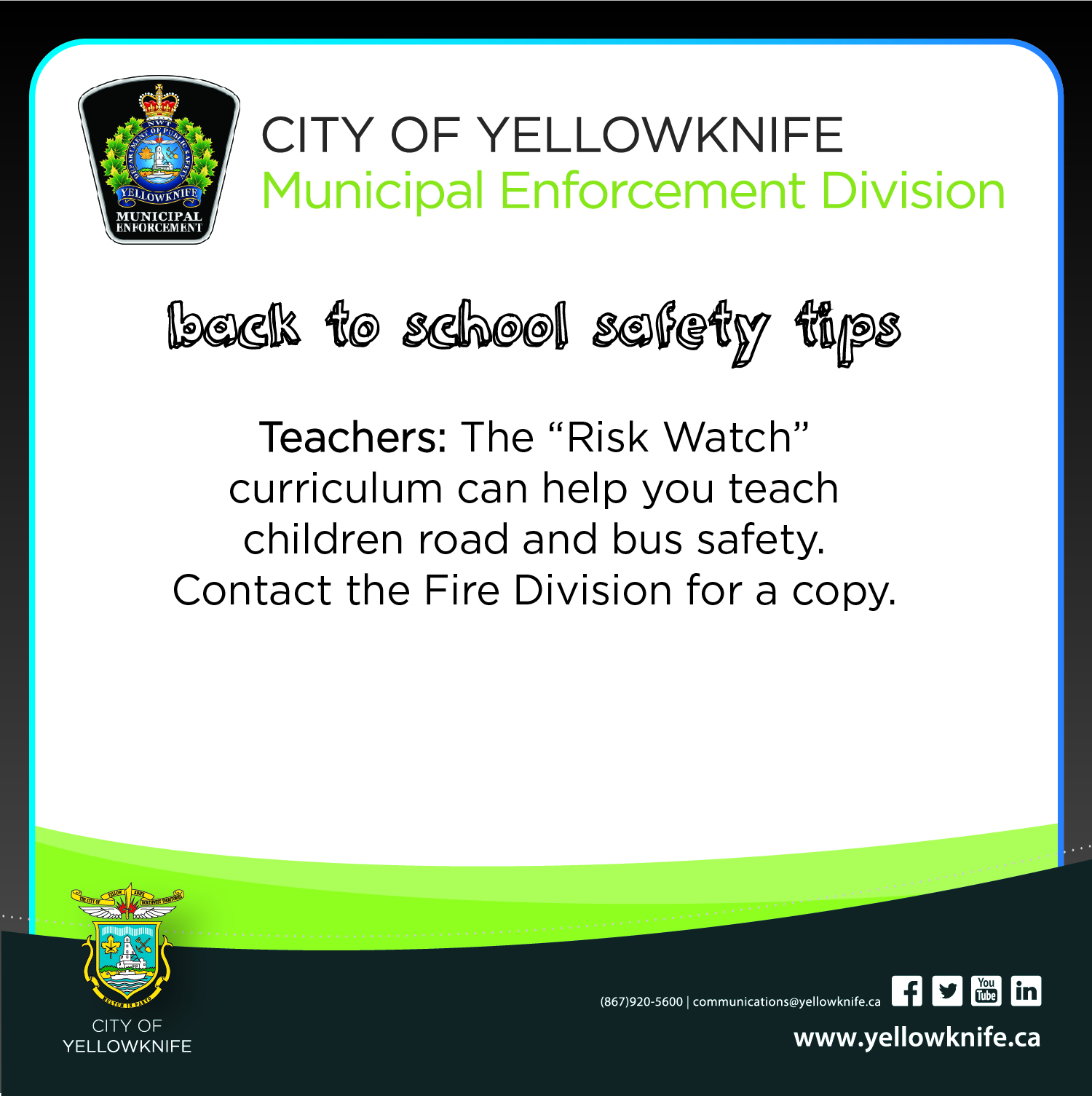 Back to School Safety Tips for Drivers
Everyone in the community is impacted when kids go back to school, including drivers. So what back to school safety precautions can drivers follow this fall?
Be careful as you leave your home: Take a few extra seconds to look out for traveling children before you set out on your journey. Most drivers know to slow down in school zones, stop at crosswalks, and remind your friends that it's back-to-school season.
Stay alert: Children are the least predictable pedestrians and the most difficult to see. Don't drive while distracted; always be aware of your surroundings.
Pay special attention to intersections: Drivers, including school bus drivers, should keep alert when driving, and use extreme caution when approaching intersections and crosswalks. Never run the red light. Scan the road ahead and obey posted speed limits. Always be prepared to slow down or stop suddenly. Parked or stopped vehicles may hide a pedestrian crossing the road. Drivers can be fined and receive demerit points for failing to yield at a crosswalk.
Don't honk: Don't honk your horn or rev your engine to scare or rush a child in front of your car.
Learn the bus routes: Did you know that the schools in your area can tell you the specific routes for their buses? This is helpful for a couple of reasons. Firstly, you'll know when and where to be extra vigilant while on your drive. But this information could also help you avoid backups on the road by taking alternative routes.
Know school bus rules:

Do not pass: It is illegal to pass a school bus that is stopped to load or unload children.
Yellow flashing lights: means the bus is preparing to stop to load or unload children
Red flashing lights with an extended stop sign: means motorists in all directions must stop as the bus loading or unloading children. Motorists can only proceed when the lights are off and the sign is retracted. Drivers can face a fine and demerit points for failing to abide by this law.
Stay behind: Don't follow a bus too closely and always stop when the bus stops.
Obey crossing guards: Always stop when directed to by a school patrol sign, school patrol officer, or crossing guard.
Keep school zones safe: The posted speed limit in a school zone is 30 kilometres per hour unless otherwise posted. The speed limit in a playground area is 30 kilometres per hour unless otherwise posted. Speed limits in these areas are enforced and fines are doubled.
Keep the radio off where children gather: Texting and driving is illegal and dangerous. Even talking on the phone through a Bluetooth devise can be distracting. When you listening to your radio, you're more likely to look down to change the station or adjust the volume. So another back-to-school road safety tips for drivers is to avoid this temptation by simply keeping the radio off near bus stops, in school zones, or anywhere else you know children could be walking.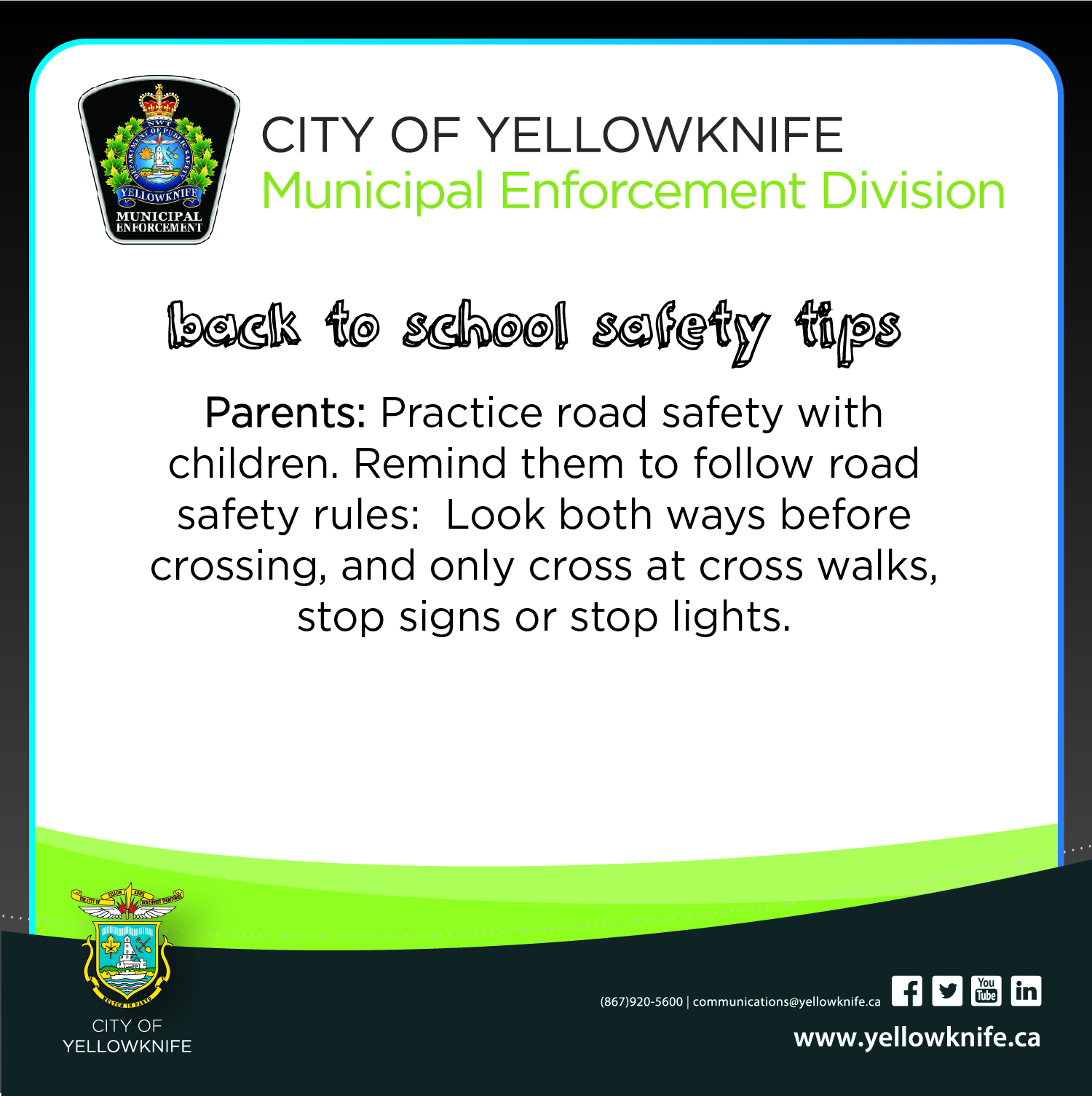 Hours of Operation
Winter Hours effective following the Labour Day Weekend
until prior to the Victoria Day Weekend (September to May)
Monday to Friday: 8:30 a.m. to 5:00 p.m.
Saturday and Sunday: Closed
Summer Hours effective following the Victoria Day Weekend
until prior to the Labour Day Weekend (May to September)
Monday to Friday: 8:00 a.m. to 4:30 p.m.
Saturday and Sunday: Closed