Emergency Preparedness Week is a national awareness initiative every year, sponsored by Public Safety Canada and provincial and territorial emergency management organizations, that takes place during the first week of May. This initiative encourages Canadians to take three simple steps to become better prepared to face a range of emergencies:
Know the risks
Make a plan
Get an emergency kit
By taking an active role in your community, you are helping to build a culture of preparedness in Canada. For more information visit: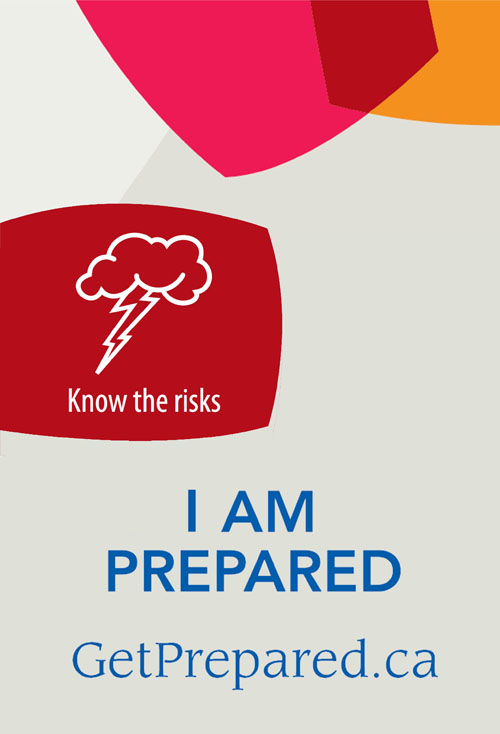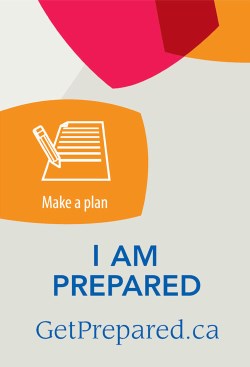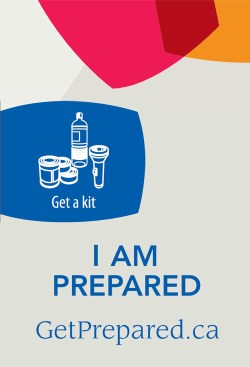 Emergency Management Plan
The City of Yellowknife has an Emergency Management Plan that coordinates its response to any major emergency. The City's role is different depending on the type of emergency. In many cases, the City will broadcast and relay important information to the public through available communication channels. Please see an overview of the City's Evacuation Framework. In other cases, the City will lead a response planning team from the Emergency Operations Centre, whose responsibility is to:
Assist emergency personnel to respond quickly to potential disasters such as wildfires, major storms, chemical spills, plane crashes, or power outages
Provide a central leadership group to decide how best to use available resources and, if necessary, resources from the Territorial and/or Federal Governments
Provide guidelines for recovery after an emergency
What is an Emergency?
An emergency is defined as an unexpected or dangerous situation that requires a quick response. Specific examples include wildfires, major storms, chemical spills, plane crashes or, most common in Yellowknife, long power outages in extremely cold weather
Nobody wants to be involved in an emergency situation, but it's important to be prepared and ready just in case it occurs
In the event of an emergency, by following the instructions of emergency personnel and being as self-sufficient as you can, you will help emergency responders assist other neighbourhoods or people that may require priority assistance
Emergency Preparedness
In an emergency, be prepared to care for yourself and your family while emergency response teams initiate planning and actions
National guidelines recommend creating emergency kits with 3 to 7 days of food and water for all family members. This may also include special items for children, seniors and pets
You can purchase pre-made kits or create your own based on your family's needs
Store emergency kits, along with a battery operated flashlight and other needed items, in an easy-to-find place in your home
Create a personal emergency plan, which might include what you'll do if your phone doesn't work and you are not able to reach your family members, or what to do if you are unable to travel to a particular part of town
You can find more information about what to include in a kit, how to draw up a plan and other tips at the Government of Canada's Emergency Preparedness website
Emergency Planning for Winter Power Outages
There are a few simple steps that you can take to ensure that you, your family, and your colleagues are prepared for a winter power outage. Visit the following links for details:
Emergencies: Frequently Asked Questions
What are the primary risks for the City of Yellowknife?
The primary risk for the City of Yellowknife is a long power outage in -30 C weather or colder. Other risks include forest fires, fuel spills, explosions, or severe accidents like an airline crash
When and how is the City's Emergency Plan activated?
In the case of an extended power outage (4 hours or more in cold weather) the Emergency Plan will be activated by the City Manager, the Mayor or their alternates
The City may also activate portions of the plan in the event that the City becomes a reception centre for other northern communities forced to evacuate due to an emergency
Once the City declares a state of local emergency, it provides the City with additional powers under the The Emergency Management Act. The City can then seek any assistance from businesses or use their personnel or equipment to deal with the emergency within our community boundaries. The City includes GNWT authorities within our Emergency Plan to ensure proper communications with those agencies that may provide further assistance.
If the City depletes our resources and requests further assistance from the GNWT, the GNWT will enact their emergency operation centre (which may have already been activated in stand-by capacity) and/or provide any further assistance as required by the local authority.
Communications between agencies is integral to any emergency plan working effectively. It is similar to discussing your plan with family members on where to meet in an emergency or who to contact for a family emergency, just a slightly larger scale.
How does the City declare a state of emergency?
Also see, When and How is the City's Emergency Plan activated?
To declare a state of local emergency, the Mayor and City Manager, in consultation with other agencies may declare a state of local emergency, in accordance with the Civil Emergency Measures Act, section 14(1)
Who tells the public there is an emergency?
In an emergency, the City will communicate through available communication tools such as local media, the City's social media sites (Facebook & Twitter) and website
When an emergency affects a specific neighbourhood or area of the city, the City may also go door-to-door with its partners, such as the RCMP
Who is the contact and spokesperson for the public?
During a power outage at extreme temperatures, information is provided by the power supplier, Northland Utilities or the Northwest Territories Power Corporation, that operates the power grid
The Mayor or City Manager will inform and update the public to the status of emergency situations on behalf of the City; the City may have multiple spokespeople depending on how long the emergency lasts or if there are multiple emergency locations
For a health related emergency, either the Office of the Chief Public Health Officer or another representative from the Territorial Government's Department of Health and Social Services will be the designated spokesperson. In this case, the City and other government departments will provide assistance
Will the City let people know if there is NOT an emergency?
As every situation is unique, the City will attempt to say whether something is an emergency or not
Examples of an emergency response which do not trigger a State of Emergency being declared include a fire response, a spill or hazardous materials scene, or the RCMP dealing with a specific situation. In these cases, the City will share information, when possible, using communication tools to help create awareness
Are there emergency shelters available?
Emergency Reception Centres, powered by backup generators, are located within the city
The use of these reception centres will vary depending on the type and location of the emergency. When necessary the public will be notified which reception centre is being activated for emergency use
Would the City evacuate due to an emergency?
If there were an emergency situation which required a partial or full evacuation of Yellowknife, the City would coordinate planning and action with the GNWT and it's other emergency response partners in activating evacuation operations. The City and GNWT would activate their respective Emergency Management Plans to organize and implement a full or partial evacuation of Yellowknife. A specific action plan would be created to address the requirements to activate an evacuation determined by conditions related to the actual threat (eg. direction of the wildfire's advance, weather conditions and forecasts, the effects of smoke on residents, security of air and ground transportation routes, availability of emergency reception areas, and the capacity to mitigate the threat). Both air and ground transportation methods would most likely be used in a full scale evacuation unless either option was hindered by current conditions.
A shelter-in-place strategy would be utilized in situations where only a portion of the community was at risk and it was determined feasible to remain in the immediate area, or if a large scale evacuation was not possible. This strategy would involve moving residents from affected areas of the city to areas where conditions were safe, or at least areas where they may not be ideal but presented improved conditions for people to await a reduction in the fire threat.
How can I help?
Arm yourself with knowledge by reading the information on this webpage, by visiting the Government of Canada Emergency Preparedness website and also by reviewing the Government of the Northwest Territories Be Ready NWT website
Be prepared to be self-sufficient for at least 72 hours