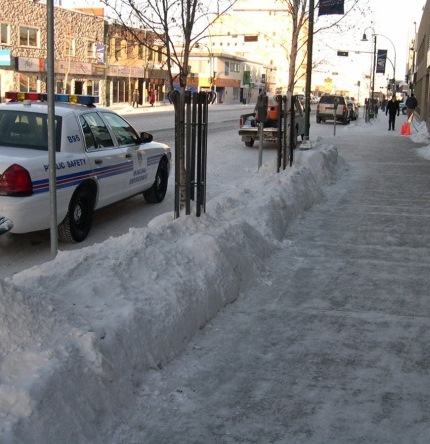 Scoop the Poop
Dog By-law No. 4755 requires all dog owners to carry with them the means to pick up dog poop and to immediately pick up the feces when on public property. As per Sections 23 and 24:
23. Where a Dog is on public or private property other than the property of the Owner, the Owner shall have in their possession a suitable means of facilitating the removal of dog feces.
24. Where a Dog defecates on any public or private property other than the property of its Owner, the Owner shall cause such feces to be removed immediately.
Further Section 25 prohibits an Owner to allow dog feces to unduly accumulate on their property:
25. The Owner of a Dog shall not allow dog feces to accumulate on the Owner's property to such an extent that it is likely to annoy or pose a health risk to others.
Snow removal
Sidewalks in the Central Business District:
Highway Traffic By-law No. 4063 requires property owners to clear snow and ice from sidewalks in an area designated as the Central Business District. As per Sections 110 (2) and 110(5):
The occupier of a property abutting on a sidewalk in the Central Business District shall remove or cause to be removed, snow and ice, and take such other reasonable measures as shall be necessary to ensure safety of pedestrians using the sidewalk.
The Central Business District is defined as:
49 Avenue from 53 Street to 47 Street;
50 Avenue from 44 Street to 57 Street;
51 Avenue from 52 Street to 46 Street;
the west side of 52 Avenue from 54 Street to 46 Street;
53 Street, 52 Street, 51 Street, 50 Street, 49 Street and 48 Street from 49 Avenue to 52 Avenue;
54 Street from 50 Avenue to 50A Avenue.
The contents of section 110 (2) shall not be construed so as to relieve such pedestrians of their duty to exercise due care and precaution when using the sidewalk.
Other areas:
Please be advised that By-law No. 4063 prohibits the removal of snow from a driveway onto a road. As per Section 110 (1):
No person shall place, or cause or allow to be placed upon any highway or public place within the City any snow, ice, dirt, or other obstruction removed from any place in the City other than from a sidewalk pursuant to the provisions of this By-law.
The word "highway", as defined in the Highway Traffic By-law, includes a road. This means that the only snow you can legally place on the road is snow from a public sidewalk. Placing snow from a driveway onto a road causes traffic mobility problems, pedestrian safety concerns, and visibility difficulty.
Snowmobile Registrations
Snowmobile registrations for the 2019/2020 season will be available through the Municipal Enforcement office at City Hall in September 2019. Please bring your previous registration and proof of insurance.
If you are registering a snowmobile for the first time, you will need to provide proof of insurance and a bill of sale or proof of ownership. The City of Yellowknife reminds snowmobilers to adhere to posted speed limits and wishes you a safe snowmobile season.
Please visit our Snowmobiles page for more information.
General Information
Keep your cell phone down while driving! Tickets will be issued for distracted driving.
Where unmetered parking is allowed, you can park your vehicle or trailer for up to 72 hours.
No parking is allowed on Franklin Avenue from 3:00 a.m. to 9:00 a.m. and from 4:30 p.m. to 6:00 p.m. on weekdays.
You must have a card from the NWT Disabilities Council or other recognized issuers to park at disabled parking spots.
Hours of Operation
Winter Hours effective following the Labour Day Weekend
until prior to the Victoria Day Weekend (September to May)
Monday to Friday: 8:30 a.m. to 5:00 p.m.
Saturday and Sunday: Closed
Summer Hours effective following the Victoria Day Weekend
until prior to the Labour Day Weekend (May to September)
Monday to Friday: 8:00 a.m. to 4:30 p.m.
Saturday and Sunday: Closed