Supporting Fun Outdoors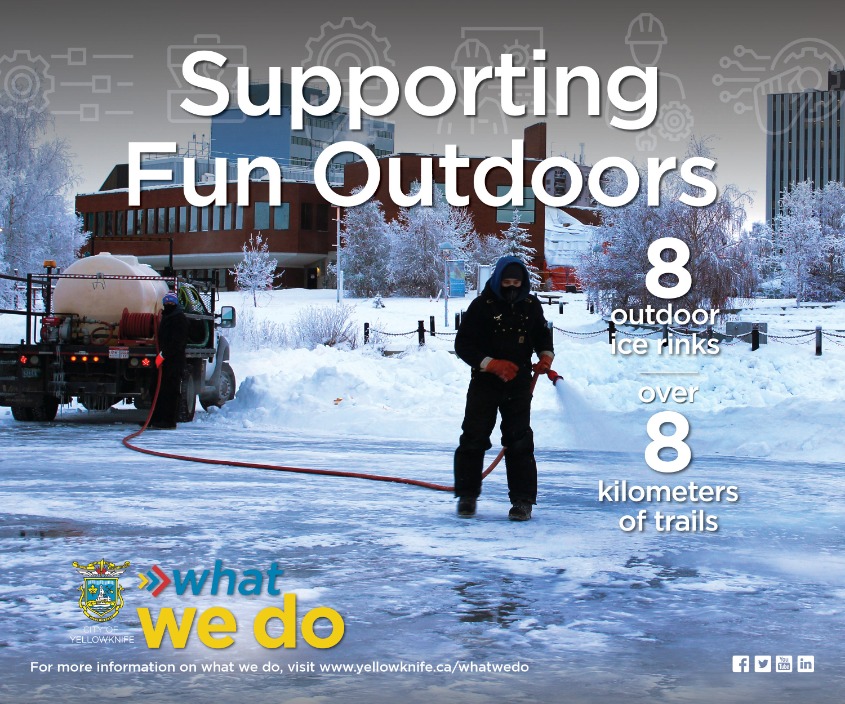 Did you know? The City of Yellowknife maintains many outdoor amenities that are accessible for free. This includes parks, trails and even ice rinks in the winter.
The City currently maintains 8 outdoor ice rinks. This includes Jeske Crescent, School Draw, Forrest Drive, Tommy Forrest and Hall Crescent and finally, 2 rinks and an oval at Somba K'e Park. All the rinks have a nearby source of light so they can be safely used in our dark winters.
The City also maintain over 8km of trails between Frame Lake Trail, Niven Lake Trail and Tommy Forrest Park. As well as a trail across Frame Lake in the winter, maintained in partnership with the Great Slave Snowmobile Association.
The City encourages residents to get outdoors and remain active. Outdoor activities are the perfect way to enjoy our community.
Maintaining outdoor amenities. It's What We Do.
Saving Residents Money on Damaged Pipes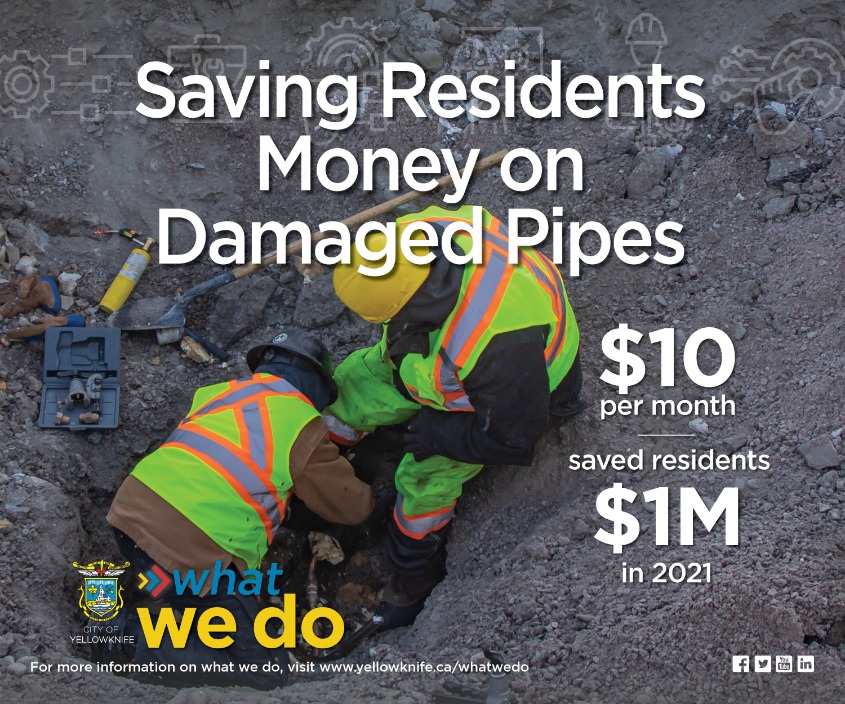 Did you know? Residents own the entire length of water and sewer piping from their house to the City mains, not just to their property line? The City of Yellowknife recognizes the essential purpose of these pipes and developed a program to help homeowners with both the process of repairs and the major costs associated with it in the event of damages.
The Service Connection Failure Assistance Program is applied each month to your household utility bill and is approximately $10/month. If the program is applicable to the service pipe failure, the deposit to initiate the repair process is $1000.
The following criteria apply:
The resident has properly installed and maintained freeze protection.
The service pipes and connections are in accordance with the applicable By-laws and codes.
A repair or replacement to your water or sewer service in Yellowknife could cost a homeowner anywhere between $10,000 and $50,000 but this Program allows the City to repair a water or sewer service pipe problem for a fraction of the actual cost to the owner. This program is unique when compared to other municipalities across Canada, where costs on service pipe repairs would be solely covered by the homeowner.
The Service Connection Failure Assistance Program applies to work on the water and sewer service pipe from the City main to the building envelope, excavation, and backfill related work. Costs associated with the repair of landscaping, driveways, pipe thawing, moving physical obstructions to the work, and other expenses are not covered by the program.
In 2021, the Service Connection Failure Assistance Program saved Yellowknife residents an estimated $1,000,000 in repair costs. The City of Yellowknife is proud to offer such an exceptional program to put residents' minds at ease when it comes to unexpected service pipe damage.
Helping to offset costs associated with service pipe failure. It's What We Do.
Developing Our Youth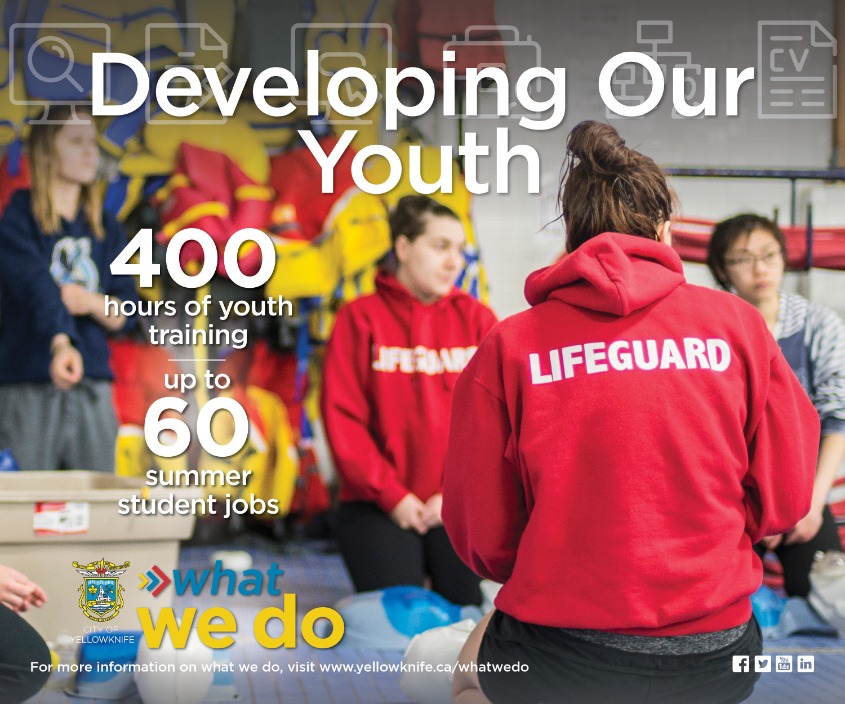 Did you know? The City of Yellowknife provides full-time, part-time, and summer employment opportunities for youth under 24.
The City recognizes the importance of developing the skills and capabilities of our community's youth and works to offer as many youth employment opportunities as possible.
Every year, the City offers up to 60 summer opportunities varying from customer service and information technology to labouring jobs and day camp staff.
The Ruth Inch Memorial Pool provides 400 hours of youth training annually and is looking year-round for enthusiastic and talented people to become casual part-time lifeguards, pool assistants and instructors.
The City is proud to provide opportunities that empower our youth to gain valuable work experience in local government, learn new skills and contribute to their community. And even consider careers in local government in their future.
Providing training opportunities for our community's youth. It's What We Do.
Accessibility at the Library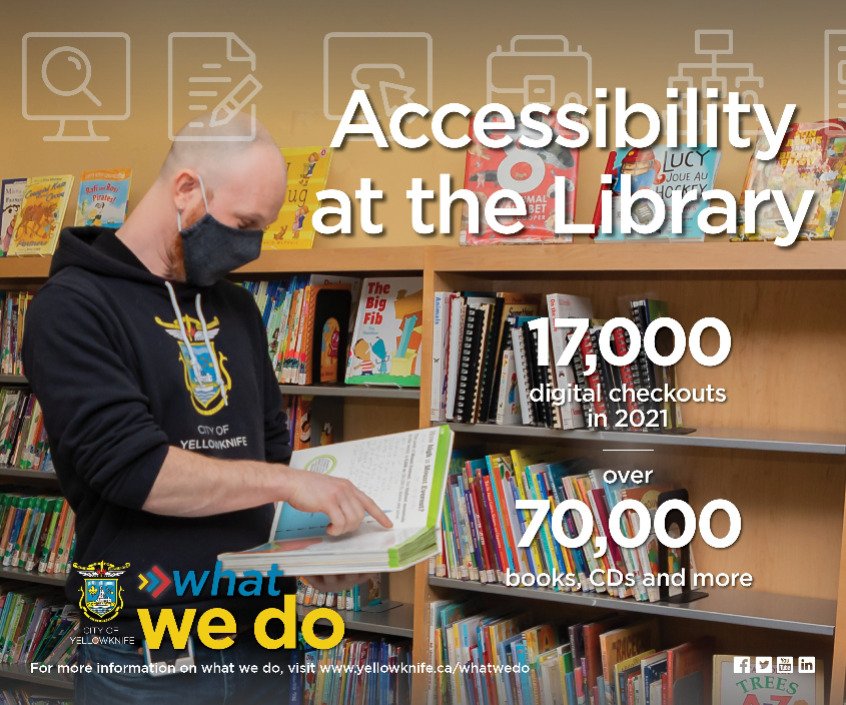 Did you know? The Yellowknife Public Library has a catalogue of Online Resources that are available for free with your library card. These resources include access to eBooks, audiobooks, music and other media.
The Library sees 17,000 checkouts of e-Resources per year from over 11,000 titles available for download.
The Library has thousands of online resources which are especially helpful for people with print disabilities. Ebooks, audiobooks, and interactive books can help readers of all ages connect with information and stories.
Within our non-virtual catalogue, there are books in braille, physical audiobooks (CDs), and books in large print. These represent more than 1500 of the total 70,000+ items that residents can check out or enjoy in the library.
Ensuring everyone has access to Library resources. It's What We Do.
Building our Community Together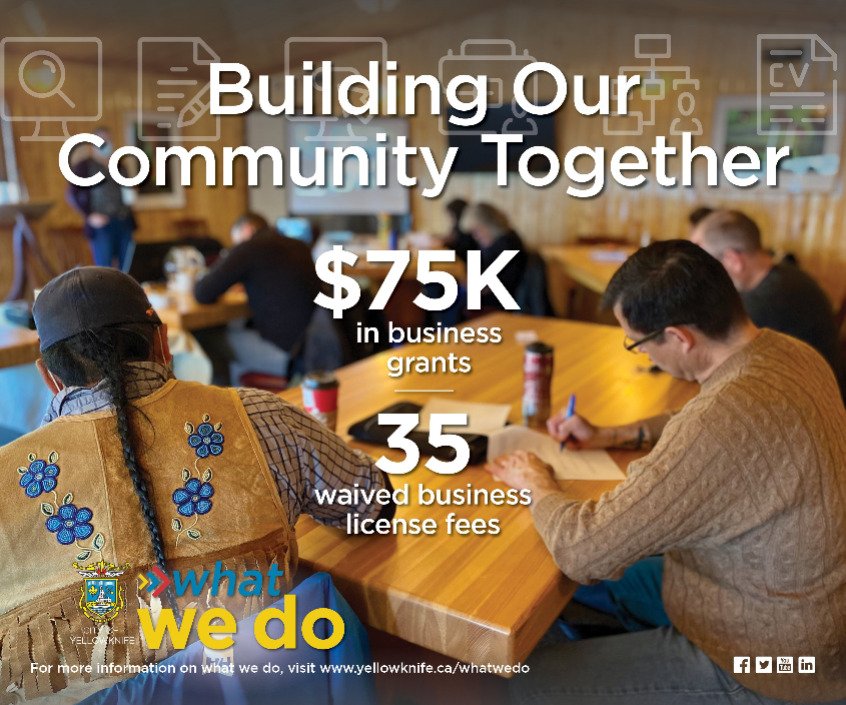 Did you know? The City of Yellowknife is committed to building partnerships with businesses and Indigenous Governments to develop our economy.
The City works to support our economy through initiatives like the Joint Economic Development Strategy. Planned in partnership with the Yellowknives Dene First Nation (pictured), the strategy is a shared vision to create a foundation of friendship, trust and respect. The goal is long-lasting support for the people and businesses of Yellowknife, Dettah and N'dilo in their efforts to enhance future economic growth and prosperity.
The City also provides support for our local businesses through various programs. In 2021, the City was able to distribute approximately $75,000 through the Business Improvement Grant. 46 local businesses were able to collectively save $9,200 through waived business license fees.
Building partnerships to develop our community. It's What We Do.