The Public Works and Engineering Department is responsible for the maintenance of the system. This includes pumping and treatment, frost protection, water meters, maintenance of reservoirs, fixing water leaks, looking after water mains, maintenance of the sewer system, the storm sewer system, lift stations, and the sewage lagoons.
Please be advised that noisy water pipes or sinking ground could be indications of a service break. Should you have any concerns please report them to the City.
Piped Water and Sewer
The majority of the City of Yellowknife is on piped water and sewer service.
The current piped water and sewage system is composed of 6 pumphouses, a Water Treatment Plant, and 14 lift stations, Aditionally there is 62 km of buried water main and a slightly smaller quantity of sewer main, poly summer water line (above grade generally), approximate 11 km of forcemain, and a sewage lagoon system complete with control structures.
The City of Yellowknife Public Works Department flushes and cleans the entire City water system on an annual basis in order to ensure a safe, healthy and odorless supply 24 hours per day, every day of the year.
To insure our water remains at the highest standard for domestic use, continuous CL2 monitoring is done 24/7 at 7 locations. Elevations in the reservoir and bacteriological samples are done monthly at three locations.
Trucked Water and Sewer Pump out
Only Old Town, Latham Island, Ndilo, Kam Lake Industrial Park, Grace Lake, Con and Rycon Trailer Park, commercial buildings at the Airport and some commercial buildings along Old Airport Road receive truck water delivery and sewage pumpout. Trucking currently services approximately 680 residents or just under 4% of the population not including commercial/industrial demand (about 1,600 employees).
Trucked Service Access
The City of Yellowknife would like to remind properties on trucked water and sewer to keep access to their service connection points clear of snow and ice. If the connection points are not accessible water delivery and/or sewage pumpout may not occur until access problems have been fixed.
Water and Sewer Registration, Discontinuation and Pre-authorized Payment
To register for water, sewer and garbage services, please complete the appropriate registration form below. There will be a fee applied to your first utility bill for setting up these services.
Residential Utility Connect Form
Commercial Utility Connect Form
You can sign up to pay for utilities, or update new payment information, with our Pre-Authorized Payment form.
If you need to update your existing credit card expiry date, please complete the Updated Credit Card Expiry Date form.
To cancel your existing Pre-Authorized Payment, please click here.

To discontinue water, sewer and garbage services, please complete the Utility Disconnect Form.
If you have an existing account and would like to sign up to have your bill emailed each month, please complete the ESend Request Form.
Surface Water Line Schedule for Old Town and School Draw 2020
Commissioning: First week of May
Commissioning of the surface water lines will begin the first week of May. Staff members will begin the preliminary inspections of exposed lines, noting issues that need to be addressed. Commissioning will include repairs, flushing, and disinfection of the water lines. Residents will periodically notice water running from various sections of piping in place, but are asked to refrain from connecting to the surface pipeline. Any use of water in this system for consumption or residential use is strictly prohibited prior to the start date of June 1st as we cannot guarantee water quality until the commissioning process is complete and water tests results have been confirmed.
Residents are asked to be courteous and allow city staff access their yards during this process.
Start-up: Monday, June 1st 2020
Water lines will be turned on and residents can connect service lines.
Delivery schedules shall remain in place up to and including June 1st so that residents are not without water during the start-up process.
Shut-Down: Monday, September 14th 2020
Lines are to be disconnected from each residence.
Residents are asked to ensure tanks are full prior to 7:00am on September 14th as delivery schedules will not resume until the first normally scheduled day following this date.
Decommissioning: Monday, September 14th 2020
Staff will begin the decommissioning process immediately following the system shut down. Lines will be decommissioned purging air to the pipelines so that residual water can be removed and the potential for freezing and subsequent damage mitigated. During this time residents may once again notice water flowing from certain sections of the system and should be advised that this is a planned task of the process.
At this time staff will again require access to some private properties and cooperation is appreciated.
Service Connection Failure Program
In the event of a water or sewer connection failure, the City may be able to help offset the associated costs with the Service Connection Failure Program.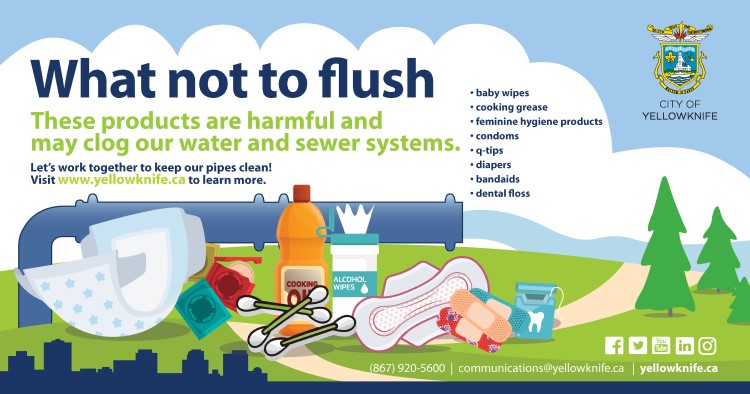 Hours of Operation
Winter Hours effective following the Labour Day Weekend
until prior to the Victoria Day Weekend (September to May)
Monday to Friday: 11:00 a.m. to 2:00 p.m.
Saturday and Sunday: Closed
Summer Hours effective following the Victoria Day Weekend
until prior to the Labour Day Weekend (May to September)
Monday to Friday: 8:00 a.m. to 4:30 p.m.
Saturday and Sunday: Closed