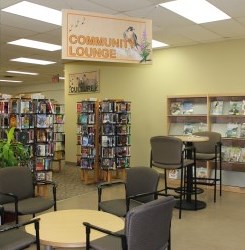 Photo Gallery: YPL Programs will appear here on the public site.
As a pre-emptive measure the Yellowknife Public Library will be closed effective Wednesday, March 18, until further notice, as the City prepares for the potential impacts of COVID-19. The City encourages residents to use their library cards to access the Yellowknife Public Library's e-books and Lynda Library resources. Library cardholders can access these from home, simply contact the library to get your PIN number or to request a library card. Call (867) 920-5642 or email library@yellowknife.ca.
For the latest information and to find out what the City is doing in preparation of COVID-19, visit www.yellowknife.ca/covid-19.
*Please note that there will be NO overdue fees charged for this time and all items currently checked out have had their due dates extended until June 4, 2020.
Yellowknife Public Library has been proudly serving residents since 1949 and has occupied its current location on the second floor of the Centre Square Mall since October, 1990. The library works hard to support the educational and recreational reading, viewing, and listening needs of its patrons.
The library has a rich collection of nearly 70,000 items in varied formats including print, audiobooks, e-Books, music CDs, DVDs, and much more. Online resources are available as well and include Overdrive, Lynda Library, Freegal music, Rocket Languages, the NoveList readers' advisory service as well as the Canadian Reference Centre.
In addition to these resources, the library offers a comfortable space for reading and studying and two separate rooms that can be booked for meetings, presentations or quiet study. Yellowknife Public Library offers programs to Yellowknifers of all ages from babies to adults.
At Yellowknife Public Library, our mission is to help share ideas in order to unite and strengthen our community.
Please drop by and visit us soon!
Photo Gallery: Yellowknife Public Library will appear here on the public site.
Hours of Operation
Winter Hours effective following the Labour Day Weekend
until prior to the Victoria Day Weekend (September to May)
Monday to Friday: 8:30 a.m. to 5:00 p.m.
Saturday and Sunday: Closed
Summer Hours effective following the Victoria Day Weekend
until prior to the Labour Day Weekend (May to September)
Monday to Friday: 8:00 a.m. to 4:30 p.m.
Saturday and Sunday: Closed