Online Catalogue / OPAC Tutorial
Search the online catalogue for books, DVDs, audiobooks, and more!
You can use our catalogue from any computer with Internet access. The catalogue also allows you to search every library in the NT.
(Note: For us to have an item it must say Yellowknife Public Library under holdings.)
Login (using your library card number and PIN*) and click on "My Account" near the top of the page). Here you can:
Review your account
Renew items on your card (as long as they are not already overdue)
Change your PIN number
Change your address
Place holds on material in the Yellowknife Public Library to pick up later at your convenience.
* Your PIN is set-up when you first register for a library card. If you have forgotten it, please call 920-5642.
Is there something you need that we don't carry? Look for the "I Need Material" feature near the top of the page. Under this section you are able to:
Interlibrary Loan (request items from other libraries)
Search services (request help from the staff for a subject search)
Recommend to order (ask the librarian to look at buying books, DVDs, or audiobooks)
Collection
The library has over 60,000 items including:
Books: Non-Fiction and Fiction for all ages
e-Books and Audiobooks: Libby, Freading, Hoopla
Streaming and downloadable movies, television series, and music: Hoopla, Freegal
Graphic Novels: Juvenile, Young Adult and Adult Collections
DVDs: Feature Films, TV Series, Documentaries, Young Adult DVDs, Children's DVDs, Preschool DVDs
CDs: Children's Music, Canadian, NT Artists, Jazz, Classical, World, Soundtracks, Country, Christmas, Popular, Folk
Databases: Canadian Reference Centre, NoveList Plus, A to Z World Foods
Magazines: Adult and Children hardcopies, online via Flipster
Newspapers: Local and Northern papers
Large Print: Books printed with a large text size to facilitate easy reading
Adult Literacy Books: designed to help adults learn to read in English
Northern Collection: This collection contains rare, historical, and current material on Yellowknife and the Northwest Territories. This collection is for in-library use only and is a great resource for research. Most Government documents are not held in this collection and can be found at the Government Legislative Library. All titles in our Northern collection can be found in our online catalogue.
Special Collections:
Board Games
Yellowknife Public Library carries a variety of fun and educational card and board games for all ages including Cribbage, Exploding Kittens, Monopoly, Scrabble, Sushi Go and more. Board games are for in library use only. Grab some friends and start playing!
Book Club Sets
Are you part of a book club? Looking for that next book to read with your group? Visit the library and check out our selection of over 70 sets. Still not finding what you want? Why not put a request in for a title and mention it is for a book club? Our librarian will look at the request and decide if we will purchase a set.
Six copies of popular fiction and nonfiction books
discussion guides for book club members
When searching the catalogue for these sets, you want to:
click power search
change library from any to Yellowknife Public Library
Change location from any to Book Club collection
Click blue search button
Scroll through the results
CELA Materials (for Patrons with Print Disabilities)
Yellowknife Public Library offers access to a collection of over 230,000 books, magazines, newspapers and described videos in a choice of formats for people with a print disability through our partnership with the Centre for Equitable Library Access.
Lots of choice including current bestsellers, award-winners and classics
Fiction, non-fiction, self-help, business and more
Books for kids, teens and adults
Books in audio, braille or accessible e-book formats
Download books or receive home delivery by mail
Eligibility Access to the CELA collection is available to people who are unable to read conventional print due to a disability, which includes:
Learning disability: an impairment relating to comprehension
Physical disability: the inability to hold or manipulate a book
Visual disability: severe or total impairment of sight or the inability to focus or move one's eyes.
How to sign up for CELA
Please call or visit the Yellowknife Public Library to sign up for our library card.
Access to the Collection is offered in a number of ways:
Download books to your computer or mobile device, such as an iPhone
Download books to a DAISY player over a wireless connection without using a computer
Receive audio CDs, Braille or described movies through your local branch or by mail directly to your home
Please visit the CELA website to learn more.
English as a 2nd Language Resources
Yellowknife Public Library offers books and resources in multiple languages, language learning kits and dictionaries, and high interest/low vocabulary resources. If you are looking for language instruction, we recommend contacting Aurora College to discuss their Language Instruction for Newcomers to Canada (LINC) Program to see if it is right for you and whether or not you are eligible.
Learning Kits, STEM Packs, and Preschool Grab Bags
Learning Kits
Daycare Providers, Home-Schoolers and Schools! Here is an opportunity to nurture a love of reading in the children under your care. Yellowknife Public Library will create a thematic learning kit containing books, multimedia, and rhyming books (if needed).
Requires a library card in good standing to check-out
Want a card for your institution? Our staff will be happy to explain how to obtain one
We need at least a week's notice to prepare
Thirty day loan (Beginning on the date patron is notified). Please note: Items not picked up within a week of notification will need to be re-shelved.
Download a learning kit request form.
STEM Packs
STEM is a curriculum based idea of educating students in four specific disciplines: Science, Technology, Engineering, and Mathematics.
Library STEM Packs are geared to families with children in grades K-6.
These packs each have a theme and are meant to be a fun way for families to get out and explore together while providing learning opportunities in the above disciplines. Current themes include Birds, Rock Collecting, Gardening, Nature Photography, Snow, Stargazing, and Magic.
Check out a themed STEM Pack and its handy zippered bag... and go!
Here's How
Remove card from pocket and scan through the Self-Check machine. This will sign out all items and the bag onto your library card.
Return bag with all the items inside to the Front Desk of the library during open hours.
Each Pack contains material based on the theme listed on the front of the bag.
Each title was carefully selected by library staff -- just check out the entire bag and contents, and you know you'll have a great selection!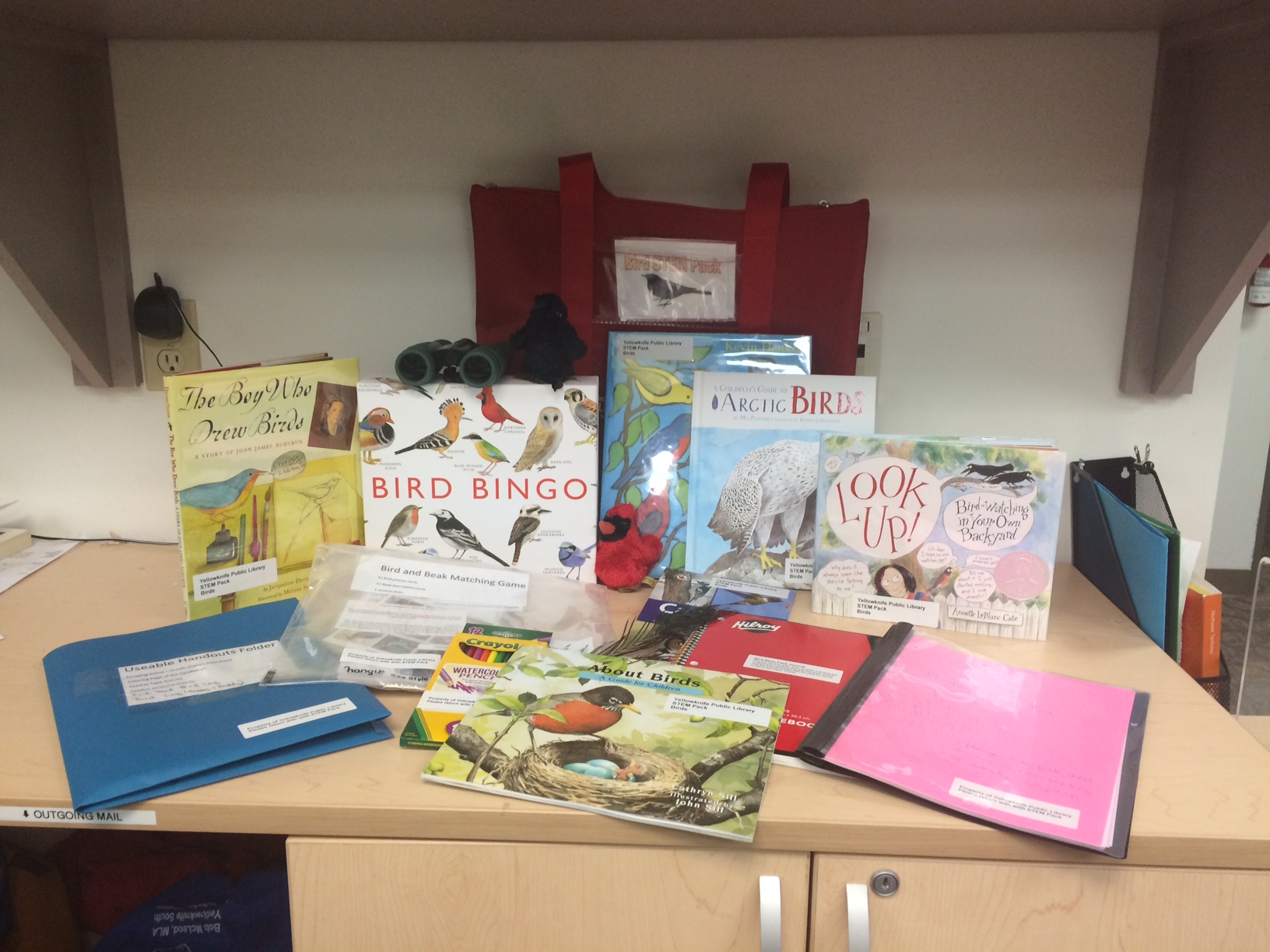 Preschool Grab Bags
In a rush? Try a preschool grab bag! Each bag contains 10 preschool grab bags based on a theme listed on the front of the bag. Each title was carefully selected by library staff to save parents and caregivers time; just check out the entire bag and contents (with a single, convenient barcode) and you know you'll have a great selection! Themes include superheroes, pets, humorous stories, dinosaurs, farm animals, and Canadian authors.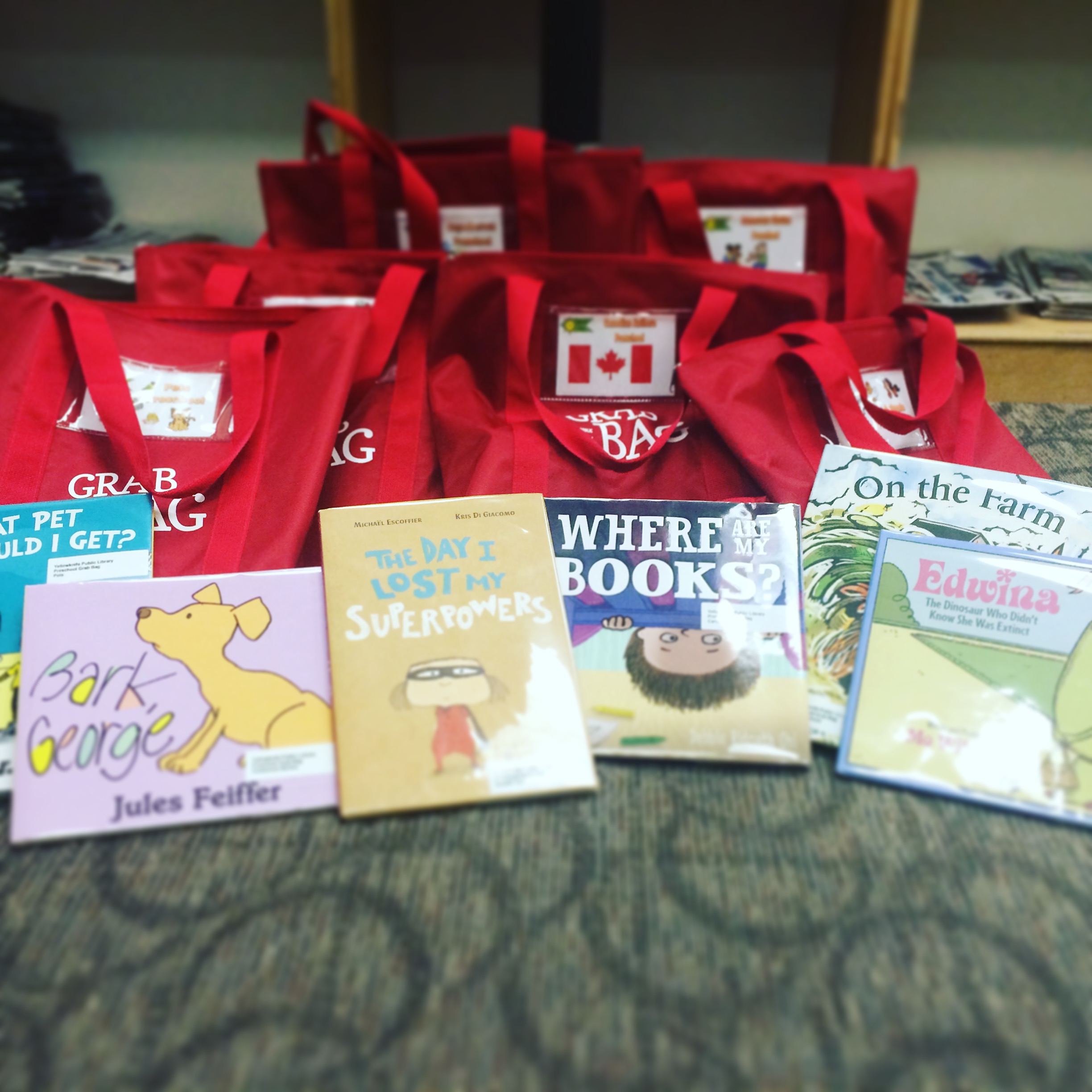 Indigenous Resources
Here at Yellowknife Public Library we are proud to support the 10 recommendations presented in the Canadian Federation of Library Associations-Fédération canadienne des associations de bibliothèques (CFLA-FCAB) Truth and Reconciliation Report and Recommendations. As part of our efforts in helping remember, learn, heal, and move forward, we will continue to expand and promote our extensive collection of resources created by Indigenous peoples. We also have devised a list of available Truth and Reconciliation resources. The list is available here and will be updated as we acquire new resources related to this theme. If you would like these materials held for you in a learning kit, please let us know by calling 920-5642.
Online Resources Related to Truth & Reconcilation