Photo Gallery: YPL Programs will appear here on the public site.
Log into your account to renew your materials and place holds.
Yellowknife Public Library
The Yellowknife Public Library (YPL) is open from 10:00 a.m. – 7:00 p.m., Monday to Friday, and 10:00 a.m. to 5:00 p.m. Saturday by appointment only.
To book an appointment (for Wi-Fi use, public computers, printing, browsing, or resource pick-ups) email the library or call 920-5642. At this time we are not allowing same day appointments; please book at least 24 hours in advance.
Patrons wishing to browse the stacks must wear a mask and use hand sanitizer beforehand. Please note that appointments do not need to be made to return items. All returns should be placed in the dropbox downstairs by the elevator. The elevator should be used, one person at a time unless users are from the same household, to enter the YPL, and the stairs should be used to exit.
The City encourages residents to continue accessing City services online, by emailing Customer Service or visiting our website wherever possible. The City asks all users who visit City facilities to respect the physical distancing guidelines as set out by the GNWT and to follow all signage in place at individual facilities. Everyone must check-in and out with the front desk which will be located at each facility entrance. Anyone experiencing fever, new or worsening cough, shortness of breath, tiredness, muscle aches, sore throat, runny nose, headache, diarrhea, loss of appetite, loss of taste, or loss of smell should not enter.
Yellowknife Public Library has been proudly serving residents since 1949 and has occupied its current location on the second floor of the Centre Square Mall since October, 1990. The library works hard to support the educational and recreational reading, viewing, and listening needs of its patrons.
The library has a rich collection of nearly 70,000 items in varied formats including print, audiobooks, e-Books, music CDs, DVDs, and much more. Online resources are available as well and include Overdrive, Lynda Library, Hoopla, Rocket Languages, the NoveList readers' advisory service as well as the Canadian Reference Centre.
In addition to these resources, the library offers a comfortable space for reading and studying. Yellowknife Public Library offers programs to Yellowknifers of all ages from babies to adults.
At Yellowknife Public Library, our mission is to help share ideas in order to unite and strengthen our community.
Please drop by and visit us soon!
Photo Gallery: Yellowknife Public Library will appear here on the public site.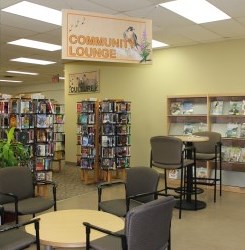 Hours of Operation
Winter Hours effective following the Labour Day Weekend
until prior to the Victoria Day Weekend (September to May)
Monday to Friday: 8:30 a.m. to 5:00 p.m.
Saturday and Sunday: Closed
Summer Hours effective following the Victoria Day Weekend
until prior to the Labour Day Weekend (May to September)
Monday to Friday: 8:00 a.m. to 4:30 p.m.
Saturday and Sunday: Closed