Diversity is good for business. Organizations greatly benefit from having a diverse leadership team throughout the organizational structure, resulting in increased organizational effectiveness and improved financial performance. As successful leaders, Yellowknife's trailblazers play a critical role breaking ground in the land of opportunities. They are pioneers with stories worth telling.
Our Trailblazers is a promotional campaign by the City of Yellowknife to celebrate Yellowknife women who are excelling in their fields.
Our Current Trailblazers: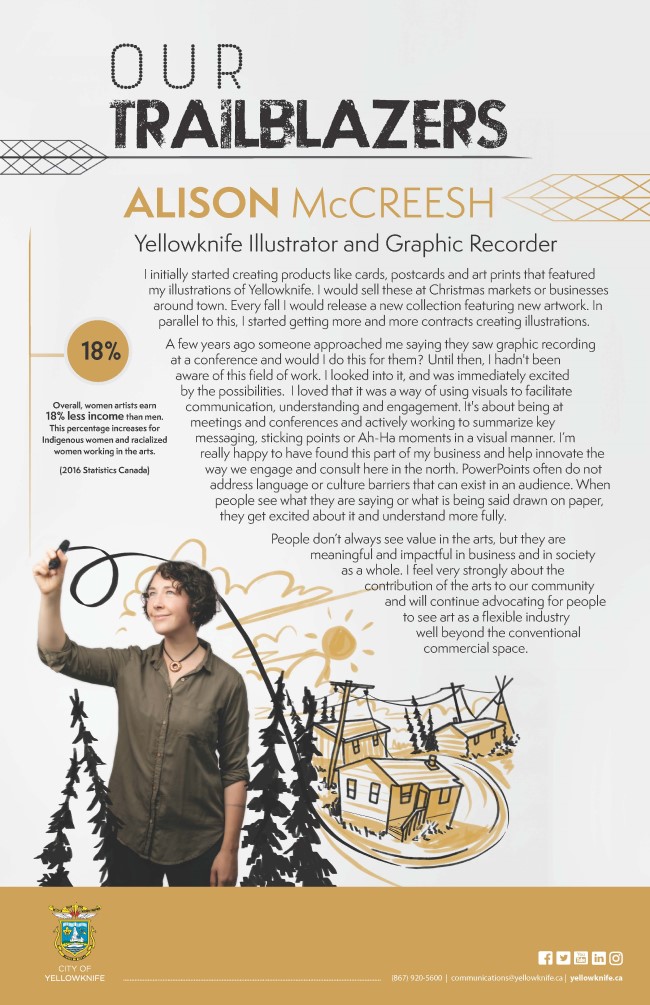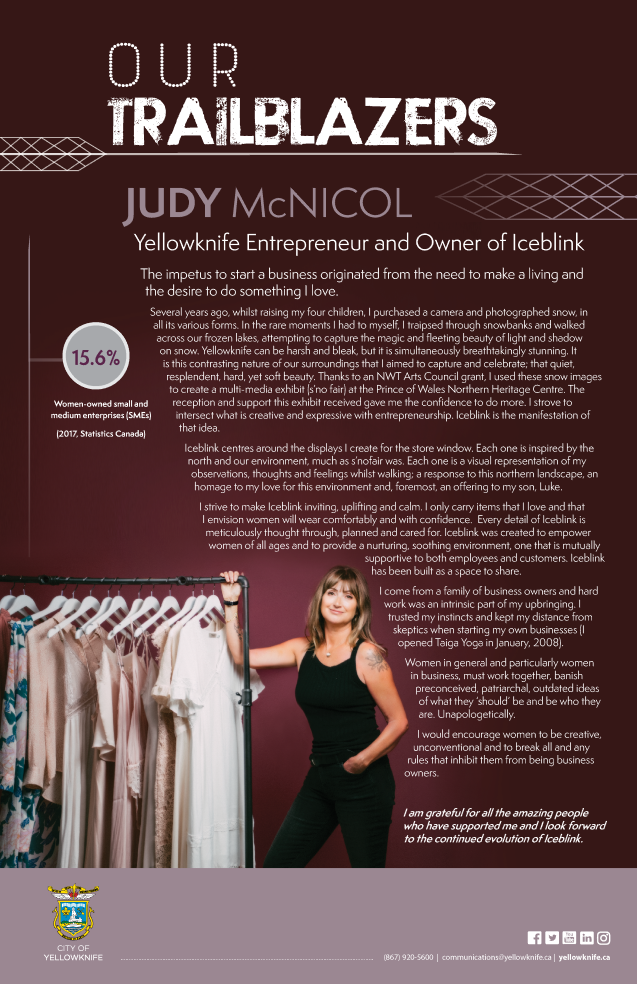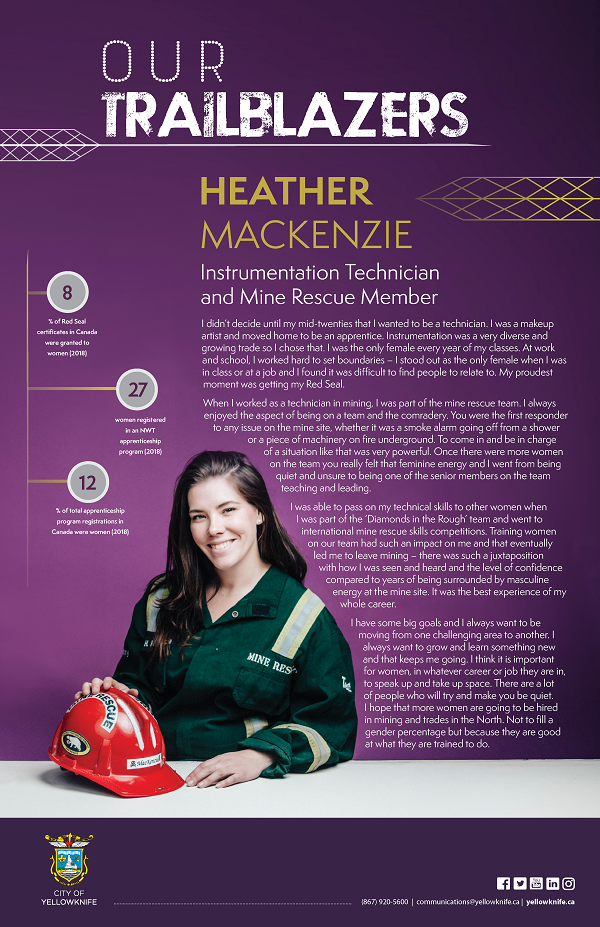 Our Past Trailblazers:
Our Trailblazers - 2018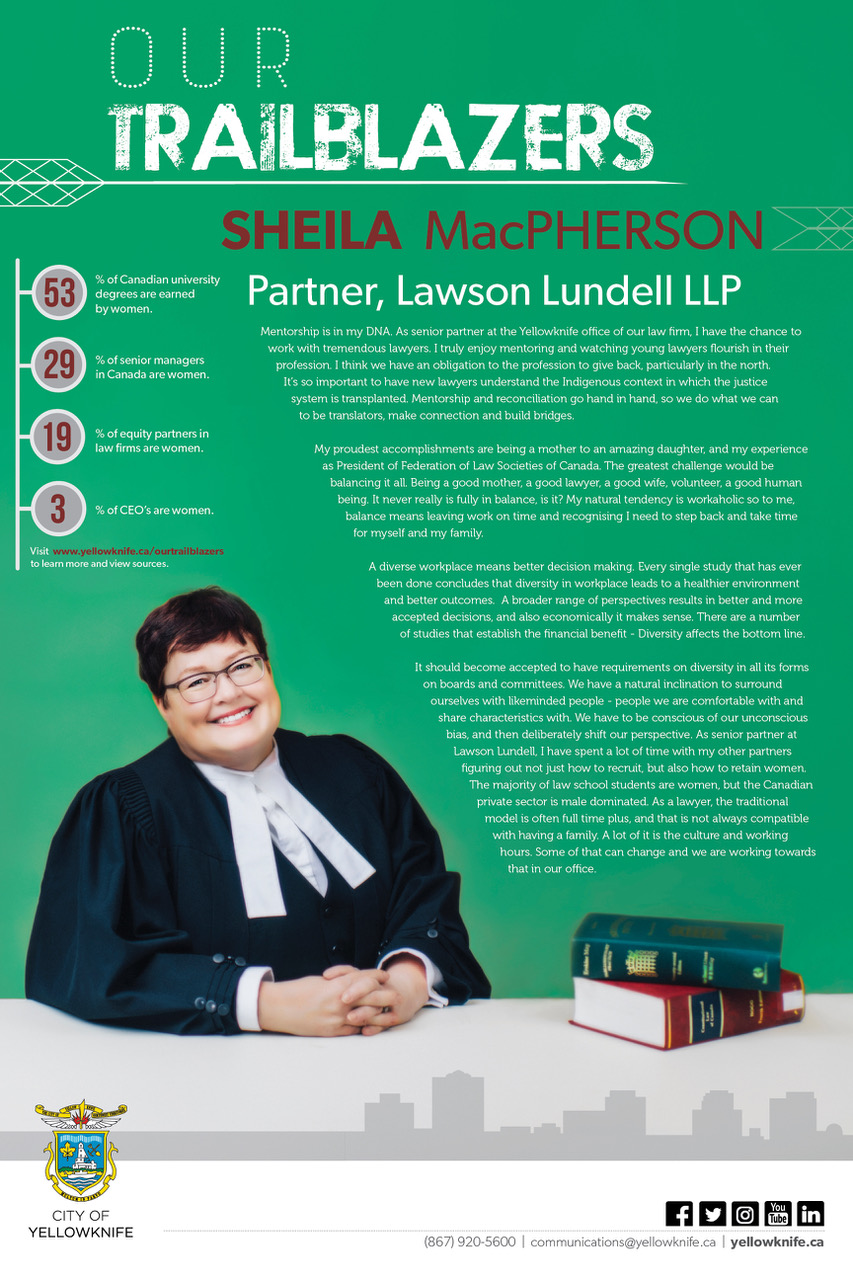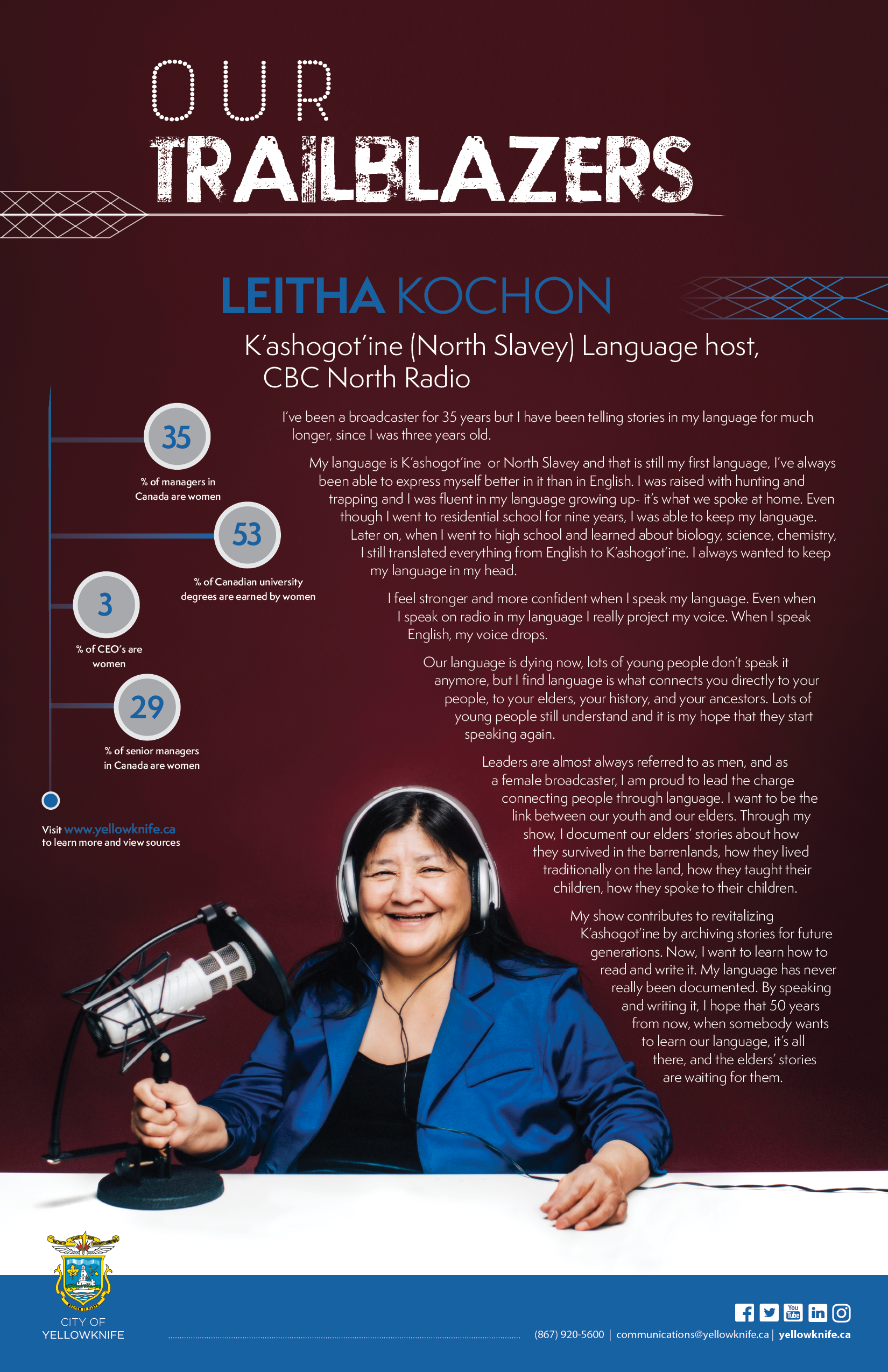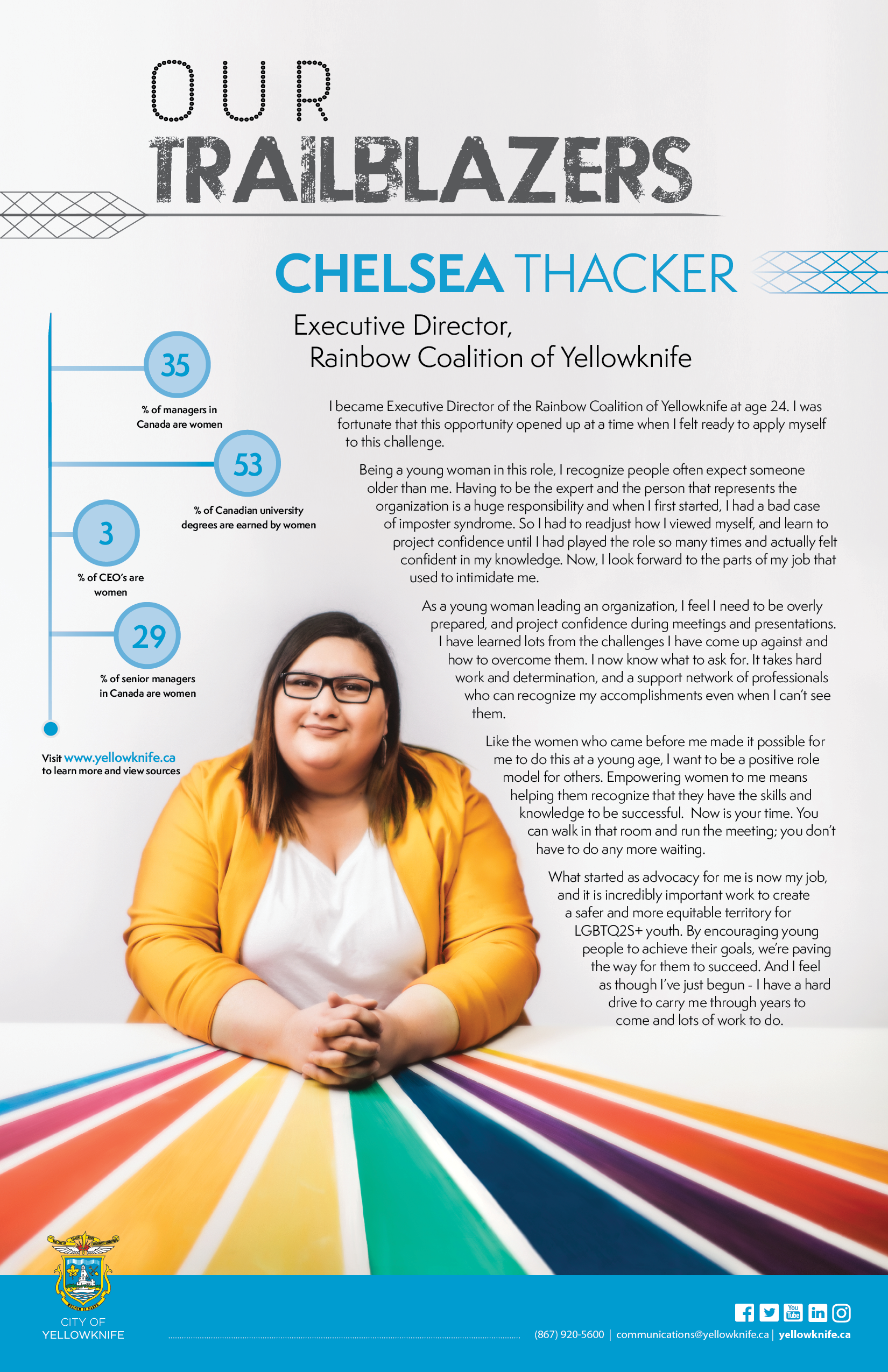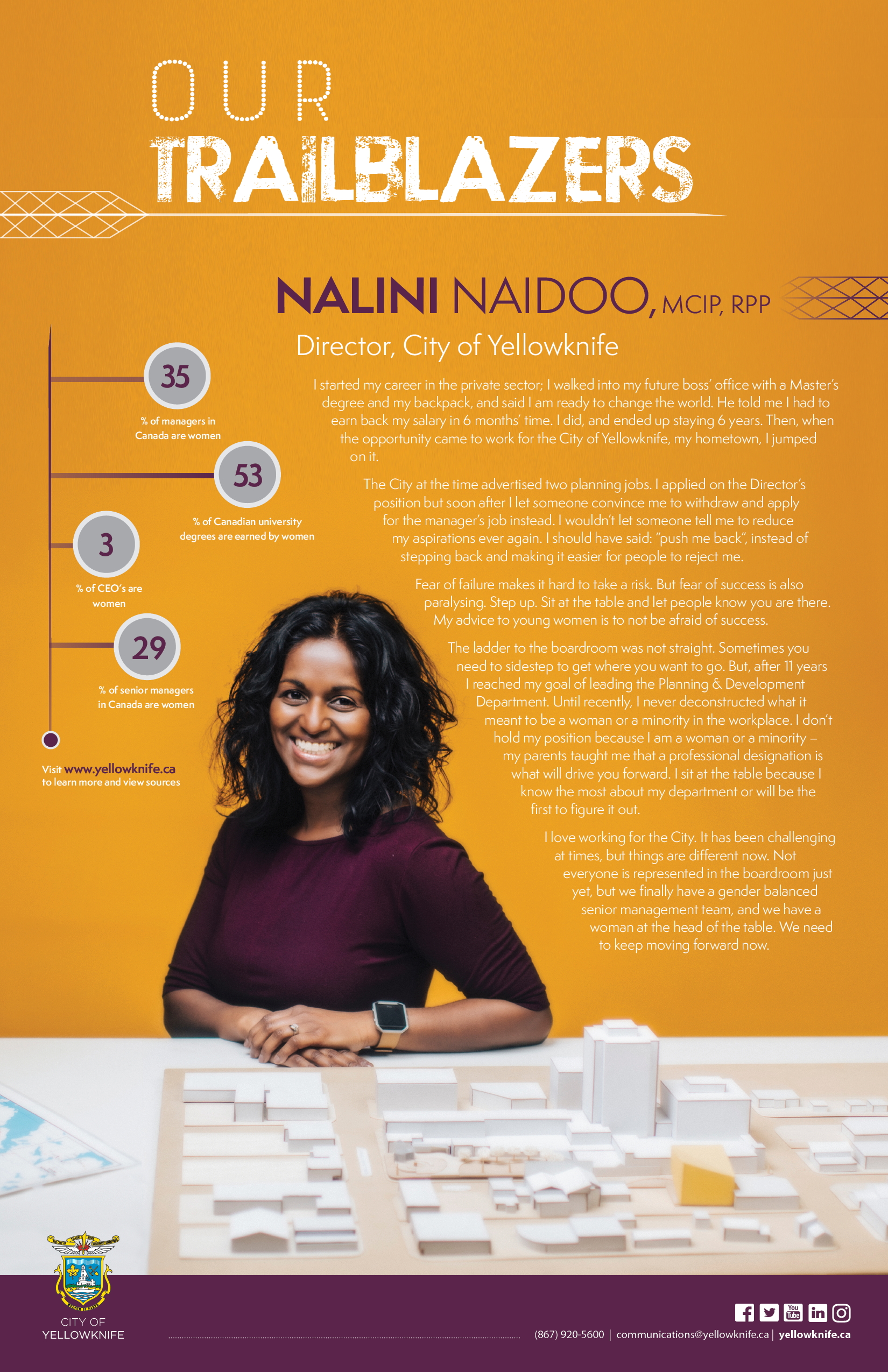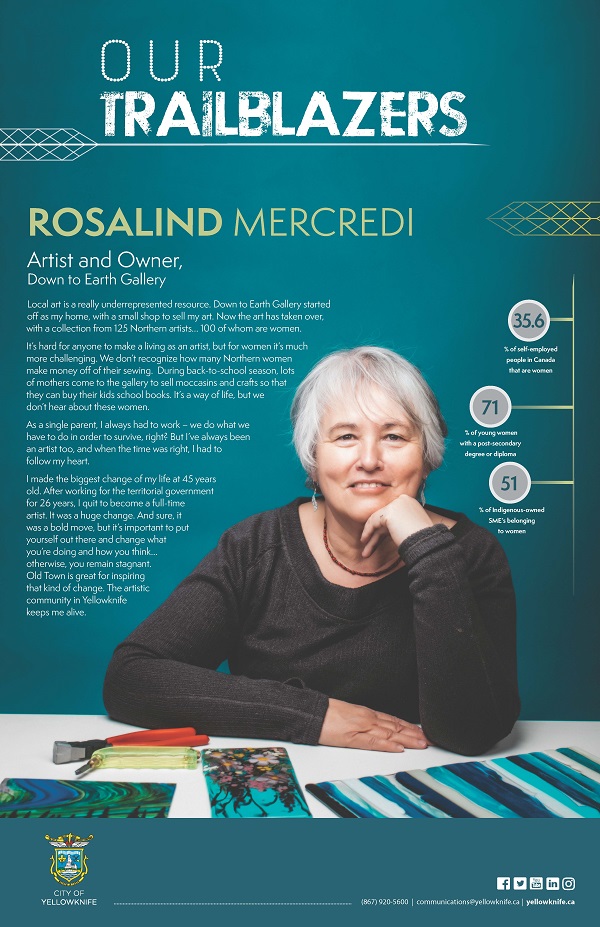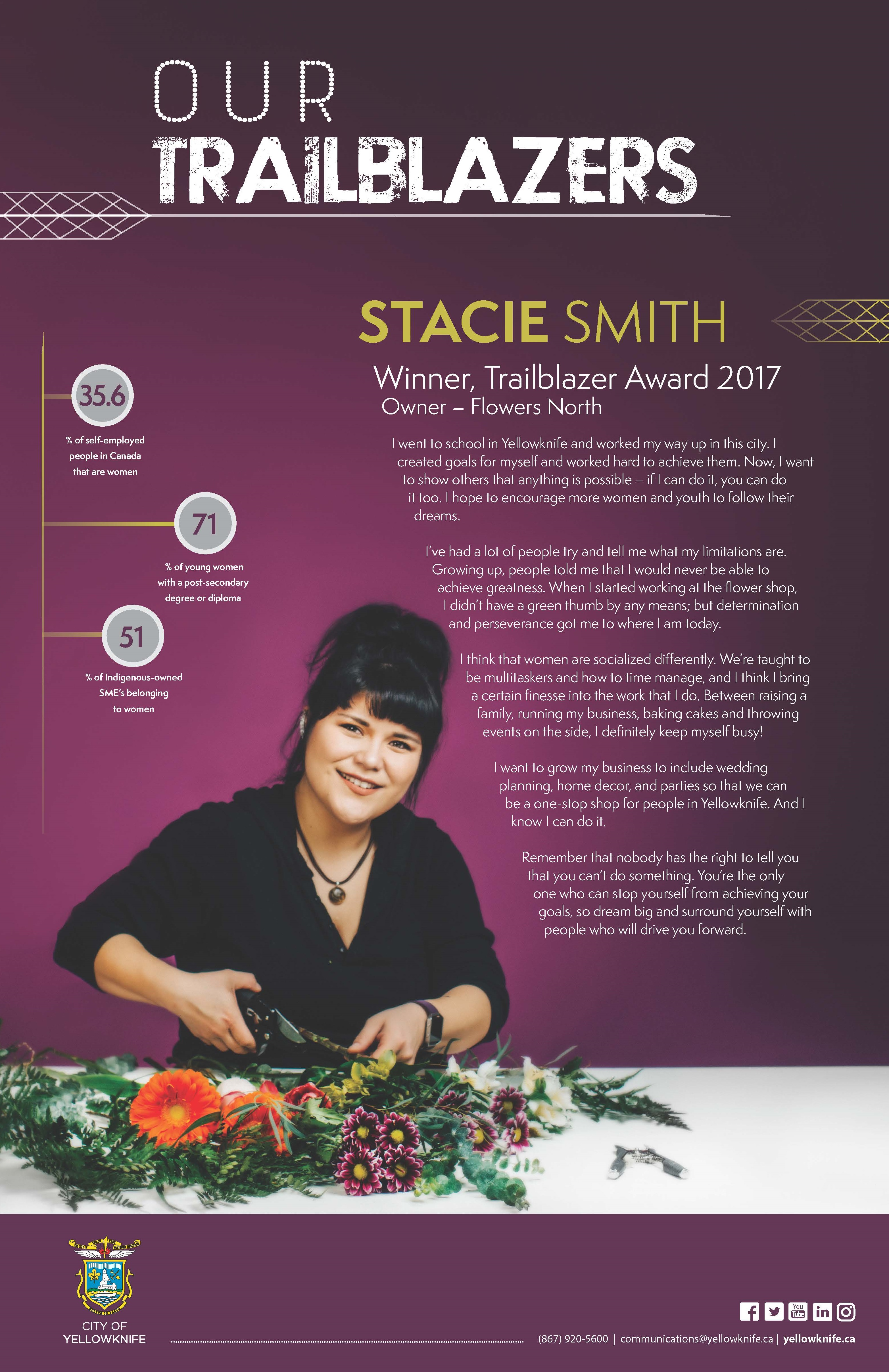 Our Trailblazers - 2017

Photo Gallery: 2017 Trailblazers will appear here on the public site.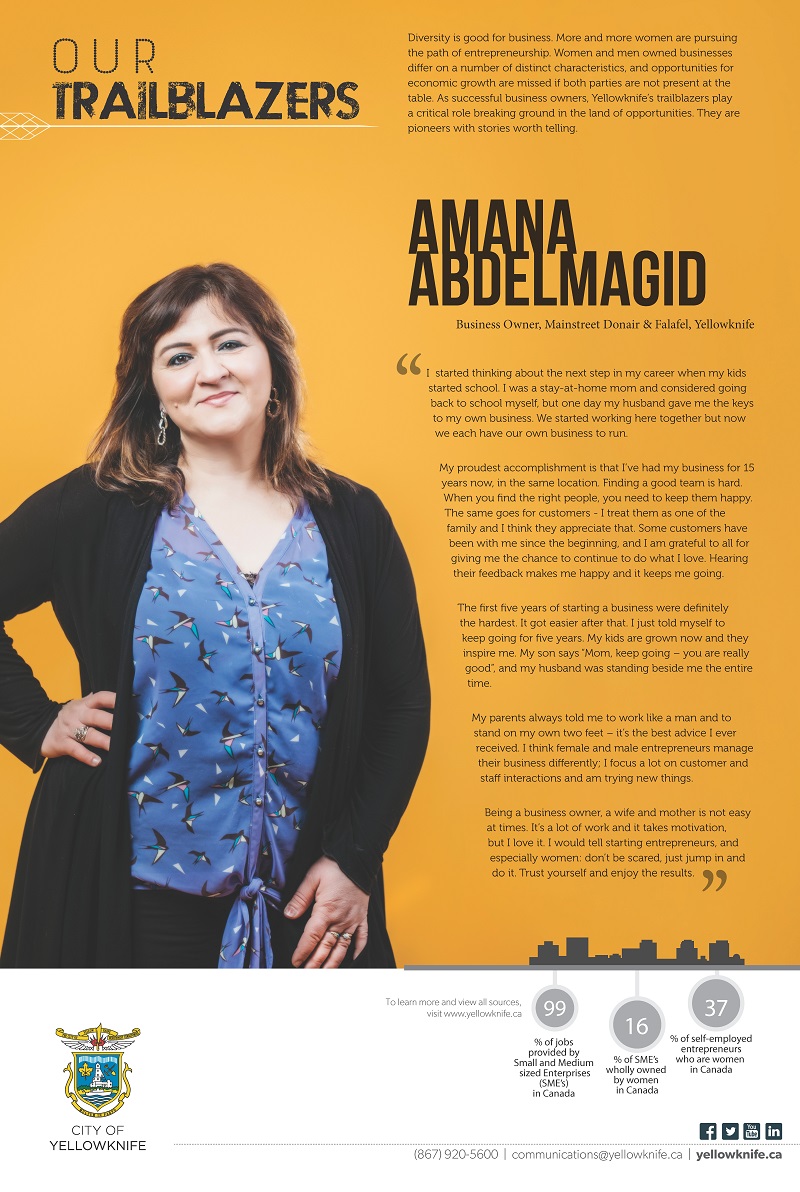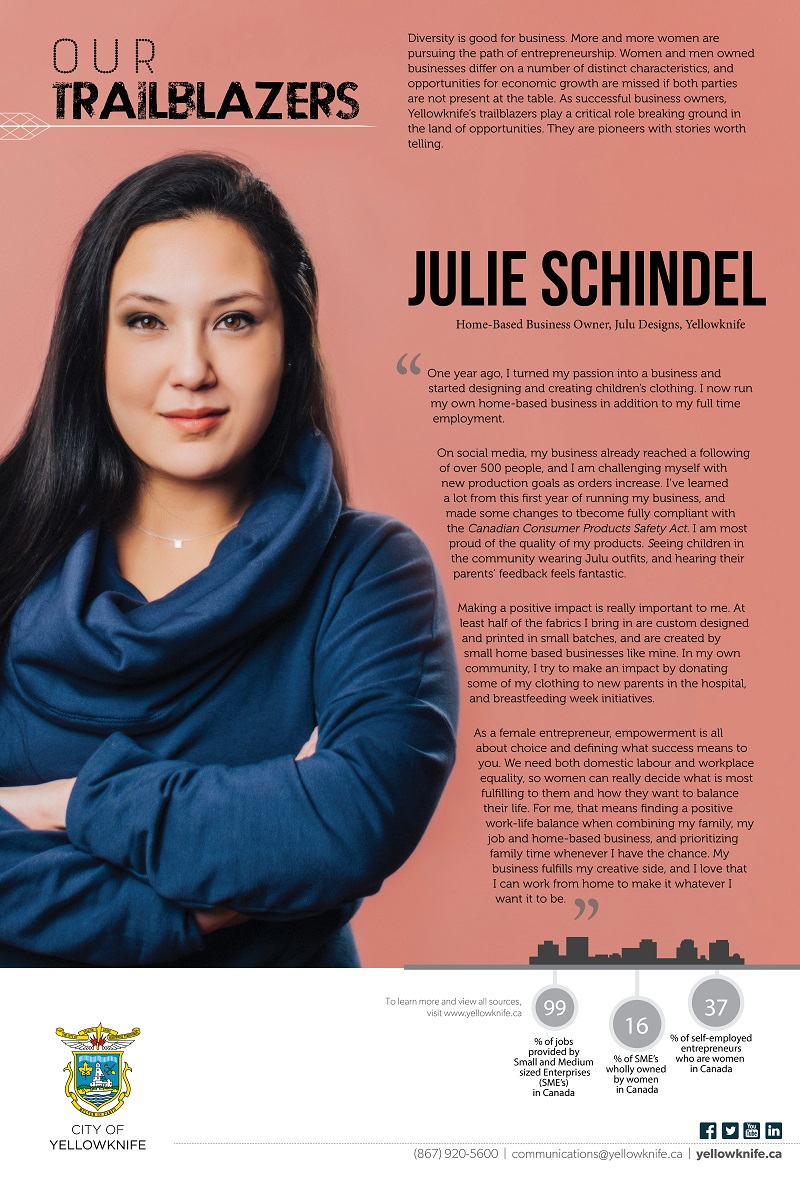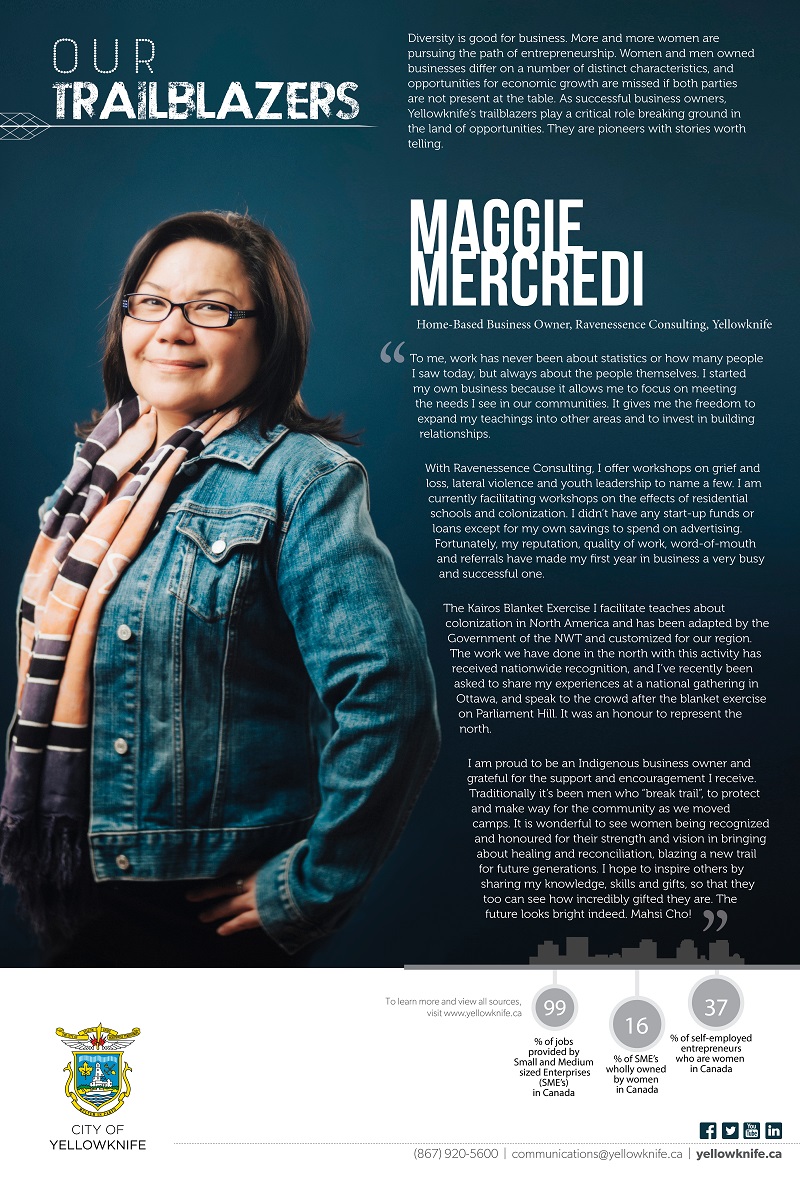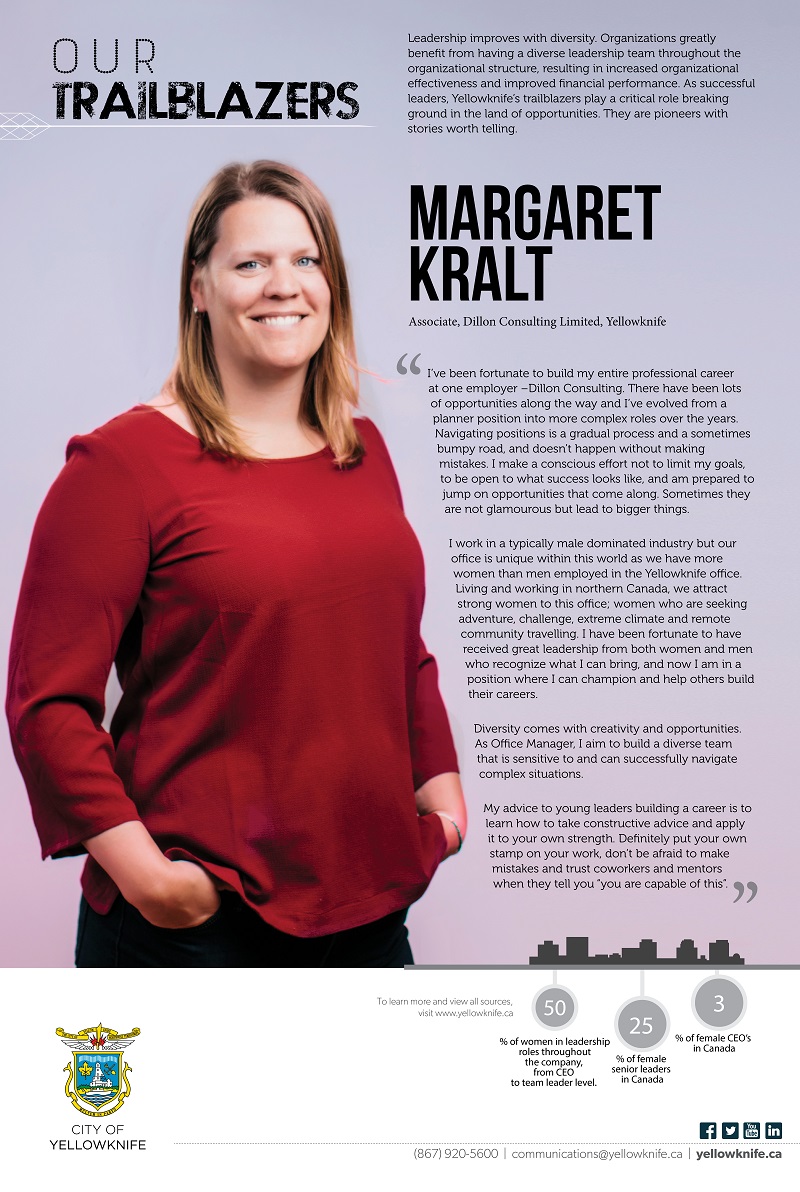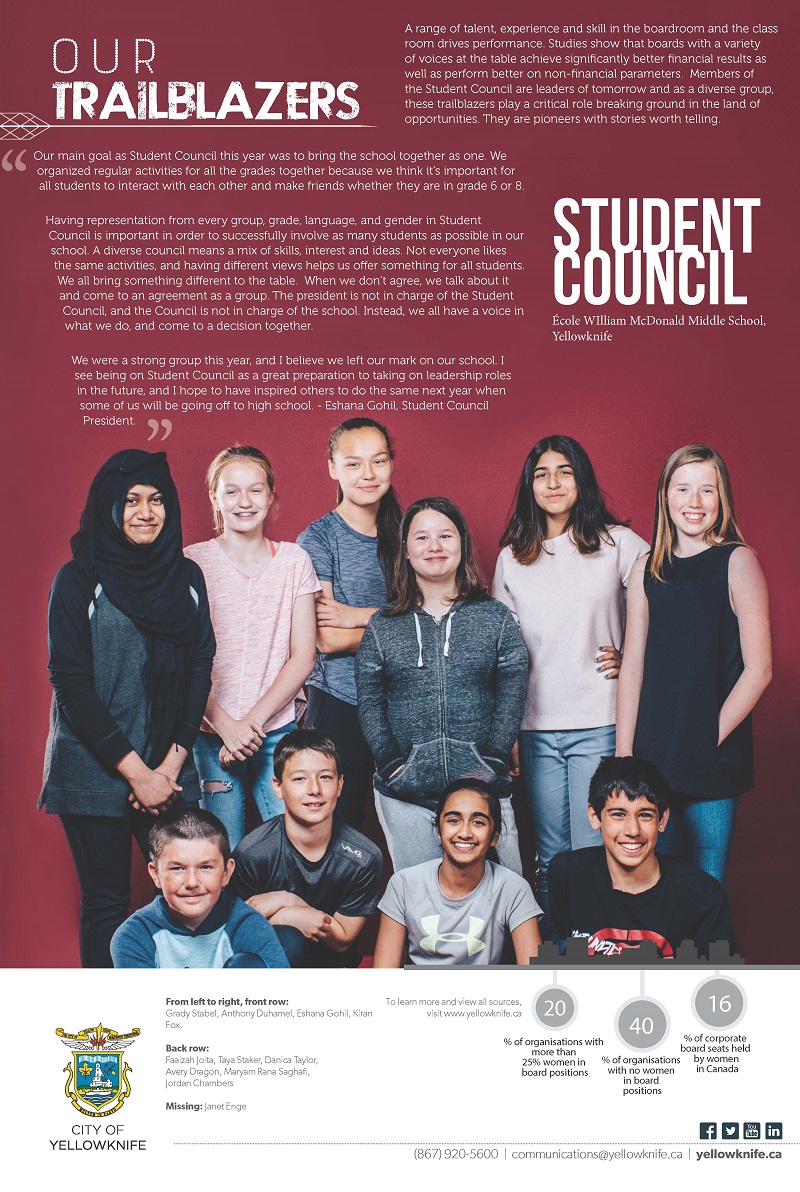 Sources and more information:
(1) http://www.forbes.com/sites/susanadams/2014/08/05/companies-do-better-with-women-leaders-but-women-need-more-confidence-to-lead-study-says/#457ac7e92840
(2) http://i.dell.com/sites/doccontent/corporate/secure/en/Documents/2015-GWEL-Scorecard-Executive-Summary.pdf
(3) https://www.td.com/document/PDF/economics/special/SmallBusiness2016.pdf
(4) https://www.td.com/document/PDF/economics/special/WomenEntrepreneurs.pdf
(5) Industry Canada's 2011 Survey on Financing of Small and Medium Sized Enterprises (SMEs)
(6) Labour Force Survey, Statistics Canada, https://www.ic.gc.ca/eic/site/061.nsf/eng/03028.html
(7) Mulligan-Ferry, Liz, Mark J. Bartkiewicz, Rachel Soares, Amrita Singh, and Imogene Winkleman, 2013 Catalyst Census: Financial Post 500 Women Board Directors. New York: Catalyst, 2014.
http://www.catalyst.org/knowledge/2013-catalyst-census-financial-post-500-women-board-directors-0
(8) Statistics Canada, "Table 14-10-0297-01: Labour Force Characteristics by Occupation, Annual (x 1,000)" (2018).
(9) 2015 Global Women Entrepreneur Leaders Scorecard: http://i.dell.com/sites/doccontent/corporate/secure/en/Documents/2015-GWEL-Scorecard-Executive-Summary.pdf
(10) Statistics Canada, Education in Canada: Attainment, Field of Study and Location of Study, National Household Survey, 2011 (2016).
Nominate a Trailblazer
We all know leaders in our community who inspire us, who break the trail and who deserve to be celebrated.
Our Trailblazers features Yellowknife women who excel in their fields, to celebrate them and to inspire others. The City takes every effort in ensuring we feature leaders from various fields and backgrounds. Each year we will feature 6 women from the following categories:
- Business owner
- Home-based business owner or start-up
- Corporate professional,
- Leader in non-profits or government,
- Diverse group or board (Councils, boards or student councils,…)
- Last year's winner of the Yellowknife Chamber Trailblazer Women in Business Award
Throughout the categories we aim to ensure diversity of backgrounds (indigenous, newcomers...), age and industries (including the arts).
Nominate a Trailblazer by February 29, 2020 by completing this nomination form or by sending a message to ecd@yellowknife.ca. Please include the name of the person you wish to nominate, a brief description of why you would like to nominate this person, and how we can get in touch with you and the person you are nominating.
We will announce the final selection of Trailblazers for the year at the Luncheon event on March 6, 2020, held in partnership with the Yellowknife Chamber, to coincide with International Womens Day on March 8th.
Hours of Operation
Winter Hours effective following the Labour Day Weekend
until prior to the Victoria Day Weekend (September to May)
Monday to Friday: 11:00 a.m. to 2:00 p.m.
Saturday and Sunday: Closed
Summer Hours effective following the Victoria Day Weekend
until prior to the Labour Day Weekend (May to September)
Monday to Friday: 8:00 a.m. to 4:30 p.m.
Saturday and Sunday: Closed