Diversity is good for business. Organizations greatly benefit from having a diverse leadership team throughout the organizational structure, resulting in increased organizational effectiveness and improved financial performance. As successful leaders, Yellowknife's trailblazers play a critical role breaking ground in the land of opportunities. They are pioneers with stories worth telling.
Our Trailblazers is a promotional campaign by the City of Yellowknife to celebrate Yellowknife women who are excelling in their fields.
Our Current Trailblazers
Angela Gzowski - A storyteller through the lens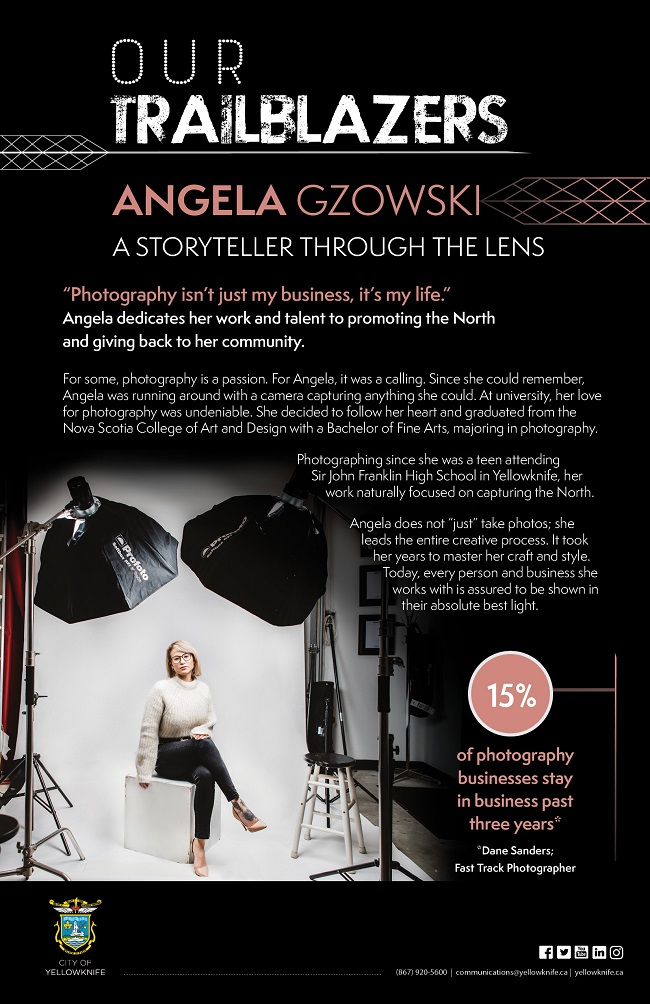 France Benoit - Leader of Small-Scale farming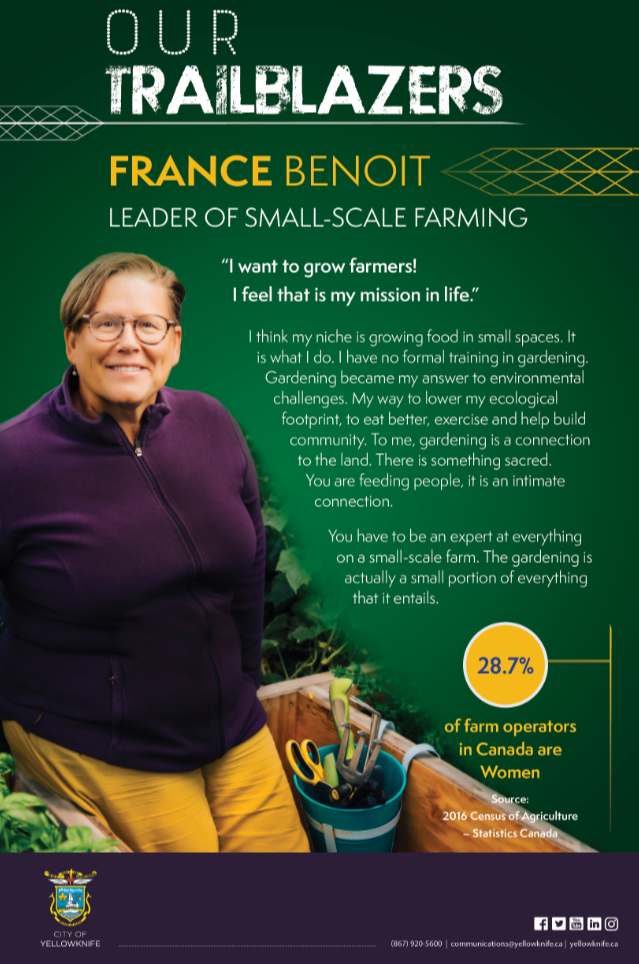 Charlene Adam - Quilter/Artist, Mother and Owner of Quilted Raven

Gillian Lee - Team Lead, Strategist & Mother

Jordee Reid - Dene Dog Musher & Advocate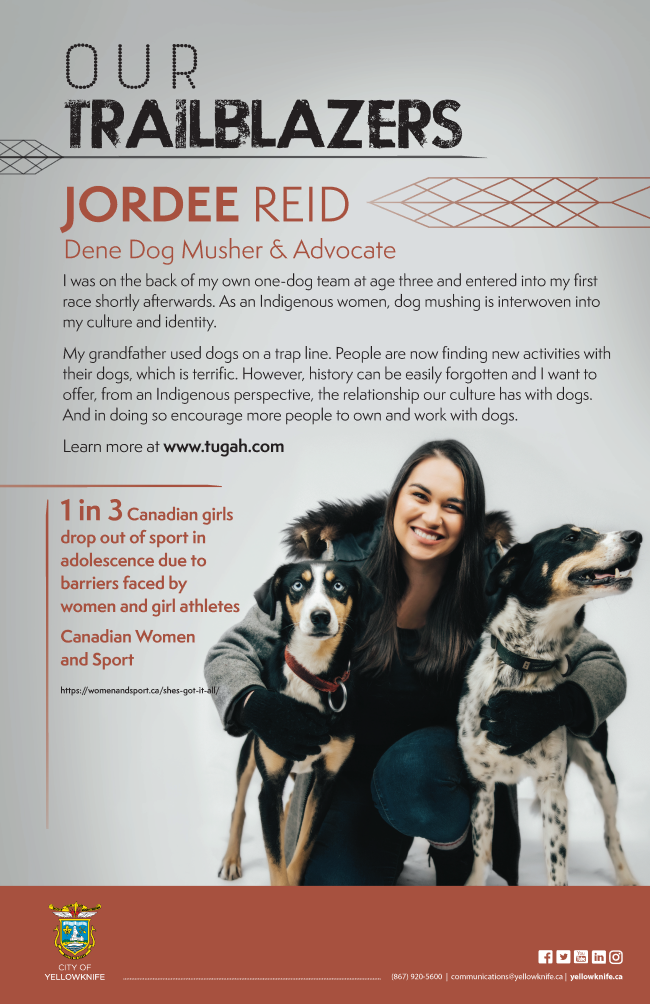 Leela Gilday - Dene Ambassador and Music Mentor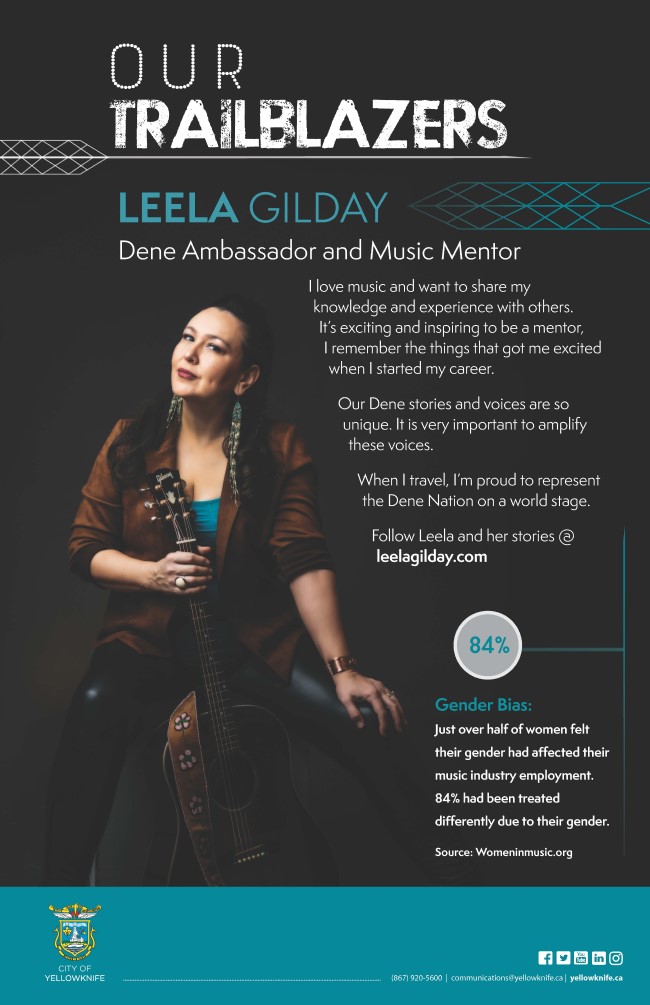 I love music and want to share my knowledge and experience with others. It's exciting and inspiring to be a mentor, I remember the things that got me excited when I started my career.

Our Dene stories and voices are so unique. It is very important to amplify these voices.

When I travel, I'm proud to represent the Dene Nation on a world stage.
Follow Leela and her stories @ leelagilday.com
Gender Bias
just over half of women felt their gender had affected their music industry employment. 84% had been treated differently due to their gender.
Alison McCreesh - Yellowknife Illustrator and Graphic Recorder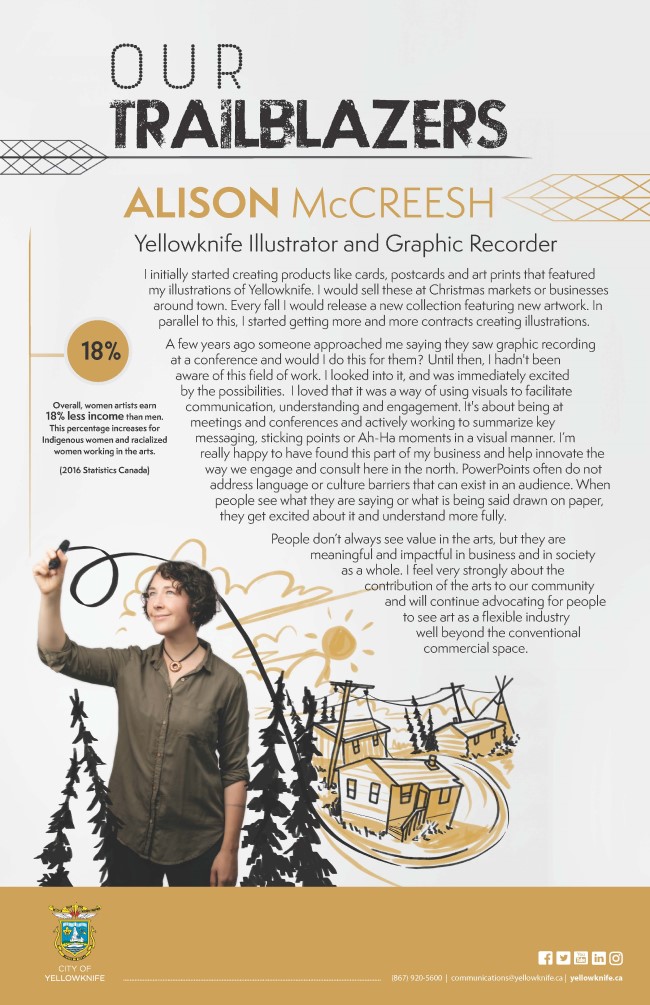 I initially started creating products like cards, postcards and art prints that featured my illustrations of Yellowknife. I would sell these at Christmas markets or businesses around town. Every fall I would release a new collection featuring new artwork. In parallel to this, I started getting more and more contracts creating illustrations.

A few years ago someone approached me saying they saw graphic recording at a conference and would I do this for them? Until then, I hadn't been aware of this field of work. I looked into it, and was immediately excited by the possibilities. I loved that it was a way of using visuals to facilitate communication, understanding and engagement. It's about being at meetings and conferences and actively working to summarize key messaging, sticky notes or Ah-Ha moments in a visual manner. I'm happy to have found this part of my business and help innovate the way we engage and consult here in the north. PowerPoints often do not address language or culture barriers that can exist in an audience. When people see what they are saying or what is being said drawn on paper, they get excited about it and understand more fully.

People don't always see value in the arts, but they are meaningful and impactful in business and in society as a whole. I feel very strongly about the contribution of the arts to our community and will continue advocating for people to see art as a flexible industry well beyond the conventional commercial space.

Overall, women artists earn 18% less income than men. This percentage increases for Indigenous women and radicalized women working in the arts (2016 statistics Canada)
Judy McNicol - Yellowknife Entrepreneur and Owner of Iceblink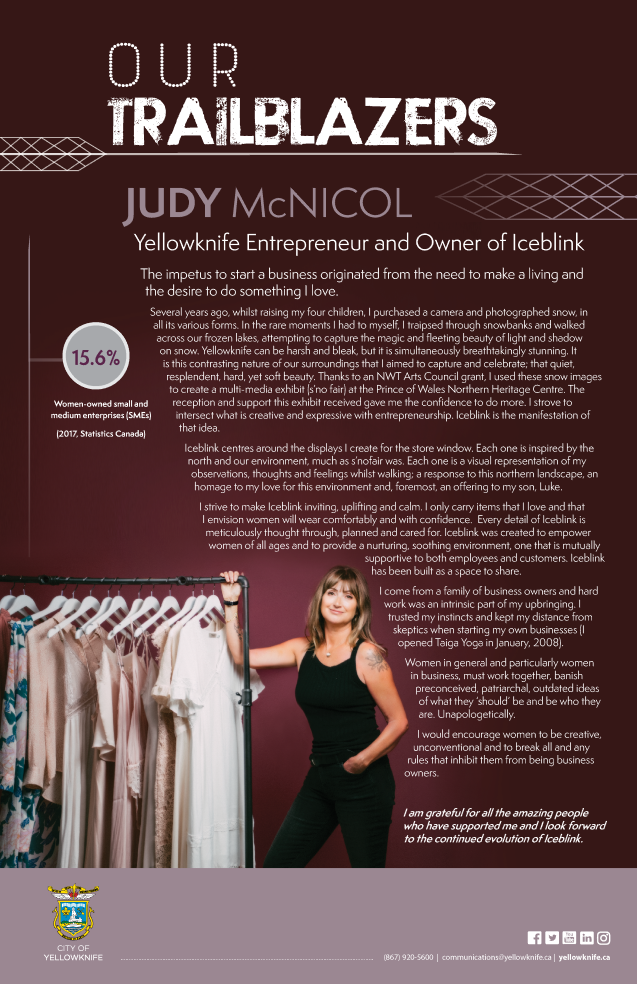 The impetus to start a business originated from the need to make a living and the desire to do something I love.

Several years ago, whilst raising my four children, I purchased a camera and photographed snow, in all its various forms. In the rare moments I had to myself, I traipsed through snowbanks and walked across our frozen lakes, attempting to capture the magic and fleeting beauty of light and shadow on snow. Yellowknife can be harsh and bleak, but it is simultaneously breathtakingly stunning. It is resplendent, hard, yet soft beauty. Thanks to an NWT Arts Council grant, I used these snow images to create a multi-media exhibit (s'no fair) at the Prince of Wales Northern Heritage Centre. The reception and support this exhibit received gave me the confidence to do more. I strove to intersect what is creative and expressive with entrepreneurship. Iceblink is the manifestation of that.

Iceblink centres around the displays I create for the store window. Each one is inspired by the north and our environment, much as s'nofair was. Each one is a visual representation of my observations, thoughts and feelings whilst walking; a response to this northern landscape, an homage to my love for this environment and, foremost, an offering to my son, Luke.

I strive to make Iceblink inviting, uplifting and calm. I only carry items that I love and that I envision women will wear comfortably and with confidence. Every detail of Iceblink is meticulously thought through, planned and cared for. Iceblink was created to empower women of all ages and to provide a nurturing, soothing environment, one that is mutually supportive to both employees and customers. Iceblink has been built as a space to share.

I come from a family of business owners and hard work was an intrinsic part of upbringing. I trusted my instincts and kept my distance from skeptics when starting my own businesses (I opened Taiga Yoga in January, 2008).

Women in general and particularly women in business, must work together, banish preconceived, patriarchal, outdated ideas of what they 'should' be and who they are. Unapologetically.

I would encourage women to be creative, unconventional and to break all and any rules that inhibit them from being business owners.

I am grateful for all the amazing people who have supported me and I look forward to the continued evolution of Iceblink.
15.6% Women-owned small and medium enterprises (SMEs). (2017, Statistics Canada)
Heather Mackenzie - Instrumentation Technician and Mine Rescue Member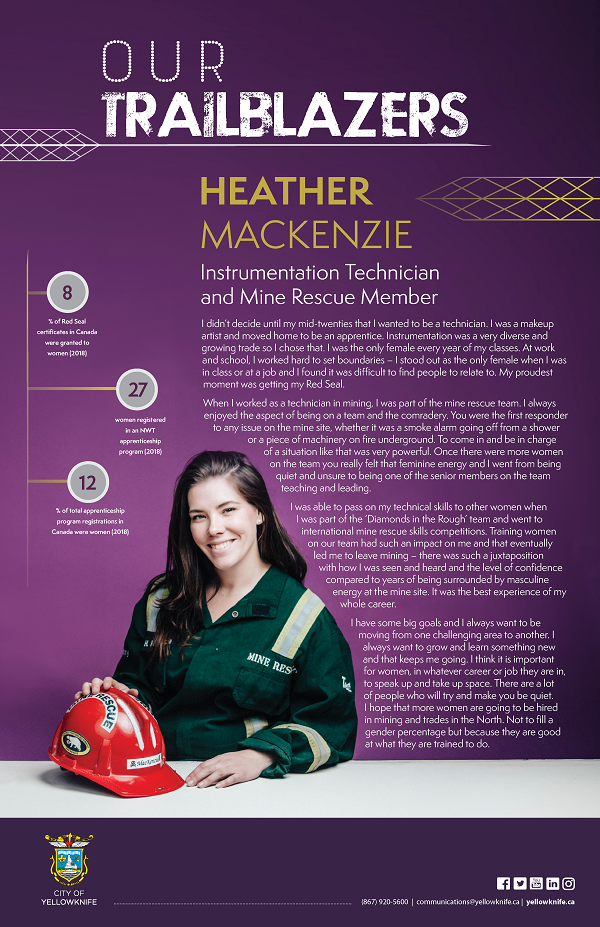 I didn't decide until my mid-twenties that I wanted to be a technician. I was a makeup artist and moved home to be an apprentice. Instrumentation was a very diverse and growing trade so I chose that. I was the only female every year of my classes. At work and school, I worked hard to set boundaries — I stood out as the only female when I was in class or at a job and I found it difficult to find people to relate to. My proudest moment was getting my Read Seal.

When I worked as a technician in mining, I was part of the mine rescue team. I always enjoyed the aspect of being on a team and the comradely. You were the first responder to any issue on the mine site, whether it was a smoke alarm going off from a shower or a piece of machinery on fire underground. To come in and be in charge of a situation like that was very powerful. Once there were more women on our team you really felt that feminine energy and I went from being quiet and unsure to being one of the senior members on the team teaching and leading.

I was able to pass on my technical skills to other women when I was part of the 'Diamonds in the Rough' team and went to international mine rescue skills competitions. Training women on our team had such an impact on me that eventually led me to leave mining — there was such a juxtaposition with how I was seen and heard and the level of confidence compared to years of being surrounded by masculine energy at the mine site. It was the best experience of my whole career.

I have some big goals and I always want to be moving from one challenging area to another. I always want to grow and learn something new and that keeps me going. I think it is important for women, in whatever career or job they are in, to speak up and take up space. There are a lot of people who will try and make you be quiet. I hope that more women are going to be hired in mining and trades in the North. Not to fill a gender percentage but because they are good at what they are trained to do.
8% of Read Seal certificates in Canada were granted to women (2018)
27% women registered in an NWT apprenticeship program (2018)
12% of total apprenticeship program registrations in Canada were women (2018)
Tania Larsson - Gwich'in Jewellery Designer

My work is about adornment and pride. Jewellery making is deeply imbedded in my culture, and as a female Indigenous entrepreneur, I am accountable to a great number of people. I want to share my successes so that any Indigenous person can take pride in seeing our arts and culture celebrated. For me this is both a responsibility and an honour — it's knowing where I come from.

The fashioning of adornments is a part of our identity that was historically stripped from us. For me, the way to address those pas injustices is through the continued creation of these pieces. Today, our traditional work is often undervalued, and it's important to change these perceptions and demonstrate the immense craftsmanship required to create these pieces. By researching and learning traditional techniques through my work, I am practicing my culture every day and showcasing the community behind the artist. It connects me to my identity and my culture.

Although I base my business from home, much of my work is done on the land and through engaging my community. As an artist, I find it important to travel places where my culture is being actively learned and celebrated, even if it takes me away from my studio. Being an entrepreneur means that even when I leave the office, my work is still happening, because I am learning and growing, and through that also sharing my story.

In my business, I specifically try to work with Indigenous woman, artists, models, and photographers as a way to purposefully contribute to the normalization of Indigenous excellence and beauty. I want to make positive impact by creating work opportunities for Indigenous artists in the north and I'm thankful for the chance to mentor other artists and entrepreneurs. My advice to them is, be fearless.
35% of managers in Canada are women
50% of people in Canada are women
3% of Canadian companies have a woman CEO
$0.65 are earned by full-time employed indigenous women for every dollar earned by non-indigenous men
Our Past Trailblazers
Our Trailblazers - 2018
Sheila MacPherson - Partner, Lawson Lundell LLP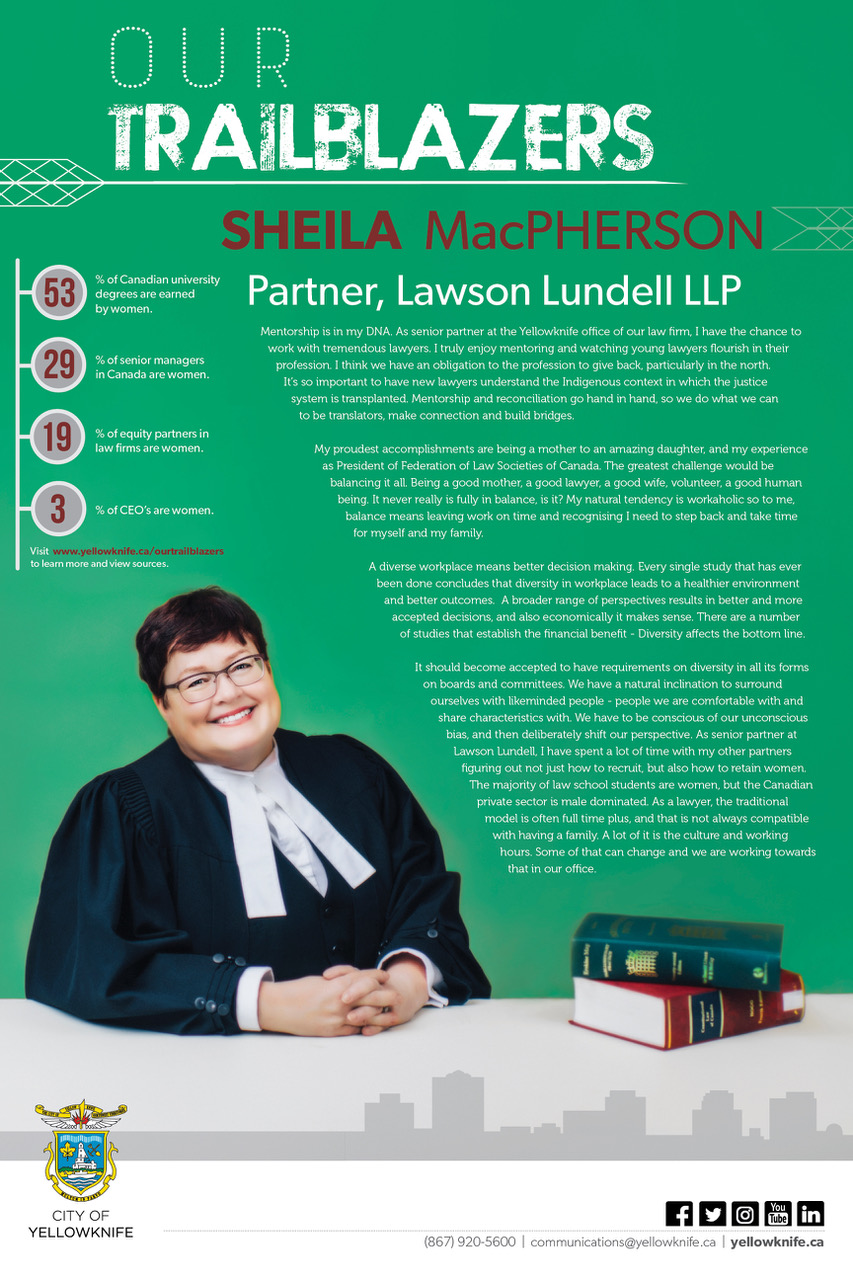 Mentorship is in my DNA. As senior partner at the Yellowknife office of our law firm, I have the chance to work with tremendous lawyers. I truly enjoy mentoring and watching young lawyers flourish in their profession. I think we have an obligation to the profession to give back, particularly in the north. It's so important to have new lawyers understand the indigenous context in which the justice system is transplanted. Mentorship and reconciliation go hand in hand, so we do what we can to be translators, make connection and build bridges.

My proudest accomplishments are being a mother to an amazing daughter, and my experience as President of Federation of Law Societies of Canada. The greatest challenge would be balancing it all. Being a good mother, a good lawyer, a good wife, volunteer, a good human being. It never really is fully in balance, is it? My natural tendency is workaholic so to me, balance means leaving work on time and recognizing I need to step back and take time for myself and my family.

A diverse workplace means better decision making. Every single study that has ever been done concludes that diversity in workplace leads to a healthier environment and better outcomes. A broader range of perspectives results in better and more accepted decisions, and also economically it makes sense. There are a number of studies that establish the financial benefit - Diversity affects the bottom line.

It should become accepted to have requirements on diversity in all its forms on boards and committees. We have a natural inclination to surround ourselves with like-minded people - people we are comfortable with and share characteristics with. We have to be conscious of our unconscious bias, and then deliberately shift our perspective. As senior partner at Lawson Lundell, I have spent a lot of time with my other partners figuring out not just how to recruit, but also how to retain women. The majority of law school students are women, but the Canadian private sector is male dominated. As a lawyer, the traditional model is often full time plus, that's not always compatible with having a family. A lot of it is the culture and working hours. Some of that can chance and we are working towards that in our office.
53% of Canadian university degrees are earned by women
29% of senior managers in Canada are women
19% of equity partners in law firms are women
3% of CEO's are women
Leitha Kochon - K'ashogot'ine (North Slavey) Language host, CBC North Radio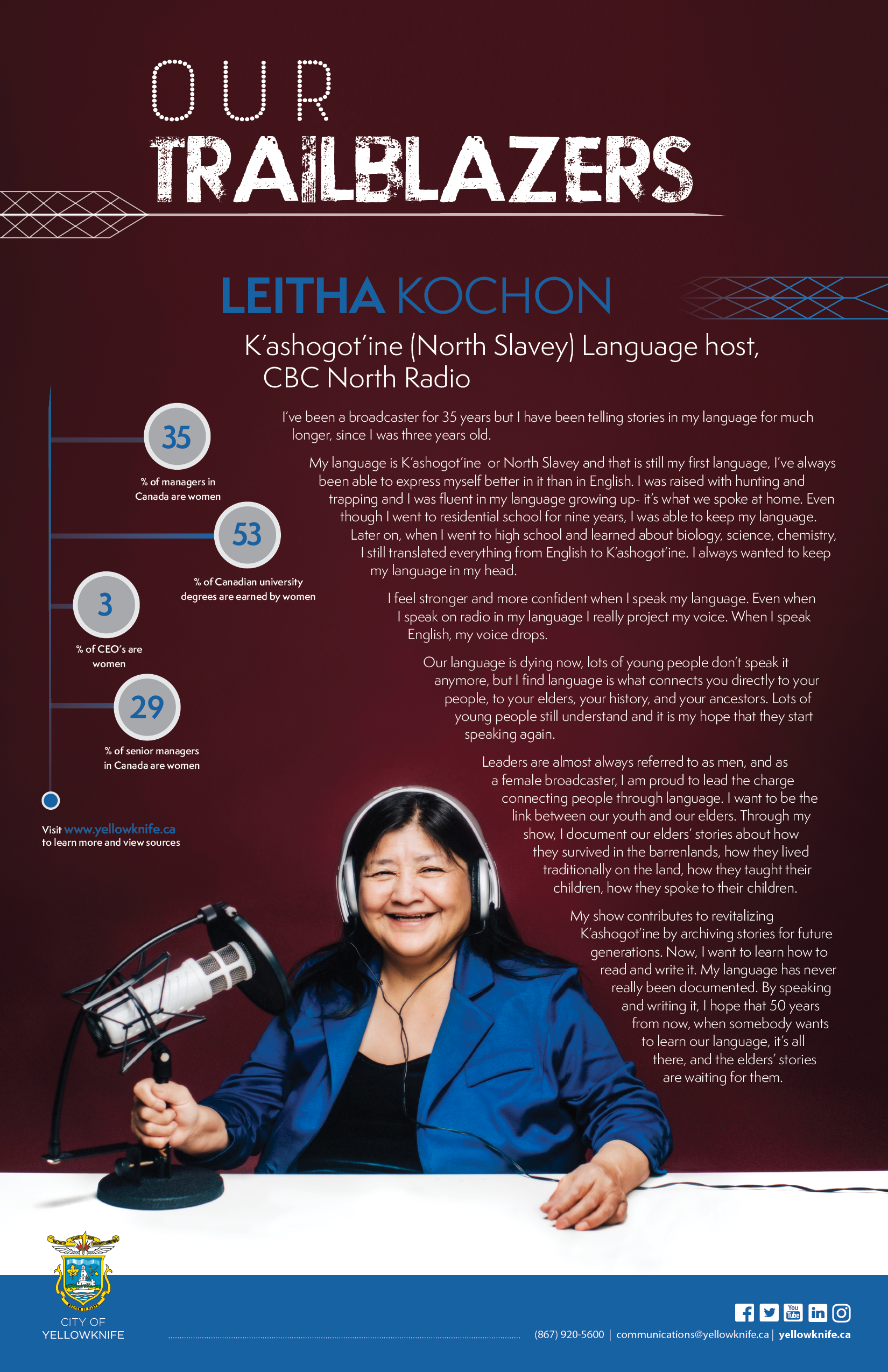 I've been a broadcaster for 35 years but I have been telling stories in my language for much longer, since I was three years old.

My language is K'ashogot'ine or North Slavey and that is still my first language, I've always been able to express myself better in it than in English. I was raised with hunting and trapping and I was fluent in my language growing up- it's what we spoke at home. Even though I went to residential school for nine years, I was able to keep my language. Later on, when I went to high school and learned about biology, science, chemistry, I still translated everything from English to K'ashogot'ine. I always wanted to keep my language in my head.

I feel stronger and more confident when I speak my language. Even when I speak on radio in my language I really project my language. Even when I speak on radio in my language I really project my voice. When I speak English, my voice drops.

Our language is dying now, lots of young people don't speak it anymore, but I find language is what connects you directly to your people, to your elders, your history, and your ancestors. Lots of young people still understand and it is my hope that they start speaking again.

Leaders are almost always referred to as men, and as a female broadcaster, I am proud to lead the charge connecting people through language. I want to be the link between our youth our elders. Through my show, I document our elders' stories about how they survived in the barren lands, how they lived traditionally on the land, how they taught their children, how they spoke to their children.

My show contributes to revitalizing K'oshogot'ine by archiving stories for future generations. Now, I want to learn how to read and write it. My language has never really been documented. By speaking and writing it, I hope that 50 years from now, when somebody wants to learn our language, it's all there, and the elders' stories are waiting for them.
35% of managers in Canada are women
53% of Canadian university degrees are earned by women
3% of CEO's are women
29% of senior managers in Canada are women
Chelsea Thacker - Executive Director, Rainbow Coalition of Yellowknife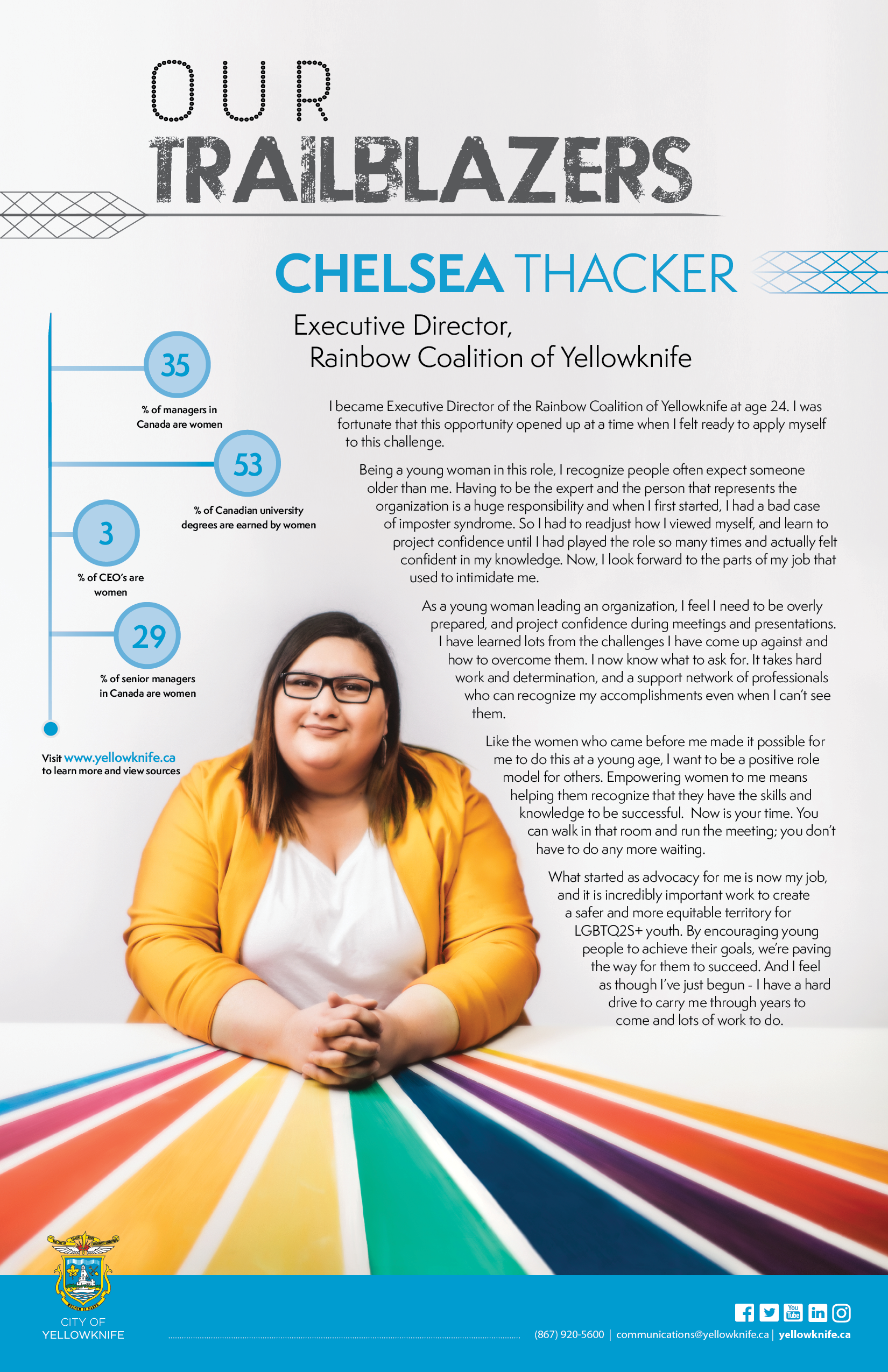 I became Executive Director of the Rainbow Coalition of Yellowknife at age 24. I was fortunate that this opportunity opened up at a time when I felt ready to apply myself to this challenge.

Being a women in this role, I recognize people often expect someone older that me. Having to be the expert and the person that represents the organization is a huge responsibility and when I first started, I had a bad case of imposter syndrome. So I had to readjust how I viewed myself, and learn to project confidence until I had played the role so many times and actually felt confident in my knowledge. Now, I look forward to the parts of my job that used to intimidate me.

As a young women leading an organization, I feel I need to be overly prepared, and project confidence during meetings and presentations. I have learned lots from the challenges I have come up against and how to overcome them. I now know what to ask for. It takes hard work and determination, and a support network of professionals who can recognize my accomplishments even when I can't see them.

Like the women who came before me made it possible for me to do this at a young age, I want to be a positive role model for others. Empowering women to me means helping them recognize that they have the skills and knowledge to be successful. Now is your time. You can walk in that room and run the meeting; and don't have to do any more waiting.

What started as advocacy for me is now my job, and it is incredibly important work to create a safer and more equitable territory for LGBTQ2S+ youth. By encouraging young people to achieve their goals, we're paving the way for them to succeed. And I feel as though I've just begun - I have a hard drive to carry me through to come and lots of work to do.
35% of managers in Canada are women
53% of Canadian university degrees are earned by women
3% of CEO's are women
29% of senior managers in Canada are women
Nalini Naidoo, MCIP, RPP - Director, City of Yellowknife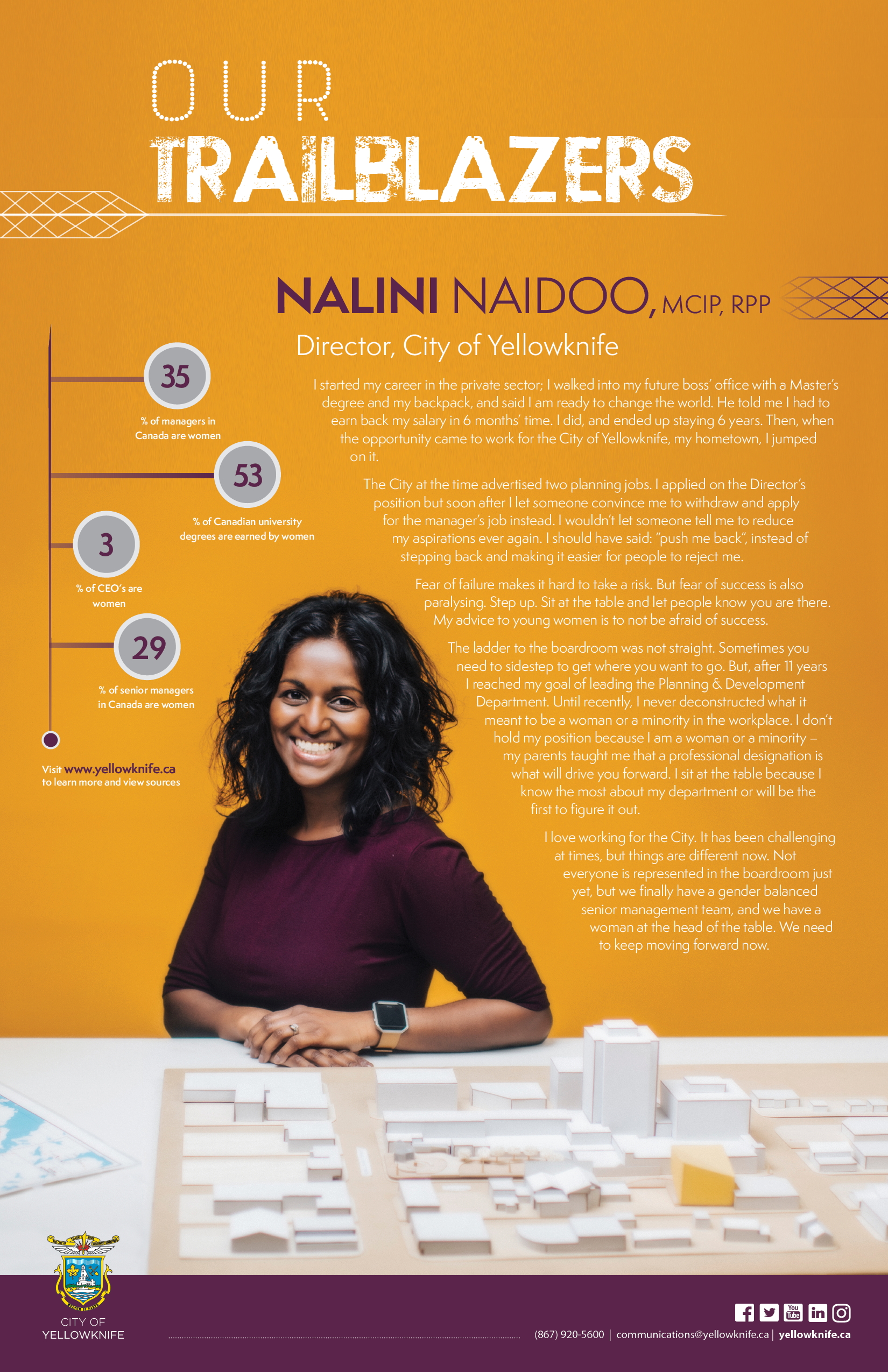 I started my career in the private sector; I walked into my future boss' office with a Master's. Degree and my backpack, and said I am ready to change the world. He told me I had to earn back my salary in 6 months' time. I did, and I ended up staying 6 years. Then, when the opportunity came to work for the City of Yellowknife, my hometown, I jumped on it.

The City at the time advertised two planning jobs. I applied on the Director's position but soon after I let someone convince me to withdraw and apply for the manager's job instead. I wouldn't let someone tell me to reduce my aspirations ever again. I should have said: "push me back", instead of stepping back and making it easier for people to reject me.

Fear of failure makes it hard to take a risk. But fear of success is also paralyzing. Step up. Sit at the table and let people know that you are there. My advice to young women is to not be afraid of success.

The ladder to the boardroom was not straight. Sometimes you need to sidestep to get where you want to go. But, after 11 years I reached my goal of leading the Planning and Development Department. Until recently, I never deconstructed what it meant to be a woman or a minority in the workplace. I don't hold my position because I am a women or a minority — my parents taught me that a professional designation is what will drive you forward. I sit at the table because I know the most about my department or will be the first to figure it out.

I love working for the City. It has been challenging at times, but things are different now. Not everyone is represented in the boardroom just yet, but we finally have a gender balanced senior management team, and we have a woman at the head of the table. We need to keep moving forward now.
35% of managers in Canada are women
53% of Canadian university degrees are earned by women
3% of CEO's are women
29% of senior managers in Canada are women
Rosalind Mercredi - Artist and Owner, Down to Earth Gallery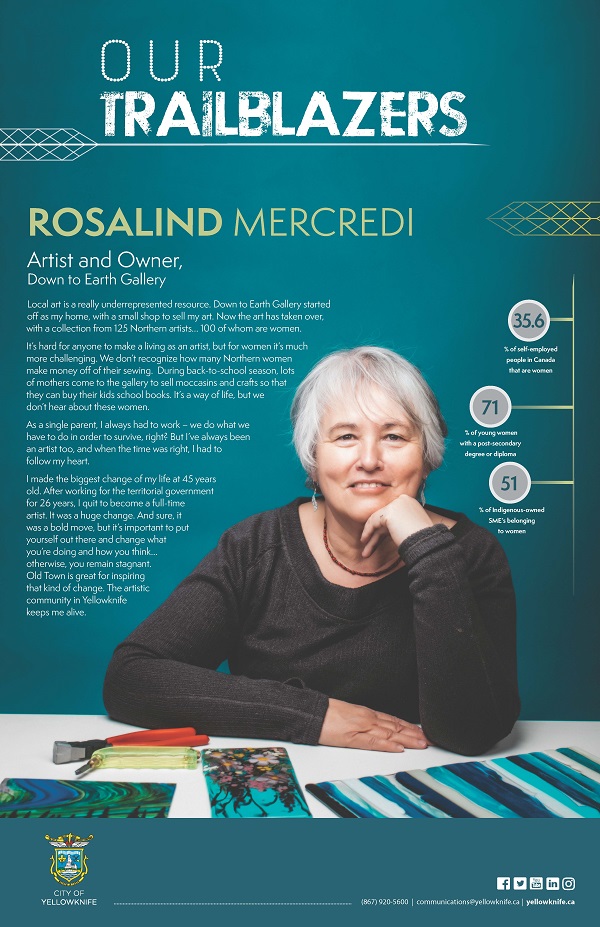 Local art is a really underrepresented resource. Down to Each Gallery started off as my home, with a small shop to sell my art. Now the art has taken over, with a collection from 125 Northern artists… 100 of whom are women.

It's hard for anyone to make a living as an artist, but for women it's much more challenging. We don't recognize how many Northern women make money off of their sewing. During back-to-school season, lots of mothers come to the gallery to sell moccasins and crafts so that they can buy their kids school books. It's a way of life, but we don't hear about these women.

As a single parent, I've always had to work — we do what we have to do in order to survive, right? But I've always been an artist too, and when the time was right, I had to follow my heart.

I made the biggest change of my life at 45 years old. After working for the territorial government for 26 years, I quite to become a full-time artist. It was a huge change. And sure, it was a bold move, but it's important to put yourself out there and change what you're doing and how you think… otherwise, you remain stagnant. Old Town is great for inspiring that kind of change. The artistic community in Yellowknife keeps me alive.
35.6% of self-employed people in Canada are that women
71% of young women with a post-secondary degree or diploma
51% of Indigenous-owned SME's belong to women
Stacie Smith - Winner, Trailblazer Award 2017 - Owner of Flowers North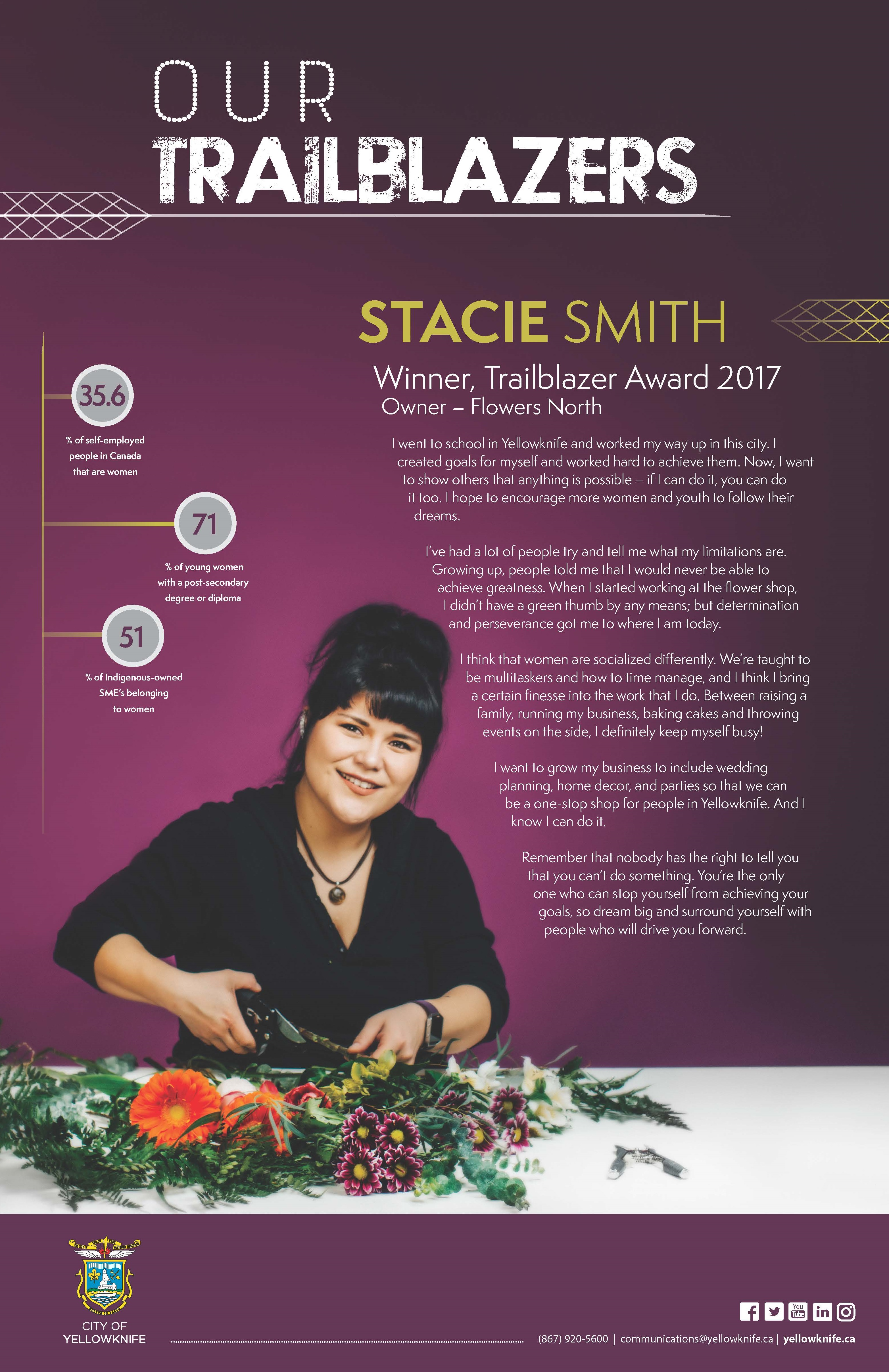 I went to school in Yellowknife and worked my way up in this city. I created goals for myself and worked hard to achieve them. Now, I want to show others that anything is possible — if I can do it, you can do it too. I hope to encourage more women and youth to follow their dreams.

I've had a lot of people try and tell me what my limitations are. Growing up, people told me that I would never be able to achieve greatness. When I started working at the flower shop, I didn't have a green thumb by any means; but determination and perseverance got me to where I am today.

I think that women are socialized differently. We're taught to be multitaskers and how to time manage, and I think I bring a certain finesse into the work that I do. Between raising a family, running a business, baking cakes and throwing events on the side, I definitely keep myself busy!

I want to grow my business to include wedding planning, home decor, and parties so that we can be a one stop-shop for people in Yellowknife. And I know I can do it.

Remember that nobody has the right to tell you that you can't de something. You're the only one who can stop yourself from achieving your goals, so dream big and surround yourself with people who will drive you forward.
35.6% of self-employed people in Canada are that women
71% of young women with a post-secondary degree or diploma
51% of Indigenous-owned SME's belong to women
Our Trailblazers - 2017

Photo Gallery: 2017 Trailblazers will appear here on the public site.
Diversity is good for business. More and more women are pursuing the path of entrepreneurship. Women and men owned business differ on a number of distinct characteristics, and opportunities for economic growth are missed if both parties are not present at the table. As successful business owners, Yellowknife's trailblazers play a critical role breaking ground in the land of opportunities. They are pioneers with stories worth telling.
Amana Abdelmag - Business Owner, Mainstreet Donair & Falafel, Yellowknife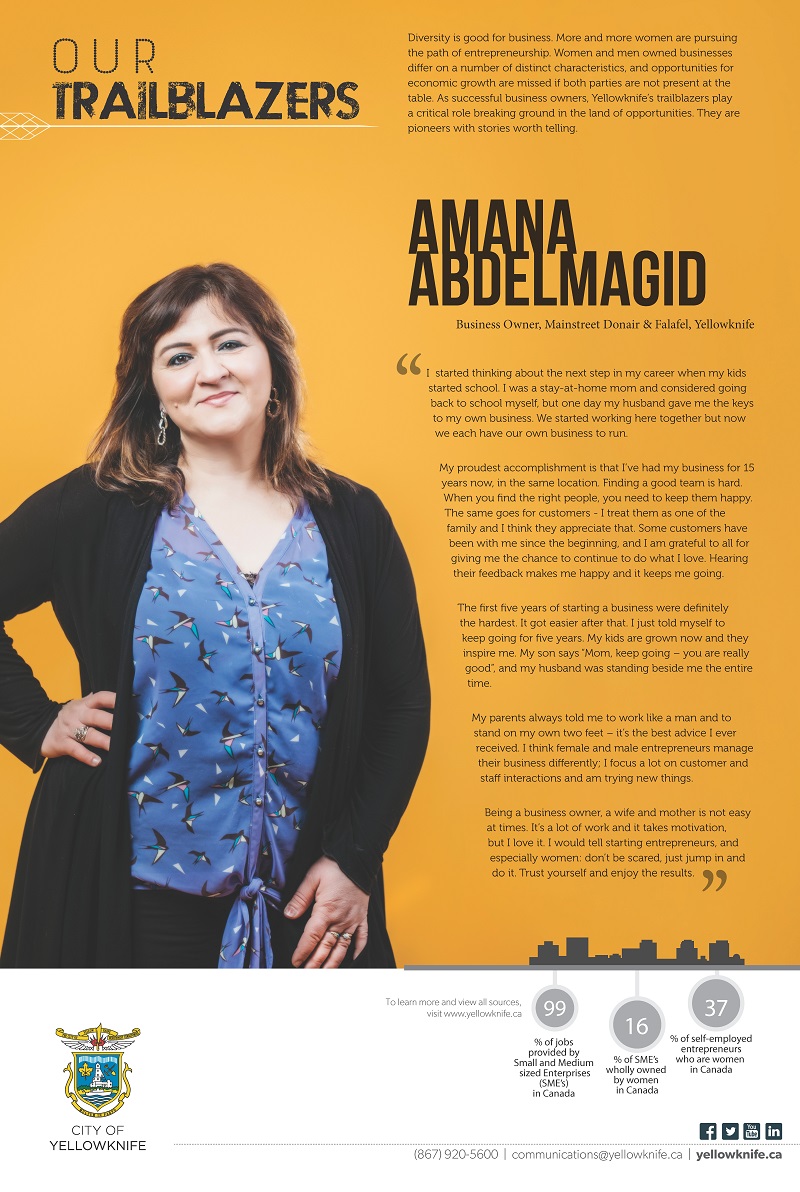 I started thinking about the next step in my career when my kids started school. I was a stay-at-home mom and considered going back to school myself, but one day my husband gave me the keys to my own business. We started working here together but now we each have our own business to run.

My proudest accomplishment is that I've had my business for 15 years now, in the same location. Finding a good team is hard. When you find the right people, you need to keep them happy. The same goes for customers — I treat them as one of the family and I think they appreciate that. Some customers have been with me since the beginning, and I am grateful to all for giving me the chance to continue to do what I love. Hearing their feedback makes me happy and it keeps me going.

The first five years of starting a business was definitely the hardest. It got easier after that. I just told myself to keep going for five years. My kids are grown now and they inspire me. My son says "Mom, keep going — you are really good", and my husband was standing beside me the entire time.

My parents always told me to work like a man and to stand on my own two feet — that's the best advise I ever received. I think female and male entrepreneurs manage their business differently; I focus a lot on customer and staff interactions and am trying new things.

Being a business owner, a wife and a mother is not easy at times. It's a lot of work and takes motivation, but I love it. I would tell starting entrepreneurs, and especially women: don't be scared, just jump in and do it. Trust yourself and enjoy the results.
99% of jobs provided by Small and Medium sized Enterprises (SME's) in Canada
16% of SME's wholly owned by women in Canada
37% of self-employed entrepreneurs who are women in Canada
Julie Schindel - Home-Based Business Owner, Julu Designs, Yellowknife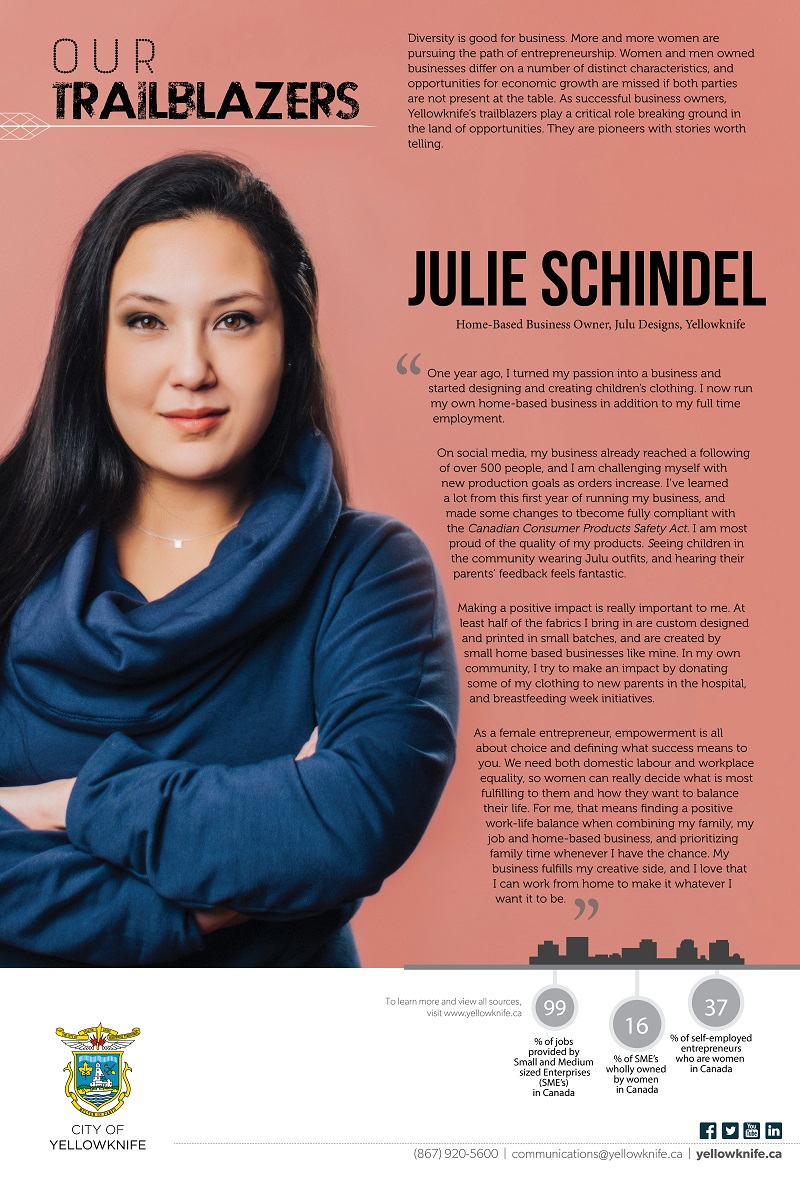 One year ago, I turned my passion into a business and started designing and creating children's clothing. I now run my own home-based business in addition to my full time employment.

On social media, my business already reached a following of over 500 people, and I am challenging myself with new production goals as orders increase. I've learned a lot from this first year of running my business, and made some changes to become fully compliant with the Canadian Consumer Products Safety Act. I am most proud of the quality of my products. Seeing children in the community wearing Julu outfits, and hearing their parents' feedback feels fantastic.

Making a positive impact is really important to me. At least half of the fabrics I bring in are custom designed and printed in small batches, and are created by small home based business like mine. In my own community, I try to make an impact by donating some of my clothing to new parents in the hospital, and breastfeeding week initiatives.

As a female entrepreneur, empowerment is all about choice and defining what success means to you. We need both domestic labour and workplace equality, so women can really decide what is most fulfilling to them and how they want to balance their life. For me, that means finding a positive work-life balance when combining my family, my job and home-based business, and prioritizing my family whenever I have the chance. My business fulfills my creative side, and I love that I can work from home to make it whatever I want it to be.
99% of jobs provided by Small and Medium sized Enterprises (SME's) in Canada
16% of SME's wholly owned by women in Canada
37% of self-employed entrepreneurs who are women in Canada
Maggie Mercredi - Home-Based Business Owner, Ravenessence Consulting, Yellowknife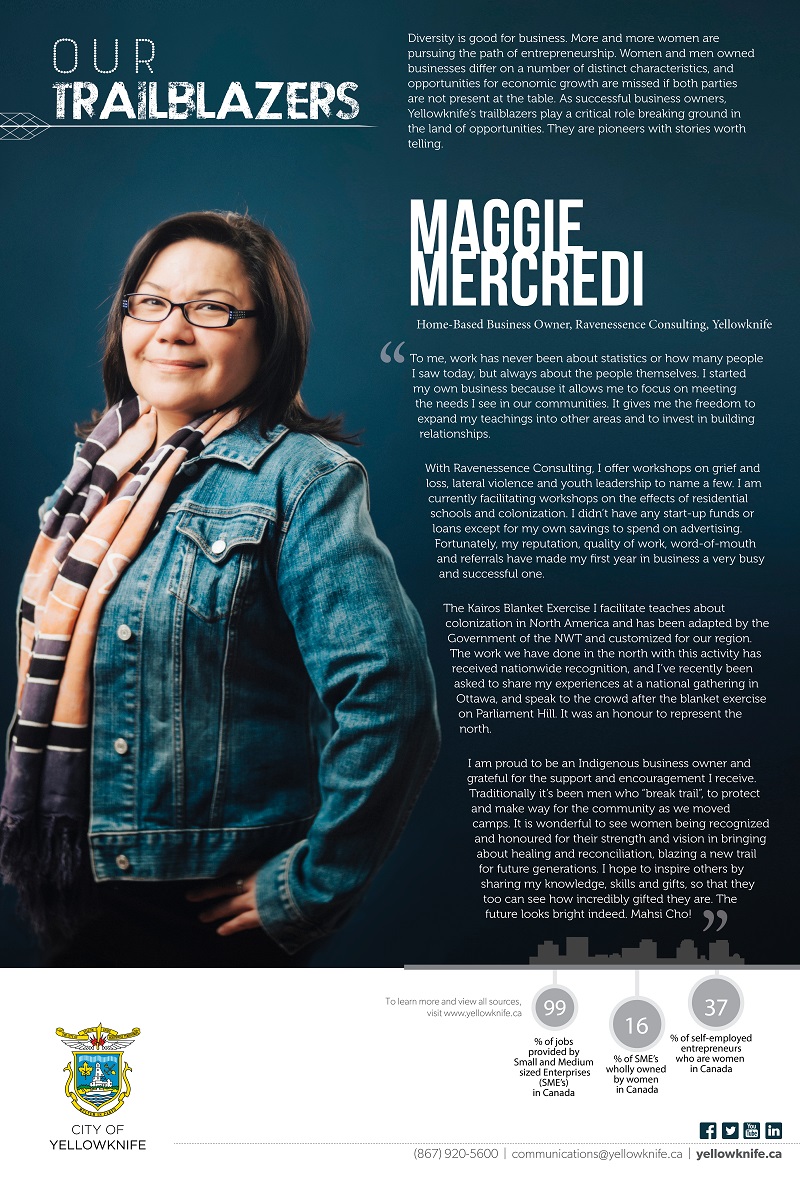 To me, work has never been about statistics or how many people I saw today, but always about people themselves. I started my own business because it allows me to focus on meeting the needs I see in our communities. It gives me the freedom to expand my teaching into other areas and to invest in building relationships.

With Ravenesence Consulting, I offer workshops on grid and loss, lateral violence and youth leadership to name a few. I am currently facilitating workshops on the effects of residential schools and colonization. I didn't have any start-up funds or loans except for my own savings to spend on advertising. Fortunately, my reputation, quality of work, word-of-mouth and referrals have made my first year in business a very busy and successful one.

The Kairos Blanket Exercise I facilitate teaches about colonization in North America and has been adapted by the Government of the NWT and customized by our region. The work we have done in the north with this activity has received nationwide recognition, and I've recently been asked to share my experience at a national gathering in Ottawa, and speak to the crowd after the blanket exercise on Parliament hill. It was an honour to represent the north.

I am proud to be an indigenous business owner and grateful for the support and encouragement I receive. Traditionally, it has been men who "break trail", to protect and make way for the community as we moved camps. It is wonderful to see women being recognized and honoured for their strength and vision in brining about healing and reconciliation, blazing a new trail for future generations. I hope to inspire others by sharing my knowledge, skills and gifts, so that they too can see how incredibly gifted they are. The future looks bright indeed. Mahsi Cho!
99% of jobs provided by Small and Medium sized Enterprises (SME's) in Canada
16% of SME's wholly owned by women in Canada
37% of self-employed entrepreneurs who are women in Canada
Margaret Kralt - Associate, Dillon Consulting Limited, Yellowknife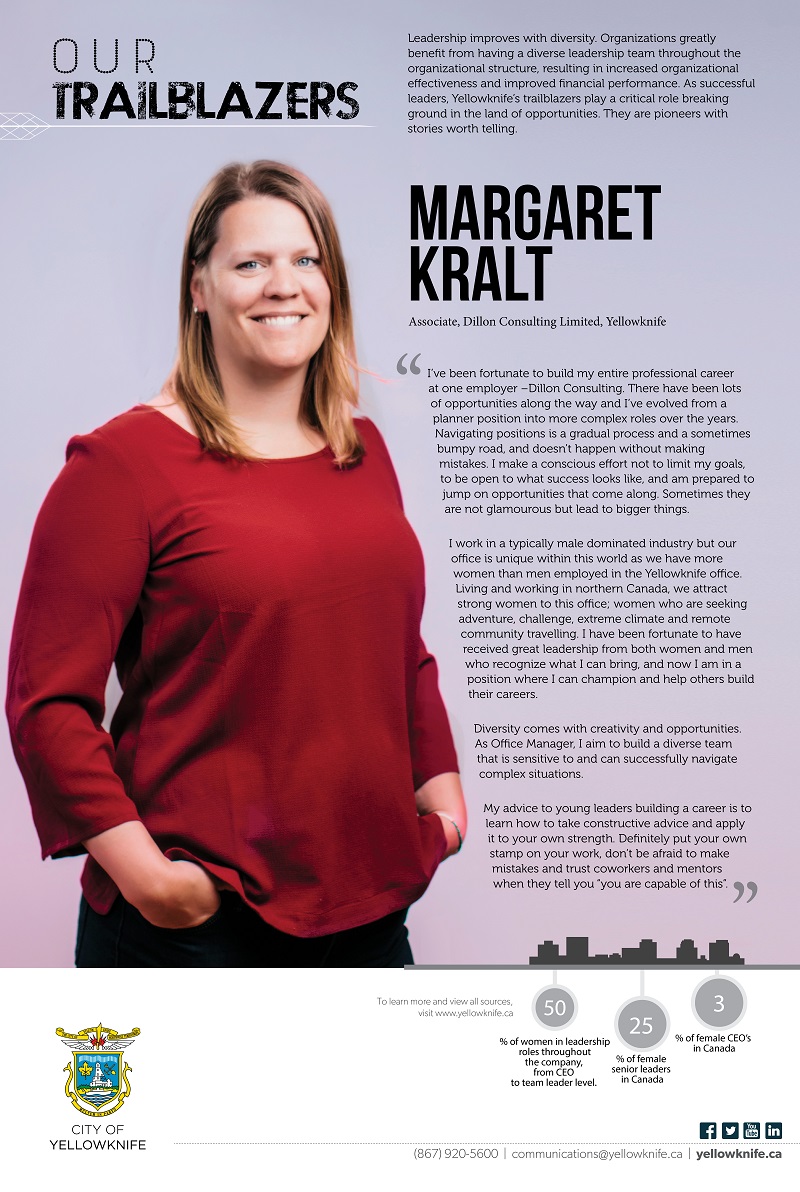 I have been fortunate to build my entire professional career at one employer — Dillon Consulting. There have been lots of opportunities along the way and I've evolved from a planner position into more complex roles over the years. Navigating positions is a gradual process and sometimes bumpy road, and doesn't happen without making mistakes. I make a conscious effort not to limit my goals, to be open to what success looks like, and am prepared to jump on opportunities when they come along. Sometimes they are not glamorous but lead to bigger things.

I work in a typically male dominated industry but our office is unique within this world as we have more women than men employed in the Yellowknife office. Living and working in northern Canada, we attract strong women to this office; women who are seeking adventure, challenge, extreme climate and remote community travelling. I have been fortunate to have received great leadership from both women and men who recognize what I bring, and now I am in a position where I can champion and help others build their careers.

Diversity comes with creativity and opportunities. As Office Manager, I am to build a diverse team that is sensitive to and can successfully navigate complex situations.

My advice to young leaders building a career is to learn how to take constructive advice and apply it to your own strength. Definitely put your own stamp on your work, don't be afraid to make mistakes and trust coworkers and mentors when they tell you 'you are capable of this.'
50% of women in leadership roles throughout the company, from CEO to team leader level
25% of female senior leaders in Canada
3% of female CEO's in Canada
Student Council - École William McDonald Middle School, Yellowknife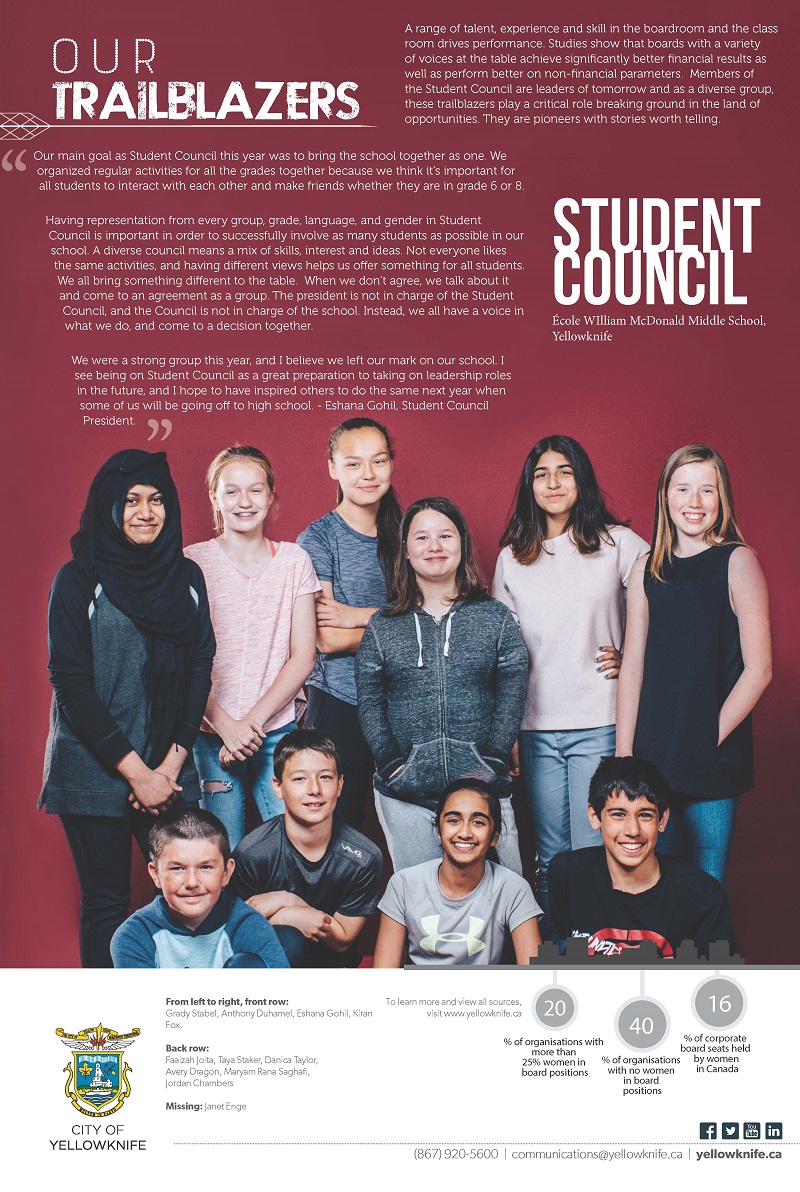 A range of talent, experience and skill in the boardroom and the class rom drives performance. Studies show that boards with a variety of voices at the table achieve significantly better financial results as well as perform better on non-financial parameters. Members of the Student Council are leaders of tomorrow and as a diverse group, these trailblazers play a critical role breaking ground in the land of opportunities. They are pioneers with stories worth telling.

Our main goal as student council this year was to bring the school together as one. We organized regular activities for all the grades together because we think it's important for all students to interact with each other and make friends whether they are in grade 6 or 8.

Having representation from every group, grade and gender in student council is important in order to to successfully involve as many students as possible in our school. A diverse council means a mix of skills, interests and ideas. Not everyone likes the same activities, and having different views helps us offer something for all students. We all bring something different to the table. When we don't agree, we talk about it and come to an agreement as a group. The president is not in charge of the Student Council, and the Council is not in charge of the school. Instead, we have a voice in what we do, and come to a decision together.

We are a strong group this year, and I believe we left our mark on our school. I see being on Student Council as a great preparation to taking on leadership roles in the future, and I hope to have inspired others to do the same next year when some of us will be going off to high school
- Eshana Gohil, Student Council President
20% of organizations with more than 25% women in board positions
40% of organizations with no women in board positions
16% of corporate board seats held by women in Canada
Sources and more information
Industry Canada's 2011 Survey on Financing of Small and Medium Sized Enterprises (SMEs)
Mulligan-Ferry, Liz, Mark J. Bartkiewicz, Rachel Soares, Amrita Singh, and Imogene Winkleman, 2013 Catalyst Census: Financial Post 500 Women Board Directors. New York: Catalyst, 2014.
Statistics Canada, "Table 14-10-0297-01: Labour Force Characteristics by Occupation, Annual (x 1,000)" (2018).
Statistics Canada, Education in Canada: Attainment, Field of Study and Location of Study, National Household Survey, 2011 (2016).