The subject land is described as Lot 34, Block 30, more commonly known as the 50/50 Lot. It currently is approved as a parking lot and is within the DT – Downtown zone. The City is inviting qualified businesses, organizations, or persons to submit a Development Proposal for the purpose of meeting Council's goals of Downton Revitalization and Strengthening and Diversifying the Economy. The Development Proposal shall reflect the goals of City Council. The successful proponent will be able to purchase/lease the land.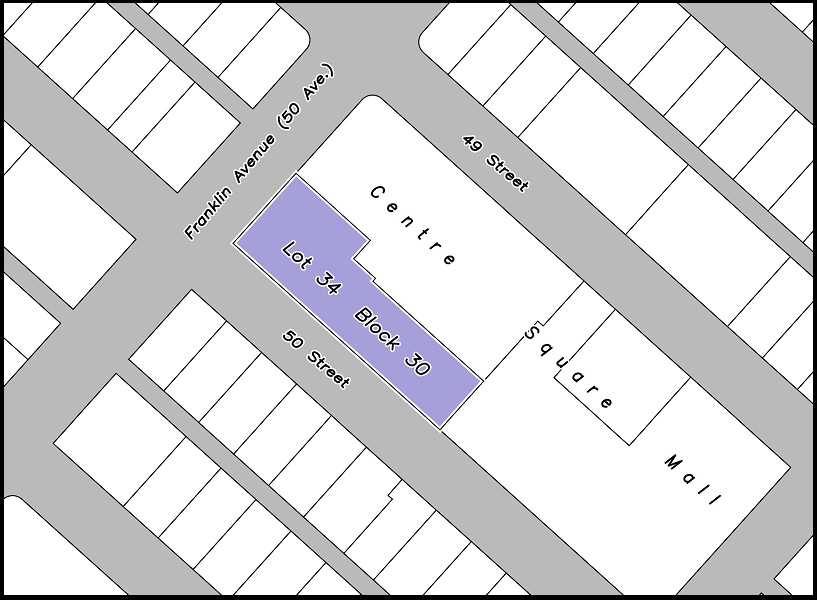 The area for development will be made available for disposal to the awarded proponent in accordance with Land Administration By-law No. 4596, as amended. Following the land purchase (or lease), the awarded proponent (as the purchaser and developer) shall provide the final Development Proposal Report as per the requirements of this Terms of Reference / Request for Proposal, and ensure that site development be conducted through proper development permit and building permit processes, and any other applicable development review process. Where by-law amendments are requested, City Administration will assist with those processes.
IMPORTANT NOTES
The City makes no warranties or representations either expressed or implied with respect to the subject property. The sale shall be made on an "as-is" basis. The site information is provided for information purposes only and the City accepts no responsibility for any errors or omissions therein. It is the sole responsibility of the user to verify the information with appropriate parties, agencies and authorities and to acquire additional regulatory information pertaining to the development of the site.
Lot
Block
Plan
Dimension(sq. m.)
Min Price
34
30
2564
2,230

$1,450,000.00

(Ref. Section 5 - Terms of Reference)