* If you are looking to contact all Council members, please email council@yellowknife.ca *
Mayor Rebecca Alty
Rebecca Alty is serving her second term as Mayor of Yellowknife. Prior to being elected as Mayor, she served as a Yellowknife City Councillor for two terms, from 2012 - 2018, and worked in communications and community relations for the Diavik Diamond Mine, NGO's, and the Government of the Northwest Territories.
Outside of work, she enjoys walking, gardening and traveling.
Mayor Alty is bilingual in French and English, so feel free to share your concerns, comments or suggestions in either language.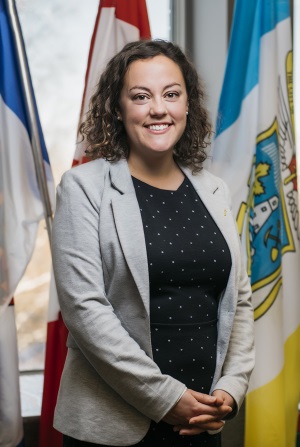 Email: mayor@yellowknife.ca
Councillor Garett Cochrane
Councillor Garett Cochrane is a proud born and raised 2SLGBTQ+ Metis Yellowknifer who is serving his first term on Council.
Councillor Cochrane works as the Community Relations Officer for Parsons Inc. on the Giant Mine Remediation Project, and has previously worked as a Yellowknife Public Library Assistant, Justice of the Peace, Constituency Assistant & in a variety of roles in his family's long time local business- Northtech Drilling LTD. He also has the pleasure of serving on the board of MakerspaceYK and the Northwest Territories Federal Liberal Association. He has previously served on the Heritage Committee, Long John Jamboree and Pride NWT's Boards.
Outside of work, he enjoys baking, chess, karaoke, traveling, watching film screenings at Capital Theater, adding to his library, Lego, collecting millennial inspired swag and spending quality time with his partner Brandon.
Email: gcochrane@yellowknife.ca
Councillor Ryan Fequet
Ryan is a husband, father of two daughters, a brother, and passionate community volunteer. He grew up in Perth, Ontario and has lived in Somba K'e since 2007. Ryan is an English-speaking settler and is currently learning Tlicho. He serves as the Executive Director for an Indigenous regulatory body formed from a modern day Land Claim and Self-Government Agreement, where transparency and meaningful consultation is the foundation for the work. He is an accredited Project Manager (PMP) and has a BSc. in biology and an MSc. in negotiation and conflict resolution. He has served on more than three dozen not-for-profit boards and committees at the local, territorial, and national level. Ryan has extensive experience in governance, policy development, risk management, human resource management, and was awarded the NWT's Volunteer of the Year award in 2018 for serving an average of 2hrs/day over a ten-year period in support of the northern not-for-profit sector. Ryan is an avid paddler and hiker and encourages anyone who gets the chance to paddle the Nahanni River and hike Auyuittuq National Park.
Email: rfequet@yellowknife.ca
Councillor Ben Hendriksen
Like a lot of Yellowknifers, Ben has chosen Yellowknife as his home. Originally from St. Catharines, Ontario, Ben has an Undergraduate Degree in Political Science from Brock University (2008) and a Master of Public Policy Degree from Simon Fraser University (2011).
Ben first moved to Yellowknife in June 2011 and held public sector roles in policy development and governance. From 2017 to 2020 Ben lived in Dublin, Ireland with his wife as she returned to University. During this time Ben worked as an advocate and lobbyist, advocating with colleagues for improved access to adult education and lifelong learning in Ireland and across the European Union.
In 2020 Ben and his wife chose to return home to Yellowknife. In 2022 Ben ran for Council with the goal of giving back to the community that has given him so much.
Email: bhendriksen@yellowknife.ca
Councillor Cat McGurk
Email: cmcgurk@yellowknife.ca
Councillor Tom McLennan
Tom grew up in Huntsville, Ontario and has loved living in Yellowknife since 2016. He has a B.A. Hons in Economics from the University of Guelph. While in school, he began working toward his Commercial Pilots License, which he completed in 2016. His cross-country search for a place to call home and start a career ended the moment he laid eyes on Yellowknife, in Chief Drygeese territory.
Tom now works as a pilot for Canadian North. Since arriving in Yellowknife, Tom has flown for Air Tindi, Summit Air and Ahmic Air. You also may have seen him bartending at the Woodyard and working for Treeline Construction. In his spare time, Tom is an amateur carpenter and photographer who takes any chance he can to go camping and sailing.
Tom volunteers with Food Rescue and the Yellowknife Film Festival, and helps build the Houseboat Bay hockey rink each year. He is extremely grateful to the community of Yellowknife, as well as his friends and partner, Ariel, for the opportunities he has had and all the laughs along the way.
Don't hesitate to reach out with ideas, suggestions or concerns. Together we can make Yellowknife an even better place to live!
Email: tmclennan@yellowknife.ca
Councillor Stacie Arden-Smith
Councillor Stacie Arden-Smith is serving her second term on Council. Councillor Arden-Smith is of the Tlicho people. She is an entrepreneur, full time student and a mom of two boys.
Outside of work she volunteers her time on numerous boards for festivals and Music NWT. She loves spending time with her family and out in the great outdoors. Stacie's passion for her home town is what drives her to invest her time not only in politics but in her other endeavors, to her, being of service is a great honor.
Email: sarden-smith@yellowknife.ca
Councillor Steve Payne
Email: spayne@yellowknife.ca
Councillor Rob Warburton
Email: rwarburton@yellowknife.ca