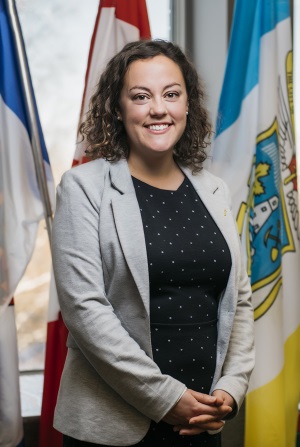 Rebecca was born and raised in Yellowknife – in Chief Drygeese Territory in the Akaitcho Territory.
After graduating from the University of Calgary with a Bachelor of Communication Studies, Rebecca returned to Yellowknife and worked for the Government of the Northwest Territories (communications and website advisor), followed by the Stanton Territorial Hospital Foundation (Executive Director), AVENS - A Community for Seniors (Director of Communications and Community Development), and most recently she was the Manager of Communications and Community Relations for the Diavik Diamond Mine. Outside work, Rebecca is an active volunteer in sports, arts and culture.

Rebecca is bilingual in French and English, so feel free to share your concerns, comments or suggestions in either language.


Hours of Operation
Winter Hours effective following the Labour Day Weekend
until prior to the Victoria Day Weekend (September to May)
Monday to Friday: 11:00 a.m. to 2:00 p.m.
Saturday and Sunday: Closed
Summer Hours effective following the Victoria Day Weekend
until prior to the Labour Day Weekend (May to September)
Monday to Friday: 8:00 a.m. to 4:30 p.m.
Saturday and Sunday: Closed