The City of Yellowknife is here to help you organize your event. Each event adds vibrancy to our buzzing City. Common event types include a parade, walkathon, bike race, tournament, swim meet, block party, concert, festival or carnival. If you are planning a gathering, please use the Event Guide to determine if what you are planning is considered to be an event. This includes events on private or City owned or managed property (including parks, trails, buildings, sidewalks and streets).
For more information, please review our Event Guide Brochure below.
Please be aware this is not a facility booking request. To book a park/facility, please call (867) 669-3457 during regular business hours.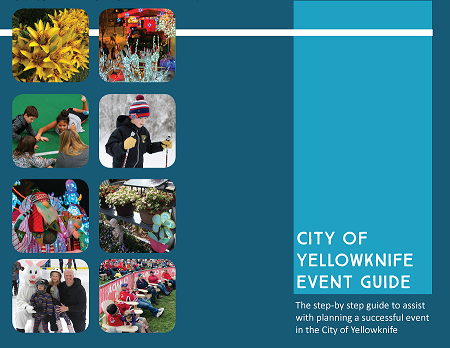 View the Event Guide Brochure
There are a number of other forms and key timelines to be aware of. These include:
| Form/Task | Time Required |
| --- | --- |
| Event Application | 60 days |
| Occupancy Load/Special Occasion Permit | 10-45 days prior, depending on event |
| Submit Insurance Certificate | 30 days |
| Payment of Rental, City Service, and Damage Deposit Fees | 30 days |
| Application for approval of temporary food establishment permit | 14 days |
| Fire Pit/Fireworks Display | 14 days |
| Signage Permits | 10 days |
| Lane Closure Request Form | 7 days |
| Garbage, Compost, and Recycling Bins | 7 days |
Ready to go? Fill out the online form to get started. Questions? Email events@yellowknife.ca