Curbside Cart Program
The City of Yellowknife has implemented a two-cart waste system for single family dwellings in residential areas throughout Yellowknife as part of the Curbside Cart Program.
Your home should have a black cart for garbage pick-up and a green cart for organics pick-up.
You can create and print off a schedule personalized for your address using the "Get a calendar" button on the My Schedule feature below. You are also able to sign up to receive reminders prior to your collection day using the "Get a reminder!" button.
Cul-de-Sac Cart Placement
The City of Yellowknife has painted lines in cul-de-sacs to make placement of Black and Green Carts easier and more efficient. Residents are asked to place their Carts inside the painted box. One cart can be placed in each box, and wheels must be placed against the back of the box. Proper placement will help ensure that the contents of your Cart is collected. Carts must be placed for pickup prior to 7:00am on collection day.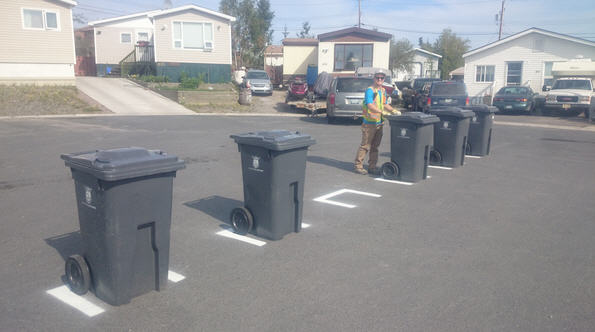 What are the benefits of the Curbside Cart Program?
The Curbside Cart System includes two carts: a black cart for garbage and a green cart for organics. Together, these curbside carts are a safer, cleaner and more efficient way to deal with garbage. Cities throughout North America, including Whitehorse, St. Albert, Winnipeg and Calgary, currently use the Curbside Cart System.
The carts are the first step in phasing in new waste collection equipment that will allow the City to collect organics. New garbage trucks and carts will modernize our waste collection methods. These trucks are equipped with mechanical arms, which empty waste from carts into the trucks, making pick-up more efficient and safer for waste collection employees.
Check out the Yellowknife Curbside Cart Collection video to learn more!
Cart Placement
The new curbside cart program requires proper placement of your cart. Please view the following maps and diagrams to know how to place your cart:
Snow Removal & Garbage Pick-Up
The City of Yellowknife needs your cooperation with snow removal and garbage pickup in your area. Please ensure streets are clear of obstacles for operators to perform snow removal in the early hours of the morning. Signs are placed 24 hours in advance in areas of snow removal so residents are aware snow removal will be taking place. The City would also like to remind residents that once garbage bins have been emptied to return them to your property so streets are clear for snow road maintenance.
The City appreciates your assistance in this matter to ensure a smooth snow removal transition.
Cart Placement Web Map
Browse this web map to determine the pickup day and location of your cart. When searching up an address please do so by first typing in the address followed by the street prefix, ie: 5010 49th ave.