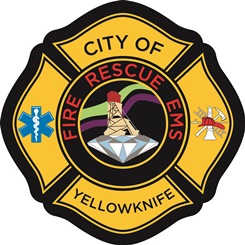 Contacts
Fire and Ambulance
Emergency
P. (867) 873-2222
Established in 1943, the Yellowknife Fire Division provides the residents of Yellowknife and the surrounding areas, with important fire and emergency response services. With a commitment to continued education and training, the Fire Division responds to approximately 3800 calls per year (most of which being emergency medical responses), and have an average response time of less than 5 minutes!
Holiday Safety Messages
Live Christmas Tree Safety
Choose a tree with fresh, green needles that do not fall off when touched
Cut 2" from base of tree
Make sure tree is at least 1 meter away from any heat sources
Ensure tree is not blocking an exit
Add water daily - a tree can drink up to 4 liters of water a day
Christmas Tree Fire: https://youtu.be/xr6b9b8FYKk
Lighting the Tree
Look for the ULC or CSA label on Christmas lights. These lights have been safety-tested
Use indoor lights indoors only; use outdoor lights outdoors only.
Replace any damaged strings of lights
Follow manufacturer's recommendations for the number of light strands to connect
Use clips, not nails, to hang lights so the cords are not damaged
Turn Christmas lights off before leaving home or going to bed
Yule Light up my life: https://youtu.be/3rkS3FesySU
Candle Safety
Remember: A candle is an open flame, which means that it can easily ignite anything that can burn. Think of using flameless candles in your home. If you choose a candle with an open flame, please consider the following:
Use candle holders that are sturdy, and won't tip over easily
Put candle holder on a sturdy, unclutterd surface
Light candles carefully. Keep your hair and any loose clothing away from the flame
Extinguish the candle before it burns down to the holder
Don't use candles if oxygen is used in your home. Supplemental oxygen may cause a fire explosion
Never leave children or pets alone in a room with a burning candle
Keep matches and lighters up high and out of reach of small hands
Keep anything that can burn at least one foot (30 cm) away from a burning candle
Deck the Halls with Fire Safety: https://youtu.be/-ugeFgJlpi4
Kitchen Fire Safety
As the holiday season draws closer, many of us will be attending holiday parties. After a night out, we arrive home and feel like having a bite to eat before heading to bed. Please don't cook after you've been drinking; make something to eat that doesn't involve cooking, or order out.
Cooking while intoxicated (drugs or alcohol) is dangerous! Falling asleep while cooking will result in food burning, smoke filling your home, and if not caught in time, the fire spreading to the rest of your home.
General kitchen safety involves staying in the kitchen when cooking on high heat; staying in your home when simmering, baking or roasting, and use a timer to remind you that you're cooking.
Dan Doofus - Kitchen Safety: https://youtu.be/BMXOZw3QpQl
Services Provided
Services Provided
Public Education
Fire Inspections
Emergency Medical Response (trained to offer Basic Life Support)
Fire Response
Hazardous Materials (HAZMAT) Response (trained to Operations Level)
Rescue

Water and Ice Rescue
Confined Space Rescue
Mechanical Entrapment Rescue
* Cannot do High-Angle Rescues
Quick Facts
Department consists of:

One Fire Chief
Three Deputy Chiefs
32 Full-time positions, including Four Lieutenants
Paid-on-Call positions

Full-time firefighters work in a four person platoon system, consisting of eight staff each
Paid-on-Call firefighters respond to fire and rescue calls when additional help is needed
Shift schedules consist of two days on shift, two nights on shift, and four days off
The day shifts are 10 hours long, while the night shifts are 14 hours long
Hours of Operation
Winter Hours effective following the Labour Day Weekend
until prior to the Victoria Day Weekend (September to May)
Monday to Friday: 8:30 a.m. to 5:00 p.m.
Saturday and Sunday: Closed
Summer Hours effective following the Victoria Day Weekend
until prior to the Labour Day Weekend (May to September)
Monday to Friday: 8:00 a.m. to 4:30 p.m.
Saturday and Sunday: Closed